What a busy summer it has been! We dropped two of our three college boys off and only one remains at home for a few more weeks. We had some interesting travels the past 2–3 months and now it's time to tell you some of the stories. But first, some of the wine. We made our way to Santa Barbara County, specifically the Santa Ynez area at the end of July to attend Palmina's 20th anniversary party, where we were excited to sample some of Steve Clifton's Pinot Noir experiments for his new La Voix Winery label to be launched soon. But that's a story for another day (very soon). In the meantime, we checked into a converted barn overlooking a vineyard on Meadowlark Lane near Santa Ynez and quickly made our way over to Pence Ranch, a 200–acre working ranch and vineyard (100 acres planted) near the Buellton side of the Sta. Rita Hills AVA. We had scheduled an appointment and were eager to sample their wines.
We were greeted by Anabel, who keeps things lively in the tasting room of this beautiful estate, Laurel, who heads hospitality, and their friendly wine dogs, Cooper and Sophie. Anabel explained how Pence uses native yeasts and organic methods, hand picking the grape clusters and manually sorting them. Nothing too unusual for the better super–premium Pinot Noir producers in that area. But Pence's winemaker, Sashi Moorman, and his team have the backing and demanding standards of Blair Pence, a Los Angeles commercial real estate developer who fell in love with Burgundian wines and eventually made his own dream come true as Pence's vigneron (i.e., someone who cultivates a vineyard for winemaking). This permits a certain amount of freedom to do things right and produce delicious wines. Still very active in real estate and charitable endeavors, we're confident Blair has an eye towards shifting more of his time up north to Santa Barbara County. Wouldn't you?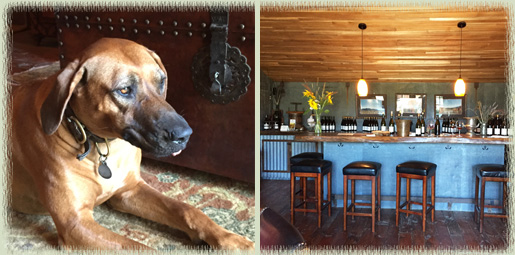 Pence Ranch is a stunning property just off Highway 246, west of Buellton. A tall redwood tree and historical 1907 restored yellow house mark the entrance to the ranch. The vineyard begins on dramatic slopes rising behind the tasting room and the property includes an amazing and extensive lily pond (complete with kayaks and a huge gazebo), livestock, grain crops and amazing views of the surrounding area. Plans in progress include stables and a culinary center with demo kitchen, a larger tasting room and a family home. Celestino Drago (now Cavaliere or Sir Cele) plans to spend some time at the culinary center, and that is certainly something to anticipate. During our tasting, we enjoyed some delicious rye bread Drago made from grains grown at Pence Ranch.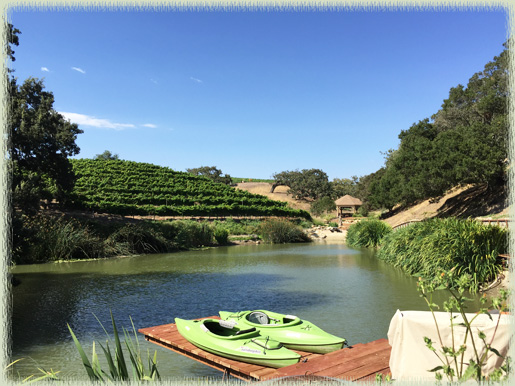 The first plantings at the vineyard were in 2006 and yield is around 3 tons per acre. Pence currently produces nearly 5,000 cases and still sells a lot of his fruit, so he has the capacity to produce greater volumes of wine in the future. We started with the Pence 2012 Westslope Pinot Noir, which is 25% whole–cluster fermented in cement and has a medium body with fresh fruit and tannins. My favorite was the Pence 2013 Unum Pinot Noir, also concrete fermented, with even fuller fruit and remarkably smooth. Also very good were the two whites we tasted, the Pence 2013 Estate Chardonnay (larger barrels, full malolactic fermentation and nine months in oak) and 2013 Rosa Chardonnay (same larger barrels, north block–specific fruit and 50% new oak). Rosa is not a rosé wine, so don't let the name confuse you. Rather, "Rosa" refers to not only the Mt. Eden Chardonnay grapes grown in Pence's "Rosa" block (which produce the wine's more floral, rich, almost angel food cake–like aromas due to the microclimate) but also to Rosa coin from the early 1700s which has a rosette on the back side, the emblem presented on the Rosa Chardonnay label. We were also invited to preview a future release (scheduled for around Thanksgiving 2015), the Pence 2014 PTG (a Gamay/Pinot Noir blend), produced from vines of the Bourgogne Passe-Tout-Grains AOC, a subregion of Burgundy. It had only been bottled for three weeks and promises to be an milestone release for Pence.
After our tasting, Anabel took us on a roving tour of the ranch in her ATV. It was towards the end of the warm afternoon and the cool Pinot–friendly winds were beginning to whip up from the Pacific Ocean. From the top of the slopes, you can appreciate the majesty of the area. She dropped us at the pond (really a small lake) so we could walk the hiking trail back to the tasting room to pet their wine dogs again and say our farewell for the time being. Of course, we'll be back as soon as possible.

Disclosure: We were granted a complimentary wine tasting at Pence.