Lugana DOC Tasting
Last week, we were welcomed to a delightful tasting of some excellent white wines of the Lugana DOC. The event was organized through Ian Blackburn's wineLA, a primary source for the LA wine scene. Lugana spans the two Italian regions—Lombardy and Veneto—in the morainic plain south of Lake Garda, but it is relatively small—about 225 square kilometers (about 15 km x 15 km). This DOC produces about 14 million bottles of wine per year, 75% of which is exported. Two-thirds of the exported wine goes to Germany, and the USA is their second largest export market. Yet, so many terrific Lugana wines are not yet exported to the USA. We were lucky enough to try them that day and we hope US importers are taking note, because we want more of them right here at home!
Coincidentally, we had tasted our first and only Lugana wine in May and we really liked it (see Vino California 2015). Lugana wine is produced from the Turbiana grape, which is often somewhat mistakenly referred to as Trebbiano, even though its DNA is not a match for Trebbiano. To distinguish it from Trebbiano, it is often called Trebbiano di Lugana, though its DNA instead matches with the Verdicchio grape prevalent in the Le Marche region of east–central Italy. It is believed that, in the 11th century, some Turbiana vines were carried by emigrants from Lugana to the Le Marche region, about 400 kilometers to the southeast of Lugana. Whatever you call it and whatever its origins, this grape produces thoroughly enjoyable white wines of nice acidity and pleasant floral and citrus bouquet that pair wonderfully with white fish and many cheeses, just to name some basics. The soil in Lugana is morainic (i.e., glacially–formed soil and rock), consisting of calcareous clay and stones, which becomes increasingly sandy as the terrain rises. The microclimate is relatively mild, influenced by the lake. These wines can be aged or consumed young and the nuanced differences among the wines of various producers are notable. Sadly, some great Lugana wines are not yet available in the USA.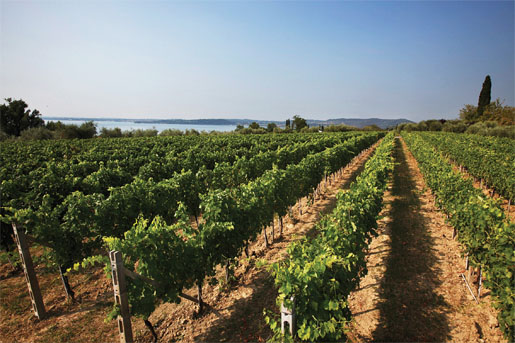 The event was sponsored by the Consorzio Tutela Lugana DOC. Carlo Veronese, Direttore, Luca Formentini, President, and Paolo Fabiani, a past President, along with other representatives of the Consorzio, presented the wines and spoke about Lugana DOC and its history, vineyards, terroir and culture. The Consorzio was founded in 1990 to monitor, defend and promote Lugana DOC. The purpose of this event was to raise awareness of Lugana DOC and to seek US importers for more of their wines. Worldwide economic conditions over the past 6-7 years have impacted the wine industry generally and the Consorzio use education and promotion to safeguard the long–term success of Lugana DOC.
We started with seventeen Lugana DOC wines that are available for import to the USA but are not yet here. There was only one that didn't excite us much. The others were all good to very good and so your odds are excellent to have an enjoyable wine experience with any Lugana wine. There were four in particular that stood out as the best for our taste. The Cà dei Frati 2014 'I Frati' Lugana DOC has a very pleasant lemon oil flavor and mouthfeel with hints of herbaceous honey. We later learned that Cà dei Frati is the largest Lugana wine producer. The Cantine Lenotti 2014 'Decus" Selezione Lugana DOC has a bouquet of fruit and is very fresh tasting with notes of acacia. The Montonale 2014 'Montunal' Lugana DOC is very good, with nicely–balanced acid and excellent crispness in the mouth. Last, but not least, the Podere Selva Capuzza 2014 'Selva' Lugana DOC is a complex wine that surprised us (in a very nice way) with a finish that calls to mind the most fresh water you have ever tasted. These wines, and most of the others we tasted, were very good and we may have to go to Lake Garda because we don't want to wait until they arrive in the USA.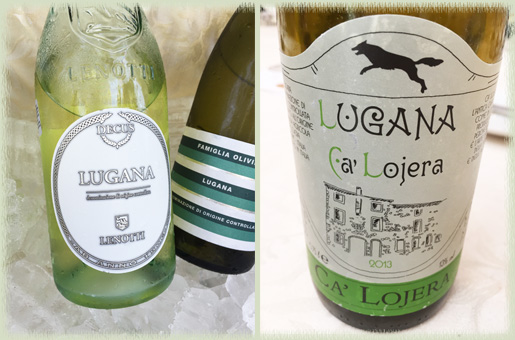 The sponsor hosted a beautiful luncheon that featured a white asparagus radicchio salad with preserved lemon and housemade gnocchi with pesto, pine nuts and Parmigiano Reggiano. The centerpiece of lunch was the loup de mer (branzino), followed by a selection of cheeses. Five Lugana DOC wines were served with lunch (and two dessert wines with the cheese). These five wines are available now in the USA. So, if you can't get over to Italy, you can still sample what Lugana DOC has to offer. In the order served, we tasted the Cesari 2012 'Cento Filari' Lugana DOC (fresh with very nice fruit), the Pratello 2013 Lugana DOC (excellent with the fish), the Pasini San Giovanni 2013 Lugana DOC (also excellent with the fish), the Perla del Garda 2013 Lugana DOC (a delightful wine from organic vineyards produced by a sustainable winery that even designed a special tulip–shaped, recycled–glass bottle that emits relatively less carbon dioxide) and the Cà Lojera 2013 Lugana DOC (the boldest of the five wines, nicely floral—melon and mandarin orange—and various fruit flavors).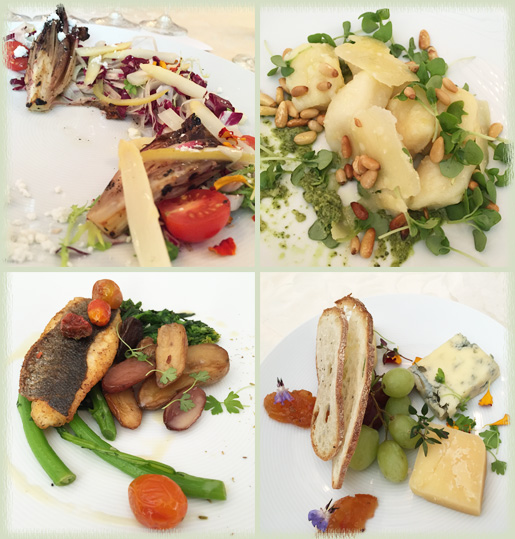 Go out (or get on the internet) and find some Lugana DOC wines today. They are fantastic for summer sipping and grilled fish on the backyard BBQ. Better yet, visit the Lugana DOC at Lake Garda and enjoy the many attractions the area has to offer, not the lease of which is the wine.

Photos of Turbiana grapes and Lugana DOC vineyard overlooking Lake Garda courtesy of Consorzio Tutela Lugana DOC.
Disclosure: We were granted complimentary media credentials for this event.