Vino California 2015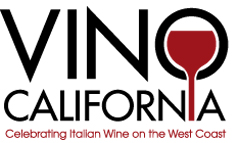 Vino California is a celebration of Italian wine on the West Coast. We were invited to this year's installment and we can report that it was as good as, or even better than, last year's event. It attracts a collection of wines from all over Italy, which offers an abundance of grape varietals and styles. The event was held once again at Valentino in Santa Monica, which is a great venue. There were many fine wines on hand that day and we couldn't taste them all. So, we're only going to scratch the surface by telling you about the ones we found to be the most interesting and delightful to us.
We started with the sparkling and white wines. The best sparkling we tasted were the Prosecco Superiore DOCG Brut and DOCG Extra–Dry from Tenuta 2Castelli, owned by the Zago–Gasparini Family and poured for us by Alessandra Zago and Nicola Serragiotto of Veneto Hills, Inc., their US operation. Their Prosecco is fresh and balanced with nice acidity and just the right amount of delightful fruit. Alessandra and Nicola are clearly passionate about their wines and the Veneto in general. They have a beautiful agritourismo in the village of Collalto near the town of Susegana, not too far from Venice. A perfect recipe for happiness.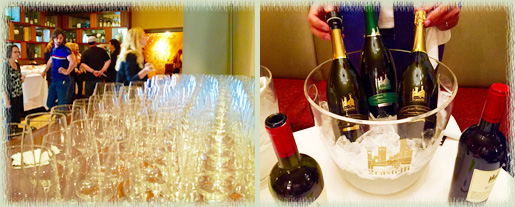 We also enjoyed the unique 2014 "Ikaro" Raboso Sparkling Dry IGT Delle Venezie from Azienda Agricola F.lli Corvezzo. This one is produced entirely from Raboso, a red grape that in native Venetian means "angry" because of the sensation in the mouth when some wines produced from this grape are drunk young (think acidity and tannins). This sparkler, however, has a light and pleasant berry flavor, and there is nothing angry about it.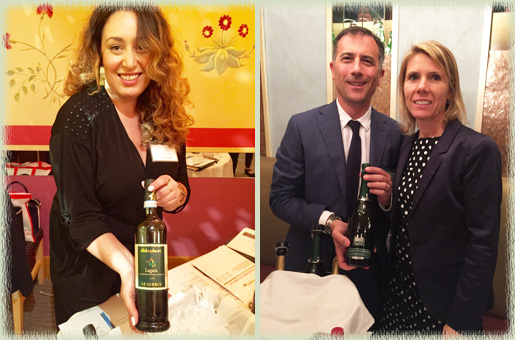 Other whites we really enjoyed were the 2013 Lugana Le Querce DOC from Aldegheri, which is 100% Trebbiano di Lugana and, to me, has a compelling grapefruit note, the 2013 Muller Thurgau from Kettmeir, the 2013 Curtes Falerio DOP (which is 100% Pecorino and has notes of pear, peach and other fruit) from Le Corti Dei Farfensi, and the 2013 Baglio Ficiligno (equal parts Viognier and Insolia) from Baglio Di Pianetto of Sicily. We also liked the 2013 Zelìa IGT Rosé of Syrah from Olivi Le Buche Winery in the hills outside Siena. The 2012 Cerasuolo Rosé 'Leonate' from Azienda Agricola Angelucci was also very nice.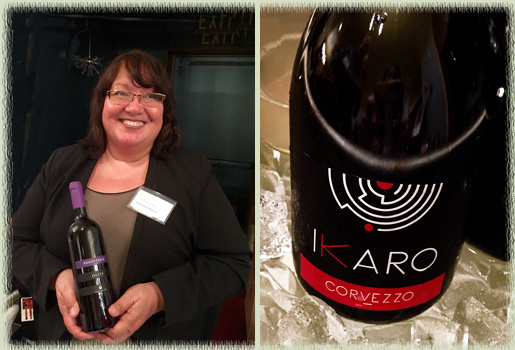 Moving on to the reds, our favorites included the 2009 Tortoniano Barolo DOCG from Michele Chiarlo of Piemonte, the 2012 Rosso di Montalcino DOC from Tenute Silvio Nardi, the 2012 Aglianico Puglia IGT from Cantore di Castelforte, and the 2011 Amarone Della Valpolicella DOCG from Pasqua. A very interesting wine was the 2010 Pugnitello (entirely Pugnitello) from Olivi Le Buche Winery, a sort of "Brunello meets Barolo" sort of experience. The Pugnitello grape was nearly extinct but was recently revived—a very good thing. The grape is named for its tight cluster, which resembles a "pugno" (i.e., fist). Corte Alla Flora offered its 2012 Pugnitello IGT, which was also entirely Pugnitello and also very good.
There was no shortage of interesting and delightful Italian wines that day. I was very pleasantly surprised at the end of the week when a client sent me a bottle of Aldegheri 2003 Amarone Della Valpolicella Classico. This is a powerful, flavorful wine (they had poured the 2007 at the Vino California event). It was wound up pretty tight, but some oxygenation did the trick and it opened up to be very good, even on the day after opening, with Italian meats (think salami and mortadella, etc.). A great way to go into the weekend!

Additional pictures from this event can be viewed courtesy of Vino California.
Disclosure: We were granted complimentary media credentials for this event.