We visited France's Loire Valley last week, at least in our minds, when we joined a trade and media wine tasting event sponsored by Loire Valley Wines in downtown Los Angeles. The Loire Valley has five distinct wine regions—Pays Nantais, Anjou, Saumur, Touraine and Centre–Loire—that extend along the Loire River from the Atlantic Ocean to the Center of France. Each region is comprised of several appellations boasting their particular style and grape varietals. If forced to pick our favorite Loire Valley wine regions (and varietals), we'd have to choose the two most inland (eastern) of the Loire regions—Touraine (Chenin Blanc/Vouvray and Cabernet Franc/Chinon) and Centre–Loire (Sauvignon Blanc/Sancerre & Pouilly Fumé). Of course, that would be merely scratching the surface of what the Loire Valley offers.
Located in the heart of the LA Arts District, the Millwick was originally built as a livery and then used as a cold-storage warehouse, but has reinvented itself as a 7,000 square foot event venue for private events, outdoor wedding ceremonies and receptions, exhibitions and productions. It has a 4,500 square foot interior that opens onto a 3,000 square foot garden courtyard. It was a perfect venue for this event on a bright, sunny Spring day—ideal for sipping some bright whites and interesting reds, interrupted by the tasty bites served up by the staff.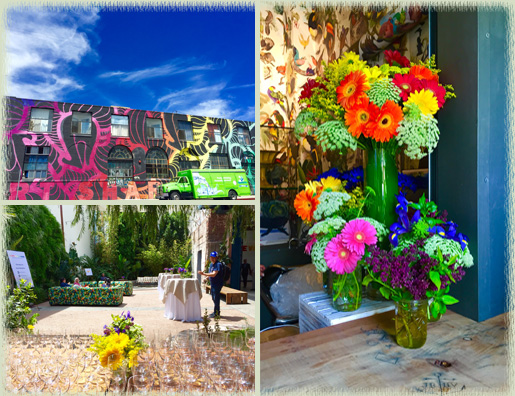 Having a preference for bright, crisp white wines, Leah was in taster heaven. We sampled our first wines at the table hosted by Barton & Guestier, the oldest wine merchant established in Bordeaux. The company was founded in 1725 by Irishman Thomas Barton (nicknamed "French Tom"), whose grandson Hugh was joined in 1802 by Frenchman Daniel Guestier. I loved their 2013 "Passeport" Sancerre and Leah and I both enjoyed their 2013 "Passeport" Rosé d'Anjou (70% Grolleau; 30% Gamay) and 2013 "Passeport" Vouvray. These are very fresh, delicious wines. For sparkling, we liked the Bradley Alan Imports' Domaine des Varinelles aka Daheuiller non–vintage sparkling Crémant de Loire, both the Blanc (Chardonnay) and the Rosé (Pinot Noir; Cab Franc). Pasternak Wine Imports offered two wines that we thoroughly enjoyed—their 2012 Marie de Beauregard Vouvray and 2013 Marie de Beauregard Chinon, which are great with and without food. Robert Kacher Selections offered a very earthy Saumur Cab Franc, the 2013 Domaine des Hauts de Sanziers.
I sampled the Wine House's "sweet beginning, dry finish" 2011 Domaine d'Orfeuilles "Les Coudraies" Demi–Sec Vouvray (which was great) while Leah liked their 2013 Domaine des Buissonnes Sancerre. They also offered a very nice 2013 Domaine des Corbillières Touraine (Sauvignon Blanc) and 2011 Domaine des Corbillières "Les Demoiselles" Touraine (40% Pinot Noir, 30% Cab Franc and 30% Côt—an alternative name for Malbec or Pressac). For something a bit different, the limestone was really evident in Veritas Imports' 2013 Domaine Vincent Pinard "Florès" Sancerre and I also enjoyed the Wine Source's Chateau Moncontour Vouvray Sec. Vinamericas poured a very complex 2013 Domaine des Clairneaux Sancerre, and I also enjoyed their 2013 La Grille of Muscadet (Melon de Bourgogne) and 2013 La Grille Rosé d'Anjou (Grolleau and Gamay).
In summary, the vast majority of the wines served that day were very good, which speaks very well of Loire Valley Wines in general. Each winemaker had their particular spin on the grape varietals they used and that diversity made this a terrific tasting.

Loire Valley Map (above) courtesy of Loire Valley Wine Bureau.
Disclosure: We were granted complimentary media credentials for this event.