Garagiste Festival: Urban Exposure
If you are anything like us, you use your garage for anything but parking your car. A lot of innovative and interesting things happen in garages around the world. Whether people get together to form a new musical group, launch a new art movement or develop the next big thing in technology, they usually start off modestly, taking advantage of whatever resources they can scrape together and work hard to get to the next level. So, it shouldn't be any surprise that this also happens in the wine industry. Garagiste (gar–uh–zhē–stuh) is the term that originated in the Bordeaux region of France. It was used as a put–down of someone who made small amounts of wine in a make–shift setting (which could be a garage) that wasn't a chateau and who didn't follow conventional rules. In other words, it was the establishment winemakers' way to dismiss the little guys. Well, sometimes the little guy tries something different and becomes the next big thing. This past Saturday, we sampled wines from a host of winemakers who each handcraft a small volume of wine. While the production volumes may be small, the wines are not.
Co–founders Doug Minnick and Stewart McLennan launched the Garagiste Festival in 2011 in Paso Robles to showcase innovative limited–production winemakers (they must produce fewer than 1,500 cases per year, and many we talked to produced less than 200 cases) and raise money for the future education of wine industry professionals—the Cal Poly San Luis Obispo wine and viticulture program in particular. The fourth annual Paso Robles Garagiste Festival will take place in early November. Expanding on a good thing, the second annual Santa Ynez Valley/Santa Barbara Garagiste Festival took place in Solvang at the end of March earlier this year.
To celebrate the newest expansion of this concept, we attended the first annual Los Angeles Garagiste Festival entitled "Urban Exposure" this past Saturday afternoon in downtown Los Angeles at our historic Union Station. The setting for this event was interesting because it presented a contrast between the past (the historic ticket concourse of Union Station, celebrating its 75th anniversary, blending Spanish Colonial, Mission Revival and Art Deco styles) and the future (emerging winemakers who take a long—term view and aspire to make their mark in winemaking history). It also paralleled the handcrafted nature of the wines. There were about fifty winemakers on hand to guide you enthusiastically through a tasting of their offerings and to provide context for what they are striving to accomplish.
The event was clearly sold out. At the beginning, we were able to spend time chatting with the winemakers as we went from table to table. As more people arrived, it required a bit more patience to get face time. Yet, many of the wines were very good, which really was no surprise. When someone makes wine in a small amount and takes the time to pay scrupulous attention to every aspect of the process, you can expect great things. The passion and pride of the vintners really comes through. The festival presented the only practical way to engage and sample so many small production wines, which are difficult to find in many instances.
Among our favorites at this festival were the 2013 Sauvignon Blanc and 2012 Zinfandel of Alma Sol Winery of Paso Robles (presented by owners John & Lisa Shaw), the 2011 Chardonnay of Center of Effort of Edna Valley, the 2012 Barrington Hall Wine Dinner Special Cuvee of Central Coast Group Project of Santa Barbara (presented by J.C. Valla, assistant to winemaker Scott Sampler), the 2012 Sauvignon Blanc, Star Lane Vineyard of Kitá Winery of Santa Barbara (presented by winemaker Tara Gomez), the 2010 Syrah, Alisos Vineyard of La Fenêtre (presented by winemaker Joshua Klapper), and the 2012 Malbec, Uco Valley, Mendoza of Rule of 3 Wines (presented by owners John Orlando and Nate Nelson and Evie, ably standing in for co–owner Chris Holinger). That isn't to imply that there weren't other truly great wines being poured at this festival. We couldn't get to all of them in the limited time we had to spare. The striking fact is that these garagiste wines were balanced and thoroughly enjoyable, with fresh fruit and nice acids. None we tasted gave us the impression of being overly manipulated wines.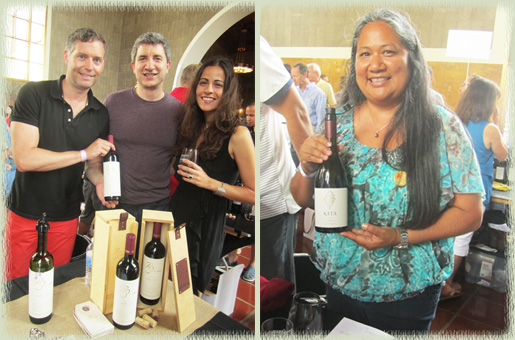 The other nice thing about this festival was getting to know the people behind the tables. Like so many of the garagistes we met that day, John and Lisa Shaw of Alma Sol Winery clearly love what they are doing and it shows in their wines. We learned that Tara Gomez of Kitá is apparently the only Native American winemaker in the business. She told us how she got seriously interested in wines during high school, knowing then she would work her way into the wine business. She studied enology at Fresno State with the assistance of her Chumash tribe's scholarship. Most of the winemakers seemed to have been educated at Cal Poly SLO or U.C. Davis, so it was interesting to meet a graduate of Fresno State, which started its enology program over 60 years ago. We also spent some time with John, Nate and Evie of Rule of 3 Wines, who poured the only wine at the festival from Argentina, on the eve of the World Cup Final no less (proudly displaying a soccer ball next to their wine). The fact that Germany made the only goal the next day can't even begin to diminish their accomplishment in producing 75 cases of stunning 2012 Malbec. The Central Coast Group Project also gets a mention for their innovative wine label on their 2012 Names Syrah, which includes the names of all those who participated in the production of this particular wine. Can you find all the names?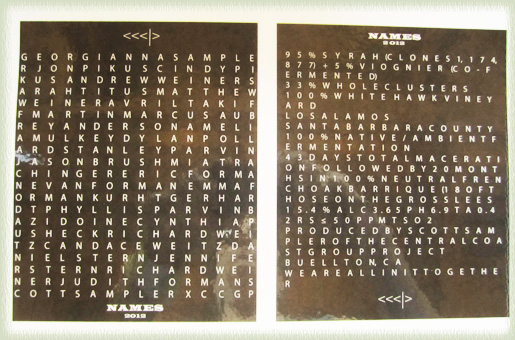 There are so many wine festivals these days—some great, some good and some that are best avoided. The Garagiste Festival is one you shouldn't miss, particularly if you want to discover something new, different and exciting.

Disclosure: We were granted complimentary media credentials for this event.