Down to the Wire
Experiencing last minute gift syndrome? Can't think of a single thing to get the wine imbiber on your list? Well, my friends, today is your lucky day! I'm just (barely) recovering from one of the most hectic Decembers on record and I've got suggestions for you that should satisfy both your time frame and your wallet.
Normally, we here at Wine Imbiber have our act together and post our Gift Guide much earlier. But, this year, I (Leah—the head elf) got called to jury duty the Monday following Thanksgiving weekend and lost a major chunk of time from my already tight schedule. Luckily, Christmas actually came early this year for me as my Pinterest habit paid off big–time for me the week before Thanksgiving.
I created a board and won Anthropologie tableware for six plus other accessories and Remodelista's new book. I was totally blown away by the prize items they chose for me! And, they got it all to me (with time to spare) so we could use it at our Thanksgiving table. Here's another bonus…it all works perfectly with my old Christmas set up. The fleur de lis plates and unique antler pitcher they included add a festive white contrast to my heavily red and green color scheme. The reddish woven napkins with sparkly gold highlights complement my traditional holiday tablecloth. (I didn't use these at my Thanksgiving table, but knew they would work well with my Christmas table set up.) The silverware was my favorite. I loved the freestyle design etched into the handles.
I also easily re–styled the gold candelabra by switching out my rust–colored candles to gold tapers and adding some gold pinecones and a winter sprig from Michael's. And somehow, the blue wine glasses they sent magically took on the Christmas–green hue of my placemats and tablecloth. You'd think Anthropologie knew my design style with the items they chose for me…unbelievable!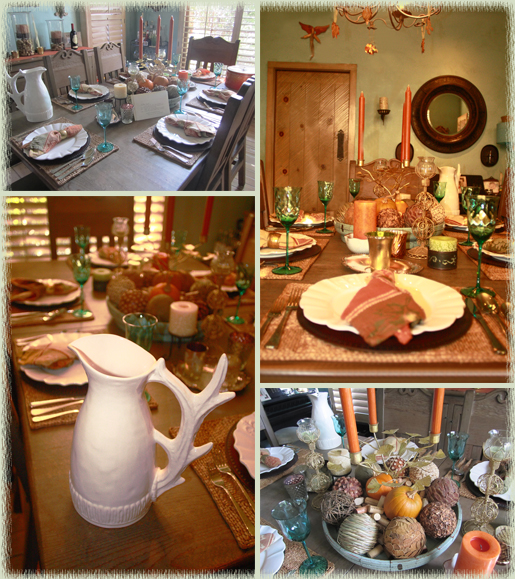 If you live near an Anthropologie store and need a last–minute gift for the oenophile in your life, I highly recommend checking out their glassware. Their stemware and Champagne flutes are stunning and perfect for hostess gifts (or even your most discriminating wine imbiber!). An Anthropologie gift card is always another option and sure to please any recipient. Even their gift card presentation is chic and right in line with their usual design standards. I was so impressed with their attention to detail…even the handwritten note accompanying my prize package was artfully done! But, if you're still in need of that perfect wine gift and realized as you are reading this that it's almost too late to order anything online, read on.
Have you ever tried Amazon Prime? This wonderful (30–day FREE trial) service could save your holiday–procrastinating–butt if you can comply with their holiday shipping countdown, which if you haven't noticed, has already closed in on us. I've compiled a list of oenophile delights that all qualify for Prime shipping, so all you have to do is pour yourself a nice glass of wine, kick back and shop from your chair. And…You're Welcome!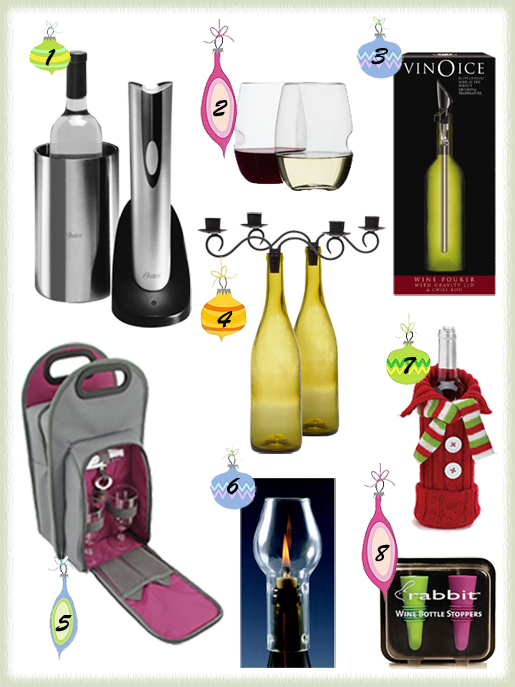 1. Oster Inspire Electric Wine Opener with Wine Chiller
We've had one of these for years! Leah's dad gifted it to us and it still works like a charm. TIP: Rich still prefers his old–style manual corkscrew, but agrees that it's a great gizmo for lazy winos (like Leah).
2. GoVino Flexible–Shatterproof–Recyclable Wine Glasses
We have a couple of sets of these and use them all the time during the summer. TIP: Perfect for backyard pool parties, picnics at the Hollywood Bowl or anywhere you want to drink wine and not worry about breaking your expensive stemware.
3. Cork Pops VinOice Wine Chiller
Keeps your wine chilled to the perfect temperature so you don't need to use an ice bucket. TIP: This Chill Rod also serves as a pourer by sealing the bottle (which allows you to pour wine without spilling while utilizing the gravity pour feature). Simply tilt the bottle forward and the wine lid will open.
4. Double Wine Bottle Candelabra Candles
There are a lot of design variations of these out there (we have a few sets of this particular style). A great way to upcycle an empty bottle of your favorite wine. TIP: These look fantastic when grouped with other large candles. Candelabras designed for votive candles (smart idea!) are also available.
5. Metropolitan Tote and Picnic Set
Great way to take your wine set-up on the road (and keep it cold)! This 2 bottle tote bag includes 2 acrylic wine glasses, 2 napkins, a Truetap corkscrew and a bottle stopper. TIP: Also available in this color for the dude imbiber on your list.
6. Wine Bottle Candle and Glass Chimney
Another creative way to repurpose all those wine bottles accumulating in your recycling bin. TIP: Use on a standard 750 ml wine bottle (which is what the chimney is designed for). To prevent smoke, fill bottle with liquid paraffin instead of lamp oil.
7. Knit Sweater & Scarf Wine Bottle Bag Hostess Gift
I'm a sucker for dressing up dogs and wine bottles at Christmastime. These are sure to add a festive touch to your hostess gift! TIP: Stock up on seasonal items like these (if you can find them) at post–Christmas sales for gift giving next year. Wine bottle clothing is expensive and hard to find at the last minute!
8. Metrokane Rabbit Multi-Color Wine Bottle Stoppers
These get high marks for preserving leftover wine efficiently and for long periods of time (though, that's never been a problem for us!). TIP: Reported to work especially well for Champagne/sparkling wines and better than cap–style stoppers for easy usage and cleaning.

Disclosure: We received nothing for recommending the items described in this post.