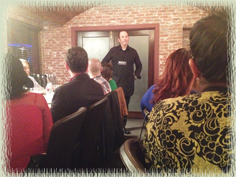 We interviewed Ian Blackburn two years ago as he was celebrating the creation of Beekeeper Cellars and the inaugural release of his excellent 2009 Beekeeper Zinfandel, so we were eager to attend a recent event marking the release of his third vintage, the 2011 Beekeeper Zinfandel, a single vineyard designate wine from the Madrone Spring Vineyard in the Rockpile appellation of Sonoma County. This event was structured as a vertical tasting of Ian's first three Beekeeper vintages. Ian, who has been working on his Master of Wine degree, is the founder of Learn About Wine, a premier source for wine education and events in Southern California, hosting unique classes, events and tours. When we spoke two years ago, Ian explained that he undertook the Beekeeper project in order to "learn by doing," and it appears he really has learned a lot by making his own wine.
Ian was smart enough to know that you shouldn't try to undertake every aspect of winemaking from vineyard to retailer all by yourself in the first attempt. So, in 2008, he teamed up with friend Clay Mauritson, an experienced winemaker and winery owner from a great Sonoma County winemaking family. For Beekeeper, Ian and Clay selected some choice vines in the Madrone Springs vineyard, one of the best higher altitude vineyards in the Rockpile hillside appellation of Sonoma County.
Ian learned a lot from his first Beekeeper vintage, especially how difficult it is to obtain all necessary permits and licenses and make all the decisions that go into setting up a winemaking operation, and what it means to start a business at the outset of a severe recession. Ian, however, smartly focused his efforts in areas where he could take best advantage of his knowledge and palate, particularly in the blending of the wine. Beekeeper is a Zinfandel blended with Petite Sirah (19% in 2009, 11% in 2010 and 22% in 2011), which adds color and weight to the wine. After his first vintage, Ian learned what happens when your wine label conflicts with the design of a French wine label (Ian has changed his label) or when a pre–existing winery in Washington state has already used Beekeeper in its wine name (Ian agreed not to sell his wine in Washington state). He's also learned that winemakers have to make some really difficult decisions, like whether to process all of their juice and bottle all of their wine, due to the economics of production cost measured against available capital funds and ultimate product quality. In addition, over time, Ian has learned a lot about the effects of different types of wood barrels (such as French and American oak) and how a wine's alcohol level affects the amount of wood extraction (the higher the alcohol level, the greater the extraction).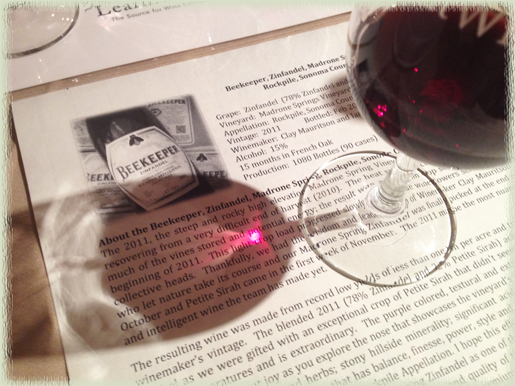 From his second vintage, Ian learned what happens when you "pull the grape leaves" away to expose the grapes to the sun just before an unexpectedly hot weather spike pushes the daytime temperature soaring into the 100s (seven days later, half his 2010 grapes were on the ground and he had to throw two–thirds of the remaining grapes away when hand–sorting them, so the volume of his 2010 vintage was much less than the 124 cases of his 2009 vintage). The energy of the vines was also affected going into the next vintage. The result, however, was a record low 2011 yield (less than one ton per acre for a total of 90 cases) and some exceptional Petite Sirah blending grapes.
Now, after all of the challenges Ian faced, you might wonder if his wine could be successful. Well, all three vintages of Beekeeper Zinfandel are excellent. These are wines of very good structure and balance. They are Zinfandels of elegance, with plenty of Zinfandel substance, but not at all overpowering. All three vintages are very drinkable now, although the later vintages will continue to develop nicely in your cellar for some time. As we quickly approach Thanksgiving, if you are looking for a uniquely American wine that pairs well with the turkey and side dishes you plan to prepare, Zinfandel is an excellent choice and you really can't go wrong with Beekeeper Cellars Zinfandel at Thanksgiving or on other special occasions. And let's give thanks to Ian for sharing his experiences and making some excellent wine in the process.