Meyer Lemon Butter Cookies
This recipe (from Arctic Garden Studio) appeared in Cookie Palooza Time on 12 Dec 2012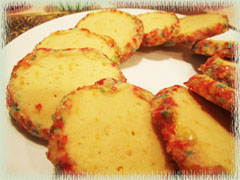 8 ounces (2 sticks) unsalted butter, softened
2/3 cup powdered sugar, sifted
2 large egg yolks, divided
pinch of salt
2 teaspoons vanilla extract
4 teaspoons finely grated Meyer Lemon zest, or more to taste
2 cups all purpose flour
1/2 cup colored coarse sanding sugar
In the bowl of a stand mixer, beat butter on medium speed until smooth, about 4 minutes. Add the powdered sugar and beat until smooth, about 2 minutes. Beat in 1 egg yolk, followed by salt, vanilla and lemon zest. On low speed, add the flour and mix just until flour is just incorporated.
Turn dough out onto a counter. Form dough into a log that is about 1 to 1–1/4 inches in diameter and wrap in plastic wrap.
Chill dough for at least 30 minutes in refrigerator. You may also place dough in freezer at this point and store for up to three months.
Preheat oven to 350° F. Line your baking sheets with parchment paper or Silpat.
If you are coating your cookies with sugar, whisk the remaining egg yolk until it's smooth and liquid enough to use as a glaze (you may need to add a little water).
Spread granulated sugar out on a piece of parchment paper. Unwrap your chilled dough log and brush lightly with the egg yolk. Roll the log in sugar, pressing gently to help the sugar stick.
Slice each log into rounds about 1/4 inch thick. Place on baking sheets, leaving about 1/2 inch between the cookies.
Bake for 12–14 minutes until they are set but not browned. It's okay if the yolk–sugar edges brown slightly. Transfer cookies to wire rack and allow to cool completely.