Cookie Palooza Time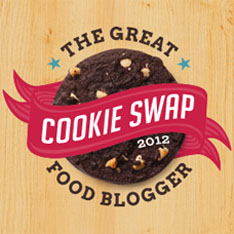 'Tis the season, which means it's time to make cookies, candy and all the other stuff I normally save for special occasions during the year. This year I decided more cheer was in order, so I signed up for The Great Food Blogger Cookie Swap. I also convinced the other food blogger in the family to participate (upholding the old adage The more, the merrier! and, most importantly, doubling my cookie swap yield—I couldn't resist the opportunity to sample even more of other blogger's cookies!).
The only rule of this reindeer game was to use a recipe that I hadn't previously blogged about. Only a dozen of one kind of cookie needed to be mailed to each of three other swap participants. Since we always make a variety of cookies and candies each year, we decided to send out sampler plates to our swap–mates (similar to the ones I hand out as gifts). The only obstacle was making sure they'd arrive in edible condition. Plates that were tightly cello–wrapped and a butt–load of bubble wrap solved that problem (I hope…we didn't get any complaints anyway!).
All five of the recipes we made were new to both of us, so we decided to blog about our favorite one of the bunch. We both loved the Brown Butter Snickerdoodles, but I also have another amour (namely Meyer Lemons), so the spawn gets to wax on about the Snicks while I'm happy to share the recipe for Meyer Lemon Butter Cookies.
You might already be familiar with my weakness for Meyer Lemons. My most recent discovery was this luscious baby. Then, of course, there's our Lemon LoveFest Library, celebrating lemon recipes from around the blogosphere. In fact, the blogger who originally posted this lemon cookie recipe lives in Fairbanks, Alaska, and gets her lemons from the very same person (Karen of Lemon Ladies Orchard) that supplied us with some of the beautiful lemons we gave out as prizes during Lemon LoveFest. Small world! I never thought about how nice it would be to receive a box of California sunshine in the form of Meyer Lemons during the cold, dark winter months they experience up there.

This recipe is not only outstanding for its flavor, but also for the simplicity of its preparation. We rolled the dough in colored, large granule sugar to holiday them up a bit and give the cookies nice, crunchy edges. These buttery, lemony cookies just melt in your mouth and are a nice break from all the sometimes overly sweet and chocolaty creations we often indulge in too much this time of year. Not that there's anything wrong with that, I just prefer a lighter touch when it comes to sugar, and these fit the bill perfectly!
I received a nice assortment of cookies from my swap buddies as well! Thanks to Shaina Wizov of Take a Bite Out of Boca for her Oatmeal, Walnut & Chocolate Chip Cookies; Heather of Heather's Recipes for her Pistachio and Cranberry Icebox Cookies; and last but not least—Milisa of Miss in the Kitchen for her adaptation of David Lebovitz's Chocolate Biscotti. The nice thing about this swap is that it benefited Cookies for Kids' Cancer. Thanks to Lindsay of love & olive oil and Julie of the little kitchen for organizing this great event!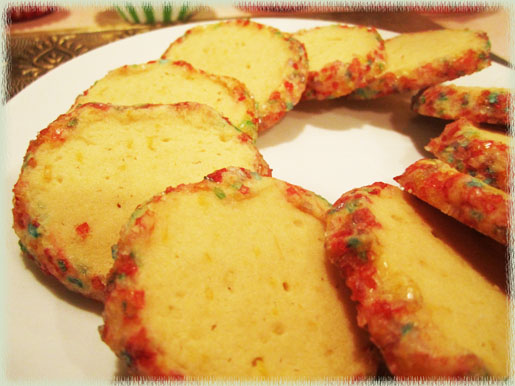 Meyer Lemon Butter Cookies
(from Arctic Garden Studio)

8 ounces (2 sticks) unsalted butter, softened
2/3 cup powdered sugar, sifted
2 large egg yolks, divided
pinch of salt
2 teaspoons vanilla extract
4 teaspoons finely grated Meyer Lemon zest, or more to taste
2 cups all purpose flour
1/2 cup colored coarse sanding sugar

In the bowl of a stand mixer, beat butter on medium speed until smooth, about 4 minutes. Add the powdered sugar and beat until smooth, about 2 minutes. Beat in 1 egg yolk, followed by salt, vanilla and lemon zest. On low speed, add the flour and mix just until flour is just incorporated.
Turn dough out onto a counter. Form dough into a log that is about 1 to 1–1/4 inches in diameter and wrap in plastic wrap.
Chill dough for at least 30 minutes in refrigerator. You may also place dough in freezer at this point and store for up to three months.
Preheat oven to 350° F. Line your baking sheets with parchment paper or Silpat.
If you are coating your cookies with sugar, whisk the remaining egg yolk until it's smooth and liquid enough to use as a glaze (you may need to add a little water).
Spread granulated sugar out on a piece of parchment paper. Unwrap your chilled dough log and brush lightly with the egg yolk. Roll the log in sugar, pressing gently to help the sugar stick.
Slice each log into rounds about 1/4 inch thick. Place on baking sheets, leaving about 1/2 inch between the cookies.
Bake for 12–14 minutes until they are set but not browned. It's okay if the yolk–sugar edges brown slightly. Transfer cookies to wire rack and allow to cool completely.
Comments (3)
December 12, 2012 at 8:34 pm
Nicole
said:
Hi there! I added you to my blogroll because I\'ll be attending the BTP1 and I wanted to get to know some of the attendees better. I can\'t tell you how fun it was to be reading your post and realize you were talking about me! You know we usually find these things through our starts, but to just randomly read something that you are mentioned in is pretty fun. Thanks for featuring the Meyer Lemon Butter Cookies. They are one of the two things I make EVERY year with my Meyer Lemons from Karen. She is the best! I went to visit her and the Lemon Ladies a few years ago when I was down that way and it was so much fun.
I love the festive touch you added to the cookies. I look forward to meeting you at BTP1.

December 13, 2012 at 5:34 am
Heather
said:
These look delicious! I love just about anything lemon.

December 18, 2012 at 12:23 pm
The Great Food Blogger Cookie Swap 2012 Recipe Roundup Part 2 | the little kitchen
said:
[…] Meyer Lemon Butter Cookies Wine Imbiber @wineimbiber […]