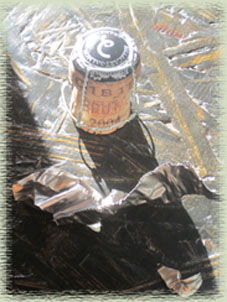 It's a tough job, but someone's got to do it. The days of champagne and sparkling wine are upon us, so we attended Tasting Panel Magazine's annual sparkling wine trade tasting event at Waterloo & City in Culver City, where we sampled about 30 vintage bubblies. We did this for you, so you don't have to do the heavy lifting. We narrow the field for you. Isn't that considerate of us?
This particular event was only for vintage (juice of a particular year) brut (pretty dry) Champagne (or sparkling wine, for those candidates not allowed to use the term "Champagne")—but, for this article, we'll refer to all of these bubblies as Champagne). Typically, we review and recommend mostly non–vintage Champagnes because they tend (as a general rule) to be less expensive and, for holiday celebrations, they are very good choices. The suggested retail prices (SRP) on the vintage fizzies at this event ranged from $27 to $130. It's possible there are some decent vintage Champagnes on the market for under $35, but they weren't on stage at this event. In comparison, there are so many good non–vintage Champagnes that you can pick up today for under $35. Personally, we aren't swayed a bit by the fact that a Champagne bottle has a particular vintage year on the label. With Champagne, it's what you taste and experience that counts.
As a rough guide, whether you want a vintage or non–vintage Champagne, if you want a really nice bubbly that has a decent value proposition, we recommend sticking with producers such as Roederer Estate, Schramsberg and Tattinger, with Tattinger getting the top rating from us. Yes, we also like Veuve Clicquot, even though it's sometimes priced a little higher than it should be due to its consumer popularity and heavy advertising. The tasting that day, however, was exclusively vintage brut, but we found that our instincts (and tastes) were still the same. We also found that many of the most expensive vintage Champagnes on hand were overly yeasty or had a funky taste or odor. Perhaps, we just don't appreciate the finest of the finest, but for us it is all about taste and experience, not the high price tag.
The least expensive (SRP $37) Champagne of the group that we liked was the Schramsberg 2009 Blanc de Blancs, which is a good, basic Champagne. The Schramsberg 2008 Blanc de Noirs (SRP $39) was also very nice. From Roederer Estate, the 2003 L'Ermitage (SRP $47) was a winner. Our all–around favorite of the show was the Tattinger 2005 Millesime (SRP $70). It has an abundance of fine bubbles and the most pleasant, balanced taste. For most of us, the pricing makes this a special–occasion purchase, yet when you taste this Champagne, the occasion—whatever it is—will be special. We also enjoyed the Veuve Clicquot 2004 Ponsardin Champagne Brut (SRP $75) which had an interesting toasty flavor on the back of the palate. Finally, the Pol Roger 2002 Brut (SRP $110) from Epernay, France was delightful. Bring the Schramsberg to the party; the Roederer Estate makes a very nice business gift (or the Pol Roger if you need to spend over $100 to impress). The Tattinger is best kept between the two of you.
So, what bubbly will you be popping this holiday season?