Time for Hallowine!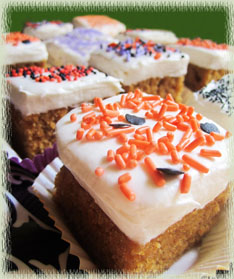 Bet that title caught you fellow wine imbibers' attentions! Sorry, it's pure trickery on my part. But, there is a treat if you hang on with me until the end. I just wanted you to know that we're fully aware that this is a website devoted to wine (and food—I just tend to sway to the sweeter side these days). And we do have plenty of wine articles coming up (very soon, I promise!). Topics like Los Angeles Magazine's The Food Event (which was fantastic this year, btw) to our latest wine discoveries from our recent Oregon trip to another very informative LAW event. But unfortunately, life has its surprises (like death and birthing kidney stones, among other less–urgent but nonetheless time–consuming ordeals) that can really throw a wrench into the best laid plans.
So, as you might have already guessed, the resident wine expert has been a tad distracted with life's priorities. Since the very same person is also our sites webmaster, our posting schedule has been delayed beyond recognition. But fear not. Along with life's tumultuous times comes a lot of comfort cooking and baking, which the Wine Imbiber family seems to do a lot of in times of stress. In fact, this quick little post is the result of a particularly stressful week the new intern spawn was experiencing and I decided some seasonal baking was in order.
This turned into a win–win for me, as she did all the blending and baking. I had the pleasure of frosting and decorating. On the other hand, she also brought most of the end product into work, so the rest of us only derived minimal sweet–tooth benefits from it. But, it brought back many holiday food decorating memories of yesteryear (when I actually had the time to go all Halloweeny), so it was satisfying on many counts.
It's a tried and true recipe that I've been making for years, originating from one of my favorite sources. I've never used the listed frosting recipe for these bars as I have an even tastier one that really makes this recipe extra delish. It's similar to the one listed with the recipe, but has one ingredient (lemon extract) that the other doesn't. Try making the frosting first without the lemon extract and see if you don't agree that including it really makes the cream cheese frosting *pop* and perfectly compliment these pumpkin–flavored bars.
By the way, "bars" is just another name for sheet cake cut into squares in this case. The texture of these is definitely more light and cake–like than the density of a blondie or brownie (which is what my mind originally conjured up with its recipe titling). For easier serving, we put the squares in cupcake liners and placed them on a dollar–bin tray from Target. As a result, some of Brynn's co–workers thought they were indeed cupcakes. Whatever you want to call them, they're the best reason that I've found to crack open a can of pumpkin puree without making pie. (Well, that is until I start exploring the recipes on my Pinterest pumpkin board. So many recipes, sooo little time!)
WI wine recommendation: Try a Gewürztraminer, which is a semi̵sweet wine that has a jasmine–orange blossom nose and apricot notes. It pairs well with pumpkin desserts and is also a popular wine to serve with Thanksgiving meals. For a slightly sweeter wine suggestion, check out Madeira for its hint of caramel and almonds. Of course, there's always my favorite—Champagne—which is a food–friendly, lightly sweet sparkling wine that goes with just about every dessert imaginable!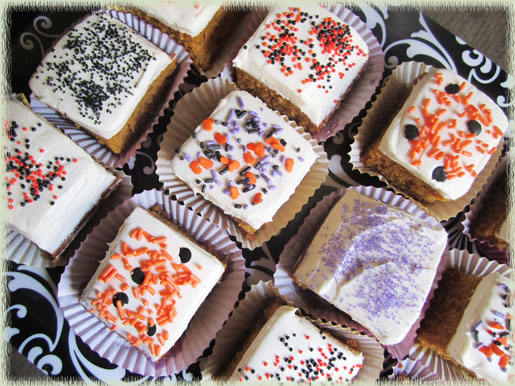 Paul's Pumpkin Bars
(from all recipes cookbook)

2 cups all–purpose flour
2 teaspoons baking powder
1 teaspoon baking soda
2 teaspoons ground cinnamon
1 teaspoon salt
4 eggs
1 can (15–ounce) pumpkin puree
1–2/3 cups sugar
1 cup cooking oil

Sift together flour, baking powder, baking soda, cinnamon and salt; set aside.
In a mixer bowl beat together eggs, pumpkin, sugar and oil until light and fluffy.
Stir in flour mixture; combine thoroughly.
Spread the batter evenly into an ungreased 10 X 15 inch baking pan.
Bake in 350° F oven 25–30 minutes or until toothpick inserted in center comes out clean. Cool completely on wire rack before frosting.

Leah's Cream Cheese Frosting

1/2 cup butter, softened
8 ounces cream cheese, softened
2 cups confectioners' sugar
2 teaspoons vanilla extract
1 teaspoon lemon extract (not juice!)
Optional: up to 2 tablespoons milk

Beat softened butter and cream cheese until well blended.
Add the sugar, vanilla and lemon extract and beat until creamy. Add milk only if necessary to create desired creamy consistency.
Frost the cooled pumpkin sheet cake; then cut into squares or rectangles. You can even cut these into circles with a ring if you like. Decorate as desired (see below).
Note: We halved the pumpkin bar recipe and baked it in an 11 X 7 inch pan for this post. The quantity of frosting you will get from the above recipe should make enough to frost a full recipe of pumpkin bars, but not as thickly as pictured in the photos. We decorated the bars with Halloween sprinkles, but whole, toasted pecan halves or even chopped pecans also look nice (and taste great!) if you're going to use this as a Thanksgiving dessert.