Banana–Zucchini Bread
This recipe (adapted from Chef Joanne Chang of Flour Bakery + Cafe in Boston) appeared in Zukezilla (Part 5) on 27 Oct 2012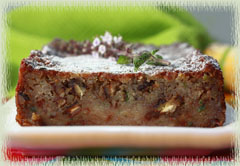 1–2/3 cups all–purpose flour (I used only 2/3 cup by mistake—see post)
1 teaspoon baking soda
1/4 teaspoon ground cinnamon
1/2 teaspoon salt
1 cup plus 2 tablespoons sugar
2 eggs
1/2 cup oil (I used melted coconut oil)
3–1/2 bananas, very ripe, mashed
1 heaping cup grated zucchini (my addition—not in original recipe)
2 tablespoons crème fraîche or sour cream (I used plain Greek yogurt)
1 teaspoon vanilla extract
2/3 cup walnuts, toasted and chopped (I used pecans)

Set oven to 350° F. Line the bottom of a loaf pan with parchment paper.
Sift together the flour, baking soda, cinnamon and salt.
Beat sugar and eggs with a whisk until light and fluffy, about 10 minutes. Drizzle in oil. Add mashed bananas, grated zucchini, crème fraîche, and vanilla.
Fold in dry ingredients and nuts. Pour into a lined loaf pan and bake for about 45 minutes to 1 hour.
Cool briefly in pan, then turn out onto cooling rack to complete process.
Optional: Serve warmed slices of the pudding–like version (using less flour, like I did by mistake—see post) with whipped cream or vanilla ice cream.
WI wine recommendation: Remember the basic rule of pairing wine with desserts is to choose wine that has a slightly sweeter character than the dessert. This dessert is sweet (especially if you add whipped cream or ice cream as a topping), but not sickeningly–sweet. So wines that we could suggest in this case would be Prosecco, Moscato or sweeter rose wines.