Squash Puppies with Roasted Jalapeño Mayonnaise
This recipe (adapted from Ezra Poundcake, who adapted it from Sara Foster's Southern Kitchen) appeared in Zukezilla (Part 4) on 11 Sep 2012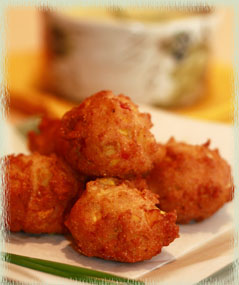 Squash Puppies:
2 cups self–rising yellow cornmeal
3/4 cup self–rising flour
1 tablespoon sugar
1 teaspoon sea salt
1/2 teaspoon freshly ground pepper
2 medium zucchini (about 1 pound), minced
3/4 cup well–shaken buttermilk
2 large eggs, lightly beaten
3 tablespoons grated onion
1 jalapeño pepper, cored, seeded and minced
Grapeseed or vegetable oil, for frying
1 cup roasted jalapeño mayonnaise, for dipping (recipe below)
Roasted Jalapeño Mayonnaise:
3 jalapeño peppers
1 tablespoon extra–virgin olive oil
1 cup mayonnaise
1/2 cup fresh cilantro
1 trimmed and chopped scallion
2 smashed garlic cloves
Juice of 1 lime
6 fresh basil leaves
Sea salt and freshly ground black pepper, to taste
Squash Puppies:
Preheat the oven to 200° F. Line a baking sheet with a brown paper bag.
Combine the cornmeal, flour, sugar, salt and pepper in a large bowl.
In a separate bowl, stir together the zucchini, buttermilk, eggs, onion and jalapeño.
Pour the buttermilk mixture into the cornmeal mixture, and stir just until moistened. (Overmixing will make the hush puppies tough.) Let the batter sit for 15 minutes, undisturbed, at room temperature.
Fill a saucepan, Dutch oven or an electric skillet with oil 1–3 inches deep, and heat over medium–high heat to between 350° and 375° F.
Spoon the batter into the hot oil about 1 tablespoon at a time, using two spoons or a 1 tablespoon ice cream scoop. Working in batches of 6 to 8 squash puppies, fry, turning several times with a slotted spoon or frying utensil, until crispy and golden brown all over (about 2–3 minutes).
Using a slotted spoon, carefully remove the squash puppies from the pan, and drain on the prepared baking sheet. Place in the oven to keep warm while cooking the remaining puppies. Makes about 36 puppies. Serve hot with Roasted Jalapeño Mayonnaise (recipe below) for dipping.
Roasted Jalapeño Mayonnaise
Roast the jalapeños by first, preheating the oven to 400° F.
Place your jalapeño peppers on a rimmed baking sheet, and drizzle with olive oil. Roast for about 20 minutes, until the skin is blistered and slightly brown. Remove from the oven, and set aside. When the peppers are cool enough to handle, peel them, and discard the skin, seeds and core. Set aside.
Place mayonnaise in a food processor. Add roasted jalapeño peppers, cilantro, scallion, garlic, lime juice, basil, salt and pepper. Puree until smooth. Refrigerate in an airtight container for up to 1 week. Makes about 2 cups.
WI wine recommendation: Given the spiciness of the dipping sauce, you'll need a wine that won't compete in flavor. So avoid tannic red wines and oaky whites; also ones with high alcohol content. It's better to choose fruity whites or slightly sweet wines like Chenin Blanc, Sauvignon Blanc, rose or sparkling wine. We enjoyed this with MacMurray Ranch 2010 Pinot Gris (that would be as in actor Fred MacMurray of My Three Sons fame……who knew Fred was such a wine imbiber!).