Zukezilla (Part 3)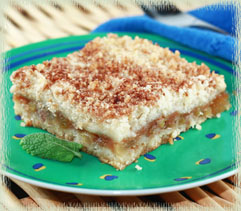 Funny how things time out in life. I had originally planned weeks ago that I was going to post this particular recipe this week. (It's one of five that I was able to make from just one monstrous zucchini—Zukezilla—that was grown in my vegetable garden.) Then we received news of Rich's Mom's passing, and the post fell to the bottom of our priority list. When I finally started putting my thoughts together, I realized that the last time we saw her, I brought this dessert along, knowing her penchant for sweets. We trek up the California coast to the Bay Area to see some of Rich's family only once or twice a year. This past trip was the first time in a long time that our entire brood (six people, two dogs) was able to go. Little did we realize it would be our last visit with Grandma Dorothy.
This recipe is something Dorothy might have made back in the day. She was known for her consistently good, all American farm–style cooking. Nothing fancy; just down home comfort food (people had been known to fight over seconds of her mashed potatoes and gravy!). And amazingly, she did it proficiently for large groups of people, always sure to invite anyone and everyone (the newt and the frog, too, we always joked). So this dish was right up Dorothy's alley: simple, sweet and able to serve a multitude of dessert lovers.
No one would ever guess that this has zucchini in it, which makes it a great way to use up all those alien zucchini that might be multiplying at the speed of light in your summer garden. Given the spices in it and the texture of the zucchini, everyone thinks they're eating an apple dessert (especially when you serve it warm with a scoop of vanilla ice cream!). I like to go all out and drizzle some salted caramel sauce on top, too. Believe me when I say that the ice cream and caramel sauce elevate this dessert to a new level of comfort food!
This time around, I reduced some of the original sugar amounts and added some bananas and cardamom (my new favorite spice). It's a good basic recipe you can fool around with by adding other fruits and spices, but the original is perfectly delish when left alone. Don't skip serving it with ice cream, though. That would be a travesty! Dorothy always had Costco–sized tubs of vanilla ice cream on hand in her spare freezer, just in case. This would be the perfect dish to put them to good use (it makes 16–20 servings if you don't halve it!).
WI wine recommendation: The sweetness of this dish calls for a dessert wine or a sweet Moscato.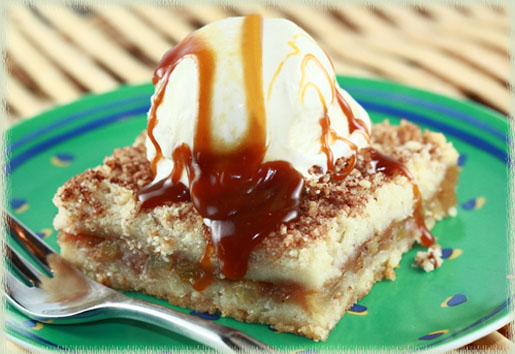 Zucchini Cobbler
(adapted from Taste of Home)

8 cups (about 3 pounds) zucchini; peeled, seeded and chopped
2/3 cup lemon juice
3/4 cup sugar
1 teaspoon ground cinnamon
1/2 teaspoon ground nutmeg
1/2 teaspoon ground cardamom
2–3 ripe bananas, sliced and coarsely chopped
4 cups all–purpose flour
1–1/2 cups sugar
1–1/2 cups cold butter, cubed
1 teaspoon ground cinnamon
Optional: vanilla ice cream & salted caramel sauce for serving

In a large saucepan over medium–low heat, cook and stir zucchini and lemon juice for 15–20 minutes or until zucchini is tender.
Add the sugar, cinnamon, nutmeg and cardamom; simmer 1 minute longer. Remove from heat and stir in banana; set aside.
For crust, combine the flour and sugar in a bowl; cut in butter until the mixture resembles coarse crumbs.
Stir 1/2 cup of crust mixture into zucchini mixture. Press half of remaining crust mixture into a greased 15″ x 10″ baking pan.
Spread zucchini over top; crumble remaining crust mixture over zucchini. Sprinkle with cinnamon.
Bake at 375° F for 35-40 minutes or until golden and bubbly. Note: this makes A LOT (16-20 servings)! This recipe can easily be halved (and should be, unless you're expecting a crowd). Tastes best when eaten the day it's made or no more than 1–2 days later. Reheat in microwave for best flavor.
See also:
Zukezilla (Part 1)
Zukezilla (Part 2)
Zukezilla (Part 4)
Zukezilla (Part 5)
Comments (1)
August 31, 2012 at 2:45 pm
Bettie
said:
Thank you for sharing your life and your recipe. So sorry to hear about your mom's passing. God's blessings to you and your family during this difficult time.