Coming up with new ways to use zucchini in recipes isn't that hard these days thanks to other bloggers that are also avid summer gardeners. It seems everyone has had a Zukezilla at one time or another and has been in need of recipes to use the sucker up. Savory zucchini dishes aren't usually that difficult to find, but finding tasty ones that your picky–kid eaters will consume is another story. My spawn aren't the biggest zuke fans (especially when I'm in the middle of a big summer harvest and make everything but wine out of it!), so I have to come up with dishes that have something they like to eat and casually sneak in the zucchini.
Such is the case with this next recipe. It's from Gourmet, via Epicurious and is a real spawn–pleaser. After all, who doesn't like pasta (or bacon or corn or cheese)? I even made it gluten–free by using Ancient Harvest Quinoa Veggie Curls, which takes corn flour, quinoa flour, red bell pepper and spinach and magically turns it into these delectable, curly noodles. They all loved it! They liked them even better than regular wheat noodles, which I've slowly been trying to eliminate from our diets. One thing I learned from making this recipe with these noodles is that they seem to be much lighter and less filling than wheat noodles, so I suggest doubling this recipe if you want happy eaters.
WI wine recommendation: You've got many options here, but we liked the 2011 Ottosoldi Gavi from Piemonte we had on hand. A fruity Pinot Grigio or Pinot Noir would also allow all the flavors of this dish to come alive.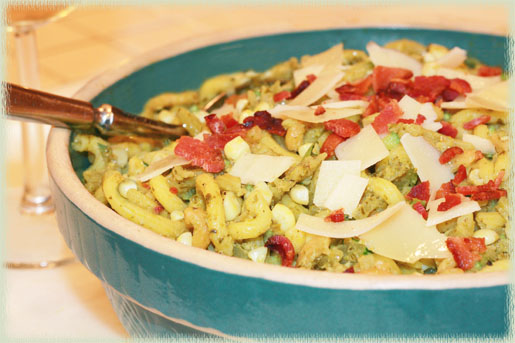 Zucchini, Corn & Basil Pasta with Bacon (gluten–free)
(adapted from Gourmet)

6 bacon slices
1 pound Ancient Harvest Quinoa Veggie Curls (or other gluten–free pasta)
3 ears corn, kernels cut from cob
1–1/2 pounds zucchini, grated
1 (5 to 7–ounce) container basil pesto
Freshly ground pepper to taste
Parmesan cheese, grated (for serving)

Cook bacon in a 12–inch heavy skillet over medium heat, turning occasionally, until crisp. Drain on paper towels; discard drippings from skillet.
Meanwhile, cook veggie curls (or other pasta choice) according to al dente instructions on package. Reserve 1/2 cup pasta–cooking water, then add vegetables to pasta in pot and cook (partially covered) for about 2 minutes (water will stop boiling). Drain.
Add pasta with vegetables to skillet along with pesto and 1/4 cup reserved cooking water and toss. Season with salt and moisten with additional cooking water if necessary.
Top with crumbled bacon, a generous amount of freshly ground pepper and the grated parmesan cheese.
See also:
Zukezilla (Part 1)
Zukezilla (Part 3)
Zukezilla (Part 4)
Zukezilla (Part 5)