Birthday Breather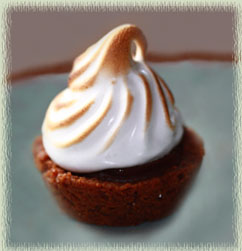 My oh my! Has it been busy around here (just as predicted the last time I posted before the mayhem ensued). Today is my birthday, and it's the first time in weeks that I actually found a couple of hours to reacquaint myself with the blogging world. I've still been cooking/baking and photographing most of it, so I have plenty of things on the back burner to write about. Finding the time to do it is the problem. And the Wine Imbiber has been pretty busy, too!
This recipe was actually something I entered in a contest last fall sponsored by Delta Airlines (yeah, my back burner runs deep!). Rich and I were attending the Los Angeles Food & Wine festival last October and happened to stumble upon the contest in the Delta Lounge. They serve Biscoff cookies on their flights and thought a recipe contest using them was a good way to capture the attention of festival–goers. Unfortunately, it was one of those lame contest varieties that required you to harass all of your Facebook friends to vote for you every day (as if!) to get you to the next qualifying round, so I obviously didn't make it out of the starting box. I didn't even belong to Facebook at the time, and most people I know who did barely knew how to use it, so strike two. Needless to say, I've since sworn off participation in contests that aren't judged by professionals (and are determined by Facebook likes, because after all, no one ever cheats in those, right?!).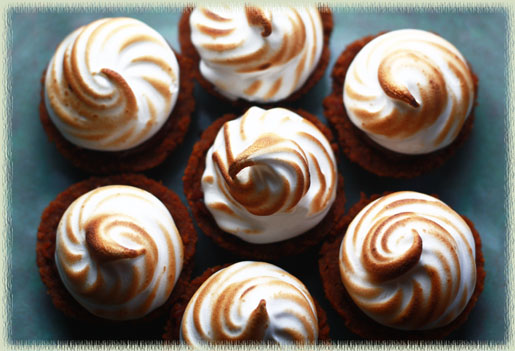 Anyway, everyone who tried these little gems absolutely loved them, so that makes them winners in my book. I really became a fan of Biscoff cookies (and the spread), especially after Trader Joe's created their knock off versions of both. I even created a Pinterest board devoted to the spread (which I named Cookie Butter because yes, I was still pissed about the contest and I love Trader Joe's (duh!).
You're going to love these buttery cookie crusts filled with milk chocolate ganache topped with toasted marshmallow meringue frosting. And you'll feel just like a pastry pro when you whip out that propane torch and artistically caramelize the tops…I had a blast doing it!
WI wine recommendation: Celebrate your artistic achievement with some champagne or any other lightly sweet bubbly. You'll be needing it…these are rich!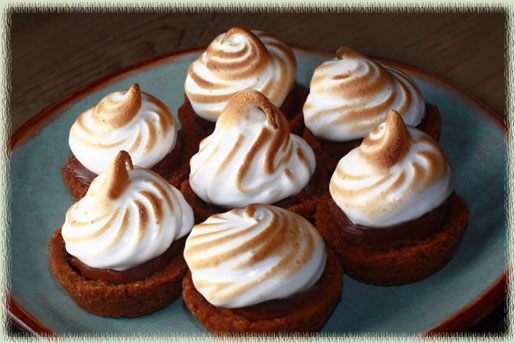 Biscoff S'more Pie Sliders

Biscoff Cookie Crusts:
26 Biscoff cookies (or Trader Joe's Bistro Biscuits)
1 tablespoon sugar
1 teaspoon ground cinnamon
8 tablespoons (1 stick) unsalted butter, melted
Chocolate Ganache Filling:
1 cup heavy cream
7 ounces milk chocolate, broken into pieces
Pinch of salt
1 egg
Marshmallow Meringue Frosting:
4 egg whites
1/8 teaspoon cream of tartar
1 cup superfine sugar
2 tablespoons light corn syrup
1/2 teaspoon vanilla extract

To prepare cookie crusts, preheat oven to 375° F. Put the cookies into a food processor and pulse until finely ground. Add the sugar and cinnamon to the processor bowl and pulse to combine. Switch the processor to constant run and slowly pour the melted butter into the feed tube to combine with the cookie crumbs. Once it has all combined thoroughly, shut off the processor and scrape around the mixture with a rubber spatula to complete the blending process.
Take heaping tablespoonfuls of the crust mixture and press them into the wells of a mini muffin pan. Note: I found the easiest way to accomplish evenly formed shells is to use a shot glass to tamp down the center of the crumb mounds in the wells; twisting the glass as you lift it out of the well. The shells will puff up and lose their shape once baked, so also use the shot glass to re–form them immediately after pulling them out of the oven.
Bake the shells for 8 minutes. Allow them to cool completely before removing them from the pan. Yields 24 mini shells.
To prepare the ganache filling, heat the cream in saucepan until scalded (not boiling). Stir in the chocolate pieces with a heat–proof rubber spatula until completely smooth. Add in the salt and then the egg, using a whisk to fully incorporate them into the chocolate mixture. Turn the heat to medium–low and continue whisking until the mixture begins to thicken (about 2–3 minutes). Remove from heat and pour the mixture into a bowl. Allow the ganache to come to room temperature, then cover the bowl and refrigerate until the ganache stiffens.
To prepare the meringue frosting, put the egg whites and cream of tartar in the bowl of a stand mixer fitted with a whisk attachment. Beat the egg whites on medium–high speed until light and frothy. Add the sugar slowly (a couple of tablespoons at a time) until fully incorporated. Once the sugar and egg whites are completely mixed, scrape down the sides of the bowl and add in the corn syrup and vanilla and continue mixing for about 8 minutes. It is done when it has become glossy and fluffy and holds a stiff peak.
To assemble the sliders, lift the pie shells from the pan by carefully inserting a sharp knife in between the shells and the pan wells, slightly lifting them to pop them out. Using a small cookie dough scooper, create balls of ganache and place them into the shells. Slightly press on them to flatten the tops. Scoop the meringue frosting into a Ziploc or piping bag fitted with a large star tip and pipe in a circular motion over the tops of the ganache filling. Light up a propane torch (on low flame) and wave over the marshmallow meringues to desired toastiness. A broiler oven can also be used for this process, but requires a watchful eye and rotation to prevent burning.
Comments (1)
June 29, 2012 at 8:48 am
Diana
said:
This looks like something my son would love.