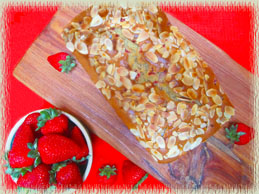 Thanks to early warm weather fronts this year, Mother's Day and strawberry season are converging quite nicely. The strawberries in California seem to be bigger and redder earlier than usual. To make the most of these early season beauties, I decided to bake something I could ship up to my mom in Oregon. It had to be something sturdy enough to survive the USPS experience and still taste good three days later upon arrival. And since I always bake cookies or brownies for gift–shipping, I wanted to try something different.
This strawberry bread recipe met all of my requirements (and in delectable way, I might add). I'd never eaten or made sweet bread with strawberries before. And I must say, after baking four loaves of them in the last two weeks (thanks to some fantastic grocery store strawberry bargains), I've discovered a keeper of a recipe! Sure, I've made banana bread and zucchini bread before. But, it never once occurred to me to use strawberries in bread. I've made strawberry muffins and even cupcakes (recipe coming soon), but not bread. How did this concept escape me all these years?!?
I'm guessing this recipe would convert nicely into muffins, but nothing beats a warm, thick slice of bread with chilled chunks of sweet cream butter layered on it in my book. It also has other ingredients that hinted of success to me, like cardamom, sour cream and sliced almonds. The cardamom lends a luscious flavor to this bread that almost reminds me of bananas. And the sour cream gives it a moist, tender crumb that contrasts nicely with the texture of the almonds, which toast up to crunchy crust perfection. (The original recipe called for walnuts, but the one I followed adapted it by using almonds, which I wholeheartedly recommend.)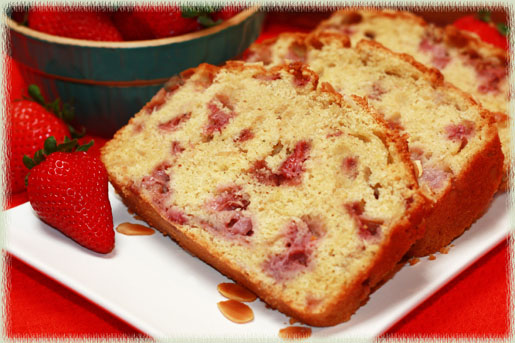 I know my mom (and dad) will love this strawberry bread. It's wonderful served warm or cold; for breakfast with coffee or tea, or for dessert (think grilled and à la mode). And for Mother's Day, any good wine imbiber will be sure to include some nice bubbly with it whether it's breakfast or dessert!
WI wine recommendation: Champagne or other sparkling wine is excellent with this strawberry bread; for something different, try Moscato (which is popular right now), which has just enough sweetness to pair nicely.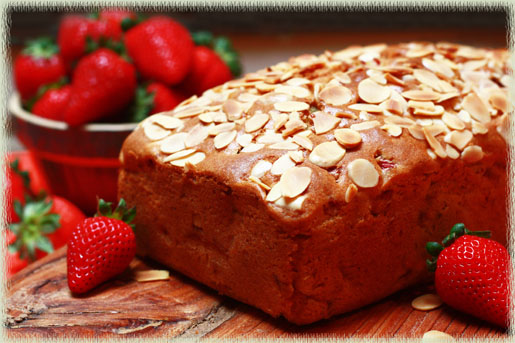 Strawberry Bread
(from Mele Cotte, who adapted it from The Country Cook)

1 cup (2 stick) unsalted butter, room temperature
1–1/2 cup sugar
6 large eggs
2 teaspoon vanilla extract
4 cups all–purpose flour
4 teaspoon baking powder
1 teaspoon baking soda
1/2 teaspoon salt
2 teaspoon ground cardamom
1 cup sour cream
3 cups chopped fresh strawberries
1 cup sliced almonds

Preheat oven to 350° F. Grease and line two 9 x 5 inch loaf pans with parchment paper hanging over the long sides for easy removal.
In a large bowl, whisk together the flour, baking powder, baking soda, salt and ground cardamom; set aside. With the paddle attachment of an electric mixer, beat the butter and sugar until light and fluffy, about 3–4 minutes. Add the eggs, one at a time, beating well and scraping down the sides of the bowl after each addition. Add the vanilla extract. With the mixer on low speed, add the flour mixture and sour cream alternately, starting and ending with the flour. Mix until just combined. Gently fold in the chopped strawberries and half the almonds.
Divide the batter between the prepared pans and sprinkle with the remaining almonds. Bake about hour, or until the bread is golden brown and a toothpick inserted in the center comes out almost clean.
Place on a wire rack to cool and then remove the bread from the pan. Serve warm or at room temperature. This bread can be frozen. Yields two 9 x 5 inch loaves.