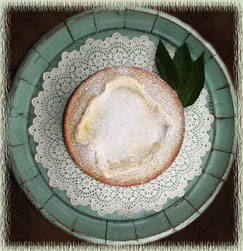 I know the month of March conjures up all sorts of themes for people. For the sports–minded, there's March Madness (college basketball play-offs). For the Irish (and Irish–wannabes), it's St. Patrick's Day. And for the Wine Imbiber and me, it's a month of anniversaries. Well, actually it's a day of anniversaries—we officially launched Wine Imbiber on our wedding anniversary four years ago.
March also signifies something else important in my world…the dwindling days of Meyer lemon season. (You may or may not be familiar with my affinity for all things lemon, especially Meyer lemons.) I generally don't have to worry about access to lemons as our tree supplies us with a year–round supply of them. But for those of you other lemon–lovers who don't have a Meyer lemon tree of your own to fulfill your recipe needs, this can be a frantic time of year. My biggest problem is finding the time to make the lemon recipes I've amassed through the years. Then, of course, there's the complication of which one to make once I finally get around to doing it.
One of the recipes I managed to try this year I found on a website that I recently discovered through Pinterest. (By the way, if you check out my Pinterest page, you'll note that I have a Lemonlicious board (natch!), along with many wine–related and food boards. My family thinks I've lost my mind with all the pinning I do!) Anyway, this recipe turned out to be quite the winner, even though it looks a bit different from Blackjack Bakehouse's results.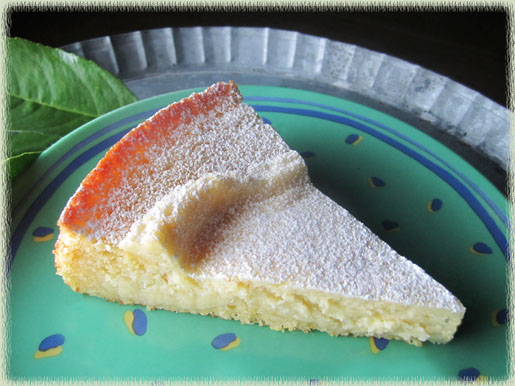 As far as the flavor goes, this was described by the creator of the recipe as tasting like an Entenmann's cheese Danish—minus the Danish, but all butter cake. Not being familiar with this particular bakery item, I can't attest to the accuracy of the description. I can agree with it having a lightly sweet, light lemon filling (don't expect the mouth–puckering tanginess of lemon curd). And its texture surely takes it beyond that of a breakfast cake, so it can most certainly be eaten anytime of the day (and we did!). I also imagine this would taste fantastic served with strawberries, raspberries or blueberries on the side.
So I consider this recipe to be one of my Pinterest discovery success stories. Now if Pinterest could just get their sh*t together and start answering their help questions I'd be an even happier camper. Allow me a moment to vent: My Lemonlicious board totally disappeared one week, only to magically reappear and make my Brownies & Bars board go away forever. Countless unanswered requests for help only resulted in me having to start a new board all over again. Never mind the discrepancies of the followers/following counters and the odd alphabetization of my boards list. I guess they're too busy trying to deal with their sudden success (and also trying to figure out how to avoid claims of copyright violation.) A lot of people are saying that it's becoming clearer by the day that paper–world copyright laws just don't work in today's digital age.
WI wine recommendation: As with most of my dessert recipes, any sparkling wine or Champagne would be great paired with this, especially if it is being served for breakfast or brunch. If serving it in the evening, a light–bodied Moscato with its floral aromas and semisweet touch on the palate and would be a nice choice.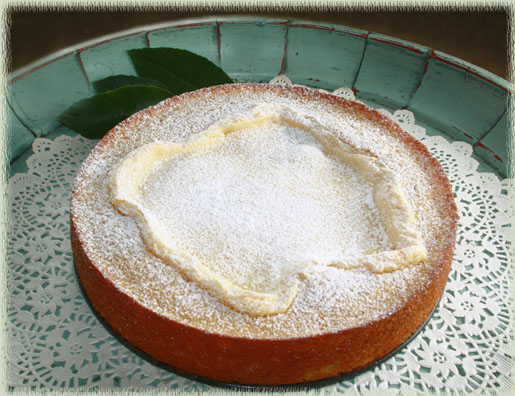 Meyer Lemon Cream Butter Cake
(adapted from Blackjack Bakehouse)

2/3 cup all–purpose flour
1/3 cup granulated sugar
2 teaspoons baking powder
1/4 (heaping) teaspoon kosher salt
1/2 cup (1 stick) unsalted butter, melted and cooled slightly
2 eggs
2 tablespoons Meyer (or regular) lemon juice
1/2 teaspoon vanilla extract
Zest of 2–1/2 Meyer (or regular) lemons, divided (2 + 1/2)
8 ounces cream cheese, at room temperature
3 tablespoons unsalted butter, melted
1 egg
1 teaspoon lemon extract
1/2 teaspoon vanilla extract
1 cup confectioners' sugar

Preheat oven to 325° F. Grease a 9″ springform pan with vegetable spray.
In a large bowl (or bowl of a stand mixer), beat the cream cheese on medium-high to high speed for about 5 minutes, until smooth and creamy.
Add confectioners' sugar and beat for another 2–3 minutes. Add egg and beat until completely combined, about 1 minute. Add butter, both extracts and the zest of 2 lemons. Beat until completely combined, about 1 minute. Set aside.
In large bowl, whisk together flour, sugar, baking powder and salt. Whisk in melted butter, eggs, lemon juice, vanilla extract and the zest from half a lemon until combined. Do not over–mix!
Pour batter evenly into springform pan. Carefully pour filling mixture evenly over the cake batter to within about 1/2 inch of the edge of the pan. (The filling should cover all but the outer 1/2 inch, at which point the cake batter will be visible.)
Bake for 35–40 minutes, or until the cake has puffed up and toothpick inserted near edge of cake comes out clean. (The filling really puffed up on mine, then collapsed down as it cooled.)
Allow cake to cool in pan on a wire rack for 10 minutes, then carefully remove springform sides and allow cake to cool on rack for 1 hour. Transfer to refrigerator and chill completely before serving. (I didn't bother with the fridge—I just let it cool down to room temperature on the counter.)
Dust the cake top with a sprinkling of confectioners' sugar. Berries would be good with this, but are optional.