Meyer Lemon Cream Butter Cake
This recipe (adapted from Blackjack Bakehouse) appeared in Meyer Lemon Madness! on 15 Mar 2012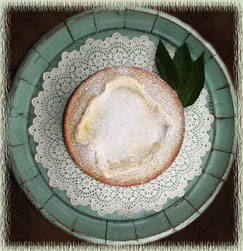 2/3 cup all–purpose flour
1/3 cup granulated sugar
2 teaspoons baking powder
1/4 (heaping) teaspoon kosher salt
1/2 cup (1 stick) unsalted butter, melted and cooled slightly
2 eggs
2 tablespoons Meyer (or regular) lemon juice
1/2 teaspoon vanilla extract
Zest of 2–1/2 Meyer (or regular) lemons, divided (2 + 1/2)
8 ounces cream cheese, at room temperature
3 tablespoons unsalted butter, melted
1 egg
1 teaspoon lemon extract
1/2 teaspoon vanilla extract
1 cup confectioners' sugar
Preheat oven to 325° F. Grease a 9″ springform pan with vegetable spray.
In a large bowl (or bowl of a stand mixer), beat the cream cheese on medium-high to high speed for about 5 minutes, until smooth and creamy.
Add confectioners' sugar and beat for another 2–3 minutes. Add egg and beat until completely combined, about 1 minute. Add butter, both extracts and the zest of 2 lemons. Beat until completely combined, about 1 minute. Set aside.
In large bowl, whisk together flour, sugar, baking powder and salt. Whisk in melted butter, eggs, lemon juice, vanilla extract and the zest from half a lemon until combined. Do not over–mix!
Pour batter evenly into springform pan. Carefully pour filling mixture evenly over the cake batter to within about 1/2 inch of the edge of the pan. (The filling should cover all but the outer 1/2 inch, at which point the cake batter will be visible.)
Bake for 35–40 minutes, or until the cake has puffed up and toothpick inserted near edge of cake comes out clean. (The filling really puffed up on mine, then collapsed down as it cooled.)
Allow cake to cool in pan on a wire rack for 10 minutes, then carefully remove springform sides and allow cake to cool on rack for 1 hour. Transfer to refrigerator and chill completely before serving. (I didn't bother with the fridge—I just let it cool down to room temperature on the counter.)
Dust the cake top with a sprinkling of confectioners' sugar. Berries would be good with this, but are optional.
WI wine recommendation: As with most of my dessert recipes, any sparkling wine or Champagne would be great paired with this, especially if it is being served for breakfast or brunch. If serving it in the evening, a light–bodied Moscato with its floral aromas and semisweet touch on the palate and would be a nice choice.