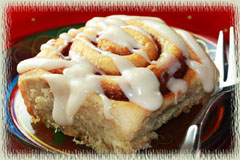 I've never made cinnamon rolls before. How about you? No, I'm not talking about the ones from the chubby little doughboy tube. That's cheating. I used to make those when I was a mere tot. The skill set required for making them was on par with what was needed to create things out of my Easy Bake Oven. No comment on the similar quality of the final product (though, they did manage to fill Mom's kitchen with such an irresistible aroma of cinnamon that I'm instantly transported back to my childhood baking days every time I walk past a Cinnabon store).
As the years rolled on, I outgrew my easy cinnamon roll–making ways and pretty much gave up eating them (must have been around the time Mom declared them—and any pastry dripping in icing—fattening and, therefore, unhealthy for consumption). Mom (mine, not the Wine Imbiber's) was a pioneer of healthy eating habits long before the likes of Dr. Atkins and Dr. Oz went public. Her theory of avoiding refined sugar stuck with me through my teens and into adulthood and saved me from suffering through a lot of pounds and pimples. Even though my love of baking never waned, I at least adopted more of an "everything in moderation" lifestyle that I still try to live by and now attempt instilling in my own spawns' eating habits.
My attitude about eating sweets (especially for breakfast) is basically this: If you're going to surrender to your sweet tooth every now and again, then make sure that whatever it may be is good! So how does one apply this notion to making cinnamon rolls? Ditch the doughboy and go the extra mile; make them from scratch! Yes, to some that's a daunting concept (it was for me at first thought). I've experienced some miserable failures in the past when it comes to using yeast, not to mention rolling things into tidy spirals. I really didn't want to risk a repeat experience making cinnamon rolls for the first time for the family's Christmas brunch. But, I finally relented and ignored my fears once I found this recipe over at White on Rice Couple, who adapted it from Neiman Marcus Taste.
It's a fantastic recipe; one that I'll return to anytime I need a foolproof recipe for cinnamon rolls. I had absolutely no trouble making them, much to my relief. They were everything I hoped for (just look at them—I couldn't stop snapping photos of them, even in their un–baked state!). They made a nice addition to our Christmas morning food frenzy, but I'm sure they would be equally appreciated at breakfast or brunch any time of the year.
I followed the recipe exactly, only I used another one of
Penzeys cinnamon varieties (they do carry Vietnamese cinnamon). I might try adding some chopped pecans or walnuts next time, but that's only because I'm a nut fan. They really don't need anything else. I only received "oohs" and "aahs" from everyone—no requests for changes (except maybe to make them more often!).
WI wine recommendation: Since it's Champagne season, that was what we drank with these and it was a mighty fine combination. It was a dry Champagne, which helped tame the sweetness of the rolls. Cremant (Champagne's less–expensive cousin) would be another good choice, as would most any other sparkling wine.


Cinnamon Rolls
(From White on Rice Couple)

Dough:
1 cup milk
4 teaspoons (1–1/2 packets) active dry yeast
1/4 cup sugar
1 teaspoon sea salt
1/2 cup (1 stick) unsalted butter, melted
3–1/4 cup all–purpose flour
Cinnamon Filling:
1/2 cup (1 stick) unsalted Butter, melted
1 cup brown sugar
1/4 cup sugar
2–1/2 tablespoons ground cinnamon (or 3 tablespoons freshly ground Vietnamese cinnamon)
Icing
2 ounces cream cheese, room temperature
1 cup confectioner's sugar
2 tablespoons milk
Procedure:
Make the dough. Gently warm the milk in a saucepan to 110° F (lukewarm bath temp). Pour milk into a bowl with the yeast, sugar, and sea salt. Stir to combine and dissolve yeast. Stir in the melted butter.
Mix in the flour until a soft dough forms. You may have to add a little extra if dough is too sticky. (It should be slightly tacky but not overly sticky.)
Cover bowl and set in a warm place to rise for about an hour (or until doubled in volume). When the dough is almost done rising, melt the cinnamon filling butter. Combine sugars and cinnamon in a bowl and set aside.
Lightly butter a 9×11 baking dish. Put dough on a lightly floured work surface and roll it out until it is 1/4″ thick and 18″x14″.
Spread cinnamon filling's melted butter evenly across the top surface. Evenly sprinkle cinnamon sugar mix over dough. Beginning with the longer side facing you, use both hands to roll the dough into a log. Slice the log into 12 even sections, about 11/2″ wide.
Place the rolls cut side up in the buttered baking dish. Cover and allow to rise for 30 minutes in a warm place. While rolls rise, preheat oven to 350° F.
Bake the rolls for about 15 minutes (or until golden in color). Remove from oven and allow to cool for 15–20 minutes.
While cinnamon rolls cool, make icing. Combine the cream cheese, confectioner's sugar and milk in a bowl and mix until smooth. Drizzle icing over cinnamon rolls and serve.