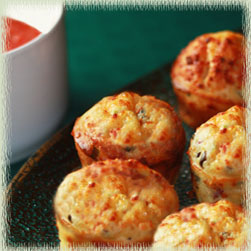 Round four of the five days of appies is for the kids (or kids at heart). They're extremely easy to make and irresistible to anyone who loves the flavors of pizza (but in a fluffy–puffy form!). And lest I forget, dipping is involved. Is there a kid on earth that doesn't think dipping food into some kind of sauce makes it taste a hundred times better? I know of none; and speaking as an adult, I rather enjoy the process myself. (I'm guessing it has to do with some kind of control issue.)
I suppose one could consider pizza to be an hors d'oeuvre since it doesn't require eating utensils (though I've witnessed a few kooks before, trying to implement knives and forks into their pizza eating process—really?!?). I know that's a topic of great debate to many, but I was raised eating New York style pizza, and hands are the only utensil required. Heck, most pizza–types shouldn't involve anything but hands to get the slice from plate to mouth (unless you're talking about Chicago–style, which are far from the roots of traditional delicately–topped, thin–crusted Italian pizzas).
But seeing pizza slices lying next to my petite hors d'oeuvres seemed wrong. So, transforming pizza into mini–puffs became a necessity for my holiday sanity. And thankfully, this recipe requires very little effort to put together so I didn't mind whipping them up for the lone seafood–hater. But of course, everyone else had to taste them and get hooked on them, so now they're included as part of the annual Christmas Eve menu.
WI wine recommendation: Like I've said before, bubbly is the only way to go with these (since you're probably already serving it with the other day's appies). But if you're serving these all by their lonesome, I'm sure a bubbly beer would taste equally as good with these pizza–flavored puffs.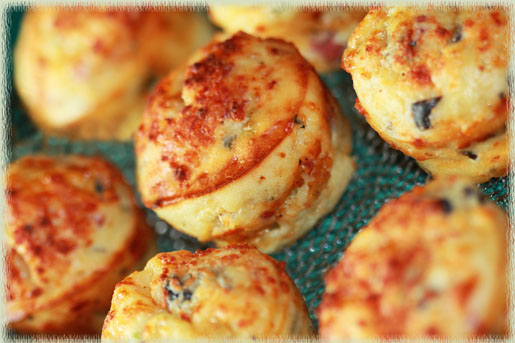 Pizza Puffs
(adapted from EveryDay with Rachel Ray)

3/4 cup flour
3/4 teaspoon baking powder
3/4 cup milk
1 egg
1–4 cup Italian cheeses (mozzarella, provolone, etc.), shredded
4 ounces pepperoni, salami (or both), chopped
2 tablespoons fresh Italian herbs (basil, oregano parsley), chopped
Optional: chopped bell pepper, mushrooms or other favorite pizza toppings
Freshly grated parmesan cheese
1/2 cup store–bought marinara sauce

Preheat oven to 400° F. Lightly grease a 24–cup mini–muffin pan with olive oil spray.
In a large bowl, whisk together the flour and baking powder; whisk in the milk and egg. Stir in the cheeses, chopped meat, herbs and other chopped toppings if using. Allow to sit for ten minutes before proceeding.
Stir the batter and divide among the mini–muffin cups. Sprinkle tops with grated parmesan cheese
and bake until puffed and golden, about 15–18 minutes.
Meanwhile, heat the marinara sauce in a microwave oven until warmed through. Serve the sauce for dipping alongside the puffs on a serving platter. If you have any leftover fresh herbs, feel free to sprinkle them across the tops of the puffs.