Pizza Puffs
This recipe appeared in There's an Appie for That on 15 Dec 2011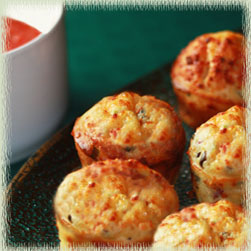 3/4 cup flour
3/4 teaspoon baking powder
3/4 cup milk
1 egg
1–4 cup Italian cheeses (mozzarella, provolone, etc.), shredded
4 ounces pepperoni, salami (or both), chopped
2 tablespoons fresh Italian herbs (basil, oregano parsley), chopped
Optional: chopped bell pepper, mushrooms or other favorite pizza toppings
Freshly grated parmesan cheese
1/2 cup store–bought marinara sauce

Preheat oven to 400° F. Lightly grease a 24–cup mini–muffin pan with olive oil spray.
In a large bowl, whisk together the flour and baking powder; whisk in the milk and egg. Stir in the cheeses, chopped meat, herbs and other chopped toppings if using. Allow to sit for ten minutes before proceeding.
Stir the batter and divide among the mini–muffin cups. Sprinkle tops with grated parmesan cheese
and bake until puffed and golden, about 15–18 minutes.
Meanwhile, heat the marinara sauce in a microwave oven until warmed through. Serve the sauce for dipping alongside the puffs on a serving platter. If you have any leftover fresh herbs, feel free to sprinkle them across the tops of the puffs.

WI wine recommendation: Like I've said before, bubbly is the only way to go with these (since you're probably already serving it with the other day's appies). But if you're serving these all by their lonesome, I'm sure a bubbly beer would taste equally as good with these pizza–flavored puffs.