Hors D'Oeuvres? Did You Mean Finger Foods?
Okay…so it's Wednesday, which could only mean one thing—day three of Wine Imbiber's little appie–fest! Today I'm revealing the third hors d'oeuvre recipe I make every single year for our Christmas Eve grazing. Did you know that the informal definition of grazing by the Free Online Dictionary is "to eat a variety of appetizers as a full meal"? Well, as I mentioned previously, that's exactly what we do when we return from church. Here's how it all goes down.
We always attend the late afternoon Christmas Eve service, which is the more family oriented one that caters to and involves children. When our four kids were younger, they were required at certain grade levels to participate informally in the service, so that just became the service we've always attended.
By the time we get out of the service, it's dark and usually freezing (by Los Angeles standards anyway). We're cold, starving and anxious to get into more comfy duds and open gifts (we only open stockings on Christmas morning).
Once we've all changed our clothes, the spawn head to the kitchen and begin circling the island. When they were younger, they headed to the tree first (presents taking precedence over hunger). Nowadays their stomachs are more aligned with ours so they want food and drink. So, the Wine Imbiber kicks things off with his Champagne cork–popping ritual while one of the kids handles the Martinelli's pouring.
I preheat the ovens; pull out the pre–made shrimp puffs, stuffed mushrooms and the filling for the crab canapés. I put the shrimp puffs on a serving plate (while fending off grabby hands) and place some of the mushrooms on a sheet and transfer them to the small broiler oven for heating. At this point, the champagne tastes mighty fine with the few puffs I managed to procure and eat.
Meanwhile, Rich has finished his sommelier duties and starts a fire in the living room fireplace. Christmas tunes are blasting over the speakers and the kids are stuffing puffs in their pie holes while still hanging out in the kitchen waiting for the hot stuff. Rich begins slicing the baguette and toasting the rounds for me to spread with the crab mixture and broil in the other oven.
By this time, the first round of mushrooms is done and ready for eating along with what's left of the shrimp puffs. The canapés follow within minutes, and everyone starts complaining that they've burned the roofs of their mouths by not waiting an extra minute for cooling. Good thing we have plenty of bubbly and sparkling cider to soothe our savage burns!
Eventually, we've all had our fill and begin to wonder what surprises await each of us under the Christmas tree. Then someone remembers to get out some of the leftover goodies that were made for gift-giving. I prefer munching on what's left of my Ferrero Rocher chocolates that I buy myself every year from Costco (another thing that I only do once a year). Now we can open gifts!
WI wine recommendation: Champagne and only champagne for this half of Wine Imbiber! Rich may recommend other wines, but this is the only thing I'll drink with these magic mushrooms! Oh, Rich agrees.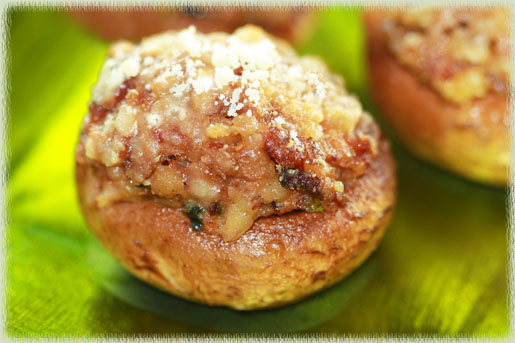 Stuffed Mushrooms

12 extra–large mushrooms, wiped clean with damp cloth
Olive oil spray
1 tablespoon butter or olive oil
2 tablespoons white wine
1–2 tablespoons pre–cooked bacon bits
1–2 tablespoons green onions (scallions), finely sliced
1 large clove garlic, minced
1/4 cup walnuts, minced
1–1/2 cups dry (not fresh) bread crumbs
2–4 tablespoons chicken broth
Freshly grated parmesan cheese
Panko bread crumbs
Paprika

Preheat oven to 400° F. Remove stems from mushroom caps and finely chop up the stems.
Place the caps on a lightly oil–sprayed baking sheet (stem–less side up). Spray the inside of the caps with the same olive oil spray. Bake for 5–8 minutes or until they begin to shrink and juices begin to pool inside the caps. Take them out of the oven and set aside.
Place the butter or oil in a small pan and heat over medium–high heat. Add the chopped mushroom stems and sauté for about 2 minutes.
Add the next five ingredients and continue to sauté for another minute. Add in the juice from the set–aside mushroom caps, and then the dry bread crumbs. Mix thoroughly (a silicone spatula works best for this).
Start mixing in the chicken broth, beginning with 2 tablespoons. Continue adding more of the broth until the mushroom mixture has become pasty and has a consistency similar to that of raw ground beef. Note: It may take more than the listed 4 tablespoons. You want the mixture to hold together and not be too loose to form into balls.
Form large balls of the mushroom mixture (big enough to cover mushroom caps) and mound them inside the caps. Dunk the tops of the mounds in a 50/50 mix of parmesan cheese and panko.
Place stuffed caps back on same baking sheet and sprinkle the tops with paprika.
At this point, you can cover the sheet and store the mushrooms in the refrigerator for broiling later. Or, broil them in the oven immediately until tops are lightly browned and cheese has melted (about 4–5 minutes). Remove to serving platter when done.