Five Days of Appies
This time of year it's all about cookies. Don't get me wrong, I love making cookies (and candy) for gift–giving purposes. But, after being an avid food blog subscriber for the past four years, I haven't been seeing anything too novel coming across the wire. And yes, I will be throwing my hat into the cookie recipe arena next week, but I promise it will be a little different (and merrier) than most of the customary Christmas cookie renditions I've been seeing as of late.
Until then, I thought I'd concentrate on another tradition we here at Wine Imbiber practice every holiday season. Other than making the same cookie every year to leave out for Santa's dining pleasure on Christmas Eve (which is now made for our own pleasure since the kids have grown into the inevitable non–believing teenagers), we always make and eat only appetizers after returning from church. Rich and I always did this before the spawn invaded our peaceful existence, but I really don't know why or how this custom of ours began. All I know now is that it is a much more convenient way to combat the chaos of schedules—preparing the food, going to Christmas Eve service, eating the food and opening the gifts (we only unload the stockings on Christmas morn).
I always make the same three appies (hors d'oeuvres, if you prefer) and try out one or two new ones (which are usually more in keeping with kid tastes). The kids love the original three as much as Rich and I do (everyone except the non–seafood lover, which is why I began adding the kid–friendly ones). We always drink some sort of bubbly with them (champagne for adults, sparkling apple cider for the kiddos), which always pairs perfectly, of course!
So, for the next five days I will post the above–mentioned three recipes, plus one kid favorite, and then finish with a classic hors d'oeuvres recipe that we usually eat around New Year's Day. All are great for pairing with wine, both sparkling and still. They are also perfect for serving at holiday open houses or other get–togethers as they can be assembled ahead and only need to be popped into the oven (two of them are even served room temperature). As Ina Garten would say, "How easy is that!"
WI wine recommendation: A dry Champagne or other sparkling wine is wonderful with these shrimp puffs. A still wine alternative is Pinot Grigio.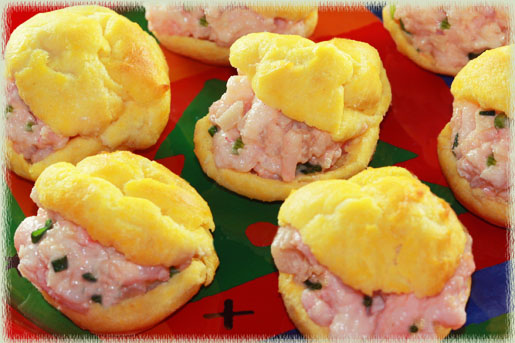 Shrimp Puffs

Filling:
1 8–ounce can sliced water chestnuts
2–3 green onions (scallions)
1–1/2 pounds fresh bay shrimp (or 2 cans mini shrimp)
Mayonnaise (eyeball amount to make a paste)
Soy sauce (to taste)

Puffs:
1 cup flour
1/8 teaspoon salt
1 cup milk
1/3 cup butter
4–5 large eggs (room temperature)

Finely chop the chestnut slices. Slice the green onion thinly. Mix both together with the shrimp and mayonnaise in a bowl. (Add only enough mayo to create a paste–like consistency, similar to a firm dip). Add soy sauce to your liking, starting with about a tablespoon and building from there. Cover the bowl and put in the refrigerator to chill.
Meanwhile, preheat oven to 400° F. Sift the flour and salt together.
In a medium–sized heavy pot, bring the milk and butter to a boil. Add the flour all at once. Quickly stir the mixture until it becomes a smooth paste and doesn't cling to the sides of the pot. Remove pot from heat for approximately 2 minutes to cool down a bit. (Do not return pot to heat.)
Start adding eggs to the pot one at a time, beating the mixture with a wooden spoon after each addition. Once the eggs are fully incorporated, the dough is ready for forming into puffs.
Drop the dough by teaspoonfuls (or a small cookie scooper) onto a lightly greased pan. They don't spread much, so space accordingly.
Bake for 10 minutes at 400° F, then reduce oven to 350° F. Continue baking for 10–15 minutes longer, until they turn golden in color. Remove the puffs with a spatula to a wire rack and allow to cool.
Once cool, slice them in half and fill with spoonfuls of the shrimp filling. Store (covered) in the refrigerator until serving time. These taste best chilled, but also taste good at room temperature. Recipe makes about 2–1/2 dozen assembled shrimp puffs.