Cream Cheese Pancakes with Smoked Salmon
This recipe (adapted from Evil Shenanigans) appeared in Cream Cheese Pancakes Make Tasty Blini! on 16 Dec 2011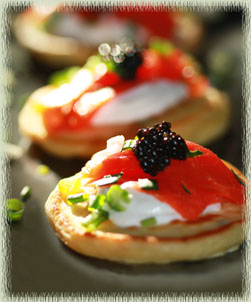 Pancakes:
1 cup all–purpose flour
1–1/4 teaspoon baking powder
1/4 teaspoon kosher salt
1 tablespoon fresh chives, chopped
1 ounce cream cheese, softened
1 tablespoon butter, softened
1 egg
3/4 cup milk
8 ounces cold smoked salmon
Fresh chives or green onion, chopped (for garnish)
Optional: Caviar

Sour Cream Sauce:
1/2 cup sour cream
1 teaspoon horseradish
1/4 teaspoon kosher salt

In a medium bowl, whisk together the flour, baking powder, salt and chives.
In a small bowl, cream together the cream cheese and butter until smooth. Add the egg and whisk until completely incorporated. Whisk in the milk.
Pour the wet ingredients into the dry and whisk until just incorporated and no large lumps remain. Do not over–mix.
Heat a non–stick skillet over medium heat. Spray lightly with non–stick spray then scoop the batter by tablespoonfuls into the pan. Cook for one minute on the first side, then flip and cook for an additional 30 seconds (or until the pancakes are golden brown and spring back when gently pressed in the center). Remove to a plate to cool while you prepare the sauce.
Mix the sour cream, horseradish and salt in a small bowl with a whisk. Let stand 10 minutes.
To assemble the blini, spoon a heaping 1/4 teaspoon of the sauce onto the center of each of the pancakes. Top with a small piece of the salmon, and then a tiny dollop of caviar (if using). Garnish with the chopped green onion or chives (or both). These can be assembled up to one hour in advance. Serve at room temperature.

WI wine recommendation: Champagne once again—come on, you're serving smoked salmon and caviar so it's probably New Year's Eve!