Cream Cheese Pancakes Make Tasty Blini!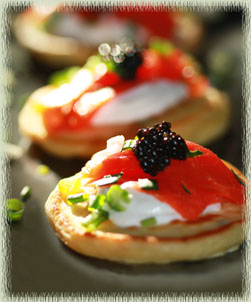 It's the fifth and final day of our holiday appetizer/hors d'oeuvres abbondanza. Today's recipe is a versatile little number, offering various presentations that will suit all your guests' needs. It's very easy to vary the ingredients to create all sorts of savory or sweet nibbles with these little pancakes. But for today's post, I'm going to focus on the savory variations that have become perennial favorites in our home at past New Year's celebrations.
I've made other versions of these mini pancakes before, but find this recipe produces a much more appealing texture that is more adaptable for pairing with either sweet or savory toppings. The blini I've made turn out thinner than these pancakes, which are much puffier and lighter in texture. Traditional blini usually use a combination of buckwheat and regular flour. This recipe uses only all–purpose flour, so the difference in the final product is like comparing white bread to whole wheat bread. Some things just taste better on white (especially the sweet toppings). Lemon curd, jam, Nutella and peanut butter & jelly are just a few examples of what you could top these pancakes with to make them dessert blini.
What I like to top these with the most are smoked salmon and other accoutrements. I usually just prepare a bunch of toppings, set them out in little bowls and allow everybody to make their own creations (similar to a make–your–own ice cream sundae bar). Chopped green onion or chives, minced red onion, fresh dill weed, crème fraîche, sour cream and capers are some of our family's favorites. Even the seafood hater of the family loves smoked salmon when combined with these toppings. His blini become a lesson in physics as he tries to defy the law of gravity with the amount of toppings he piles on his pancakes.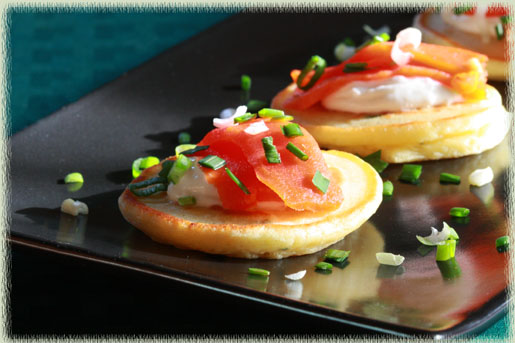 When I pre–assemble the blini for purposes of setting out on a holiday buffet or for serving with cocktails, I usually make two versions. One simply has smoked salmon and chives or green onion (with just a quick squeeze of lemon juice to finish) sitting atop the pancakes; the other version includes caviar and some sort of tangy sauce. As hard as it is for me to believe, some people don't like the taste of caviar (shockingly, the Wine Imbiber is one of said people). Even most of our kids appreciate the taste and texture that caviar adds to blini with smoked salmon. Sometimes I just top the blini with crème fraîche and caviar (that's how much I like it!).
Whatever it is you decide to top your little pancakes with, make sure you use a good pancake recipe (like the one below). With the prices you have to pay for smoked salmon and caviar (though, I get mine at Costco for a substantial savings over the local seafood store's prices), you don't want to ruin your blini with wimpy pancakes.
WI wine recommendation: Champagne once again—come on, you're serving smoked salmon and caviar so it's probably New Year's Eve!


Cream Cheese Pancakes with Smoked Salmon
(adapted from Evil Shenanigans)

Pancakes:
1 cup all–purpose flour
1–1/4 teaspoon baking powder
1/4 teaspoon kosher salt
1 tablespoon fresh chives, chopped
1 ounce cream cheese, softened
1 tablespoon butter, softened
1 egg
3/4 cup milk
8 ounces cold smoked salmon
Fresh chives or green onion, chopped (for garnish)
Optional: Caviar

Sour Cream Sauce:
1/2 cup sour cream
1 teaspoon horseradish
1/4 teaspoon kosher salt

In a medium bowl, whisk together the flour, baking powder, salt and chives.
In a small bowl, cream together the cream cheese and butter until smooth. Add the egg and whisk until completely incorporated. Whisk in the milk.
Pour the wet ingredients into the dry and whisk until just incorporated and no large lumps remain. Do not over–mix.
Heat a non–stick skillet over medium heat. Spray lightly with non–stick spray then scoop the batter by tablespoonfuls into the pan. Cook for one minute on the first side, then flip and cook for an additional 30 seconds (or until the pancakes are golden brown and spring back when gently pressed in the center). Remove to a plate to cool while you prepare the sauce.
Mix the sour cream, horseradish and salt in a small bowl with a whisk. Let stand 10 minutes.
To assemble the blini, spoon a heaping 1/4 teaspoon of the sauce onto the center of each of the pancakes. Top with a small piece of the salmon, and then a tiny dollop of caviar (if using). Garnish with the chopped green onion or chives (or both). These can be assembled up to one hour in advance. Serve at room temperature.