Crab Canapés
This recipe appeared in Appies? They Look Like Hors D'Oeuvres! on 13 Dec 2011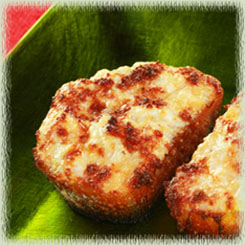 1 sourdough baguette loaf
Olive oil spray or melted butter
8 ounce package cream cheese, room temperature
1/2 cup mayonnaise
1–2 cups sharp cheddar cheese, freshly grated
1 teaspoon Worcestershire sauce
1/2 tablespoon grated horseradish
Dash or more Tobasco sauce
3/4 pound fresh crab meat, rinsed, picked–over and gently squeezed dry
Parmesan cheese, freshly grated
Sweet or smoked paprika

Pre–heat oven broiler. Cut the baguette loaf into 1/4 inch–thick slices. Place them on a cookie sheet and lightly spray surfaces with olive oil (or brush on melted butter). Broil until lightly browned. Remove from oven and set aside (leave the broiler on).
Blend together the next six ingredients until fully incorporated. Carefully fold in crab meat with a rubber spatula. (This can also be done ahead, covered and stored in the fridge for later use.)
Mound about a tablespoonful or more of crab mixture on top of the toasted sides of each of the toasted bread rounds. Dip the mounded sides into the grated parmesan cheese.
Place each canapé onto cookie sheet. Lightly sprinkle each canapé with paprika and return the sheet to the oven.
Broil until the canapés are bubbly and browned to your liking. We sometimes over–broil them for a more charred taste. Once browned, remove and allow to cool slightly (or you may suffer from pizza mouth burns) before serving.

WI wine recommendation: I couldn't think of serving this with anything but Champagne or Martinelli's Sparkling Cider, which comes in nine different apple flavor combinations now. Did you know that Martinelli's originally produced a champagne–style hard cider? No wonder the non–alcoholic sparkling ciders taste so festive!