Chocolate–Kissed Gingerbread Cookies
This recipe (adapted from Becky Bakes) appeared in An Old Favorite Reinvented on 21 Dec 2011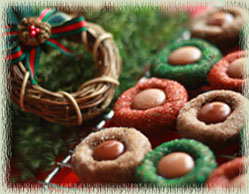 3 cups flour
2 teaspoons ground ginger
1 teaspoon ground cinnamon
1/4 teaspoon ground nutmeg
1 teaspoon baking soda
1/4 teaspoon salt
3/4 cup (1–1/2 sticks) unsalted butter, room temperature
3/4 cup firmly packed brown sugar
1/2 cup blackstrap molasses
1 egg
1 teaspoon vanilla extract
1/4 cup granulated sugar (I also used red & green decorating sugar)
Semi–sweet or dark chocolate callets or disks (I used E. Guittard milk & bittersweet versions)

Mix flour, ginger, cinnamon, nutmeg, baking soda, and salt in large bowl. Set aside.
Beat butter and brown sugar in another bowl with a mixer on medium speed until light and fluffy. Add molasses, egg and vanilla; beat well.
Gradually beat in reserved flour mixture on low speed until well mixed. Press dough into a thick flat disk. Wrap in plastic wrap. Refrigerate 4 hours or overnight.
Preheat oven to 350° F. Shape dough into 1–inch balls. Roll in sugar. Place 2 inches apart on ungreased baking sheets.
Bake 8 to 10 minutes or until edges of cookies just begin to turn brown. Immediately press a callet into the center of each cookie and remove to wire racks to cool. Makes about 50 cookies.

WI wine recommendation: A dessert wine, Gewürztraminer or Sweet Riesling would pair well with these cookies.