Appies? They Look Like Hors D'Oeuvres!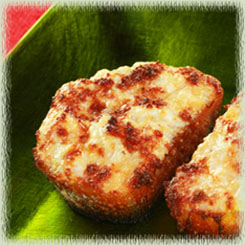 It's day two of the five days of appies I promised. I've been making this one for over 35 years. How do I know this? Well, when I was a mere babe (age–wise) back in high school, I worked once as a server at a friend's neighbor's small yet elegant in–home wedding. And this past September was my 35th high school reunion, so that means it was at least 35 years ago that I had my first experience with these delectable bites. I remember eating at least one for every two that I placed on my serving tray that day. I didn't even care about getting paid at the end of the event. All I wanted was the recipe so I could recreate them for myself and my family over the holidays (it was an early December wedding).
I also recall my much older brother bringing home a new drink that year that he'd discovered for us all to try—Matinelli's Sparkling Cider. He was always the one in the family to discover exotic foods and such as he was an adventuresome eater and traveler. I had my first taste of quiche because of him (though his wife made it). Mind you, at that time, carbonated fruit juices and French food weren't even registering on the trendy food scale yet.
All I knew was that these crab canapés were going to be a great addition to the usual holiday fare my family enjoyed eating each year. They're creamy and crunchy in texture and have a distinctive crab and cheese flavor that now signals my taste buds that Christmas season is indeed in full swing! I haven't ever missed a year making them since that first fateful year, and now our family craves them this time of year. They remind me so much of Christmastime that I only make them once a year (for our Christmas Eve grazing), which seems to make them all the more special for us to eat.
At this point of my mini "appies" recipe series, you may find yourself wondering if I've chosen the proper terminology. Are these considered appetizers or hors d'oeuvres? What's the dif? Basically, appetizers are small dishes that are normally served as the first course to a meal and eaten at a table and usually require utensils. Hors d'oeuvres are more like snacks, normally served at cocktail parties or receptions and are not followed by a meal. They're easy to eat in one or two bites and don't require utensils (only fingers).
All of the recipes I'm posting this week most definitely can be considered hors d'oeuvres (as defined above). But, since we treat them as part of our meal on Christmas Eve, I call them appetizers as we also have dessert (usually some of the cookies and candy that was leftover from those given as gifts). So call them whatever you like, but I'm sticking with the appetizer label. "Hors d'oeuvres" sounds too formal for the way our evening goes down, even if it is associated with using fingers instead of utensils to feed your appie hole!
WI wine recommendation: I couldn't think of serving this with anything but Champagne or Martinelli's Sparkling Cider, which comes in nine different apple flavor combinations now. Did you know that Martinelli's originally produced a champagne–style hard cider? No wonder the non–alcoholic sparkling ciders taste so festive!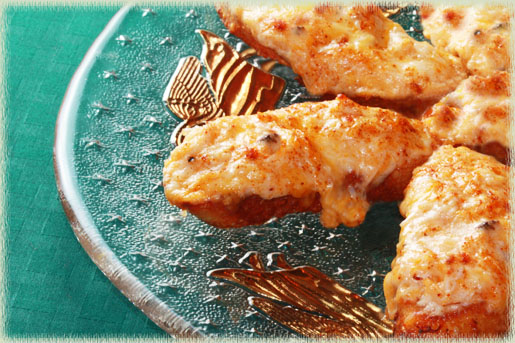 Crab Canapés

1 sourdough baguette loaf
Olive oil spray or melted butter
8 ounce package cream cheese, room temperature
1/2 cup mayonnaise
1–2 cups sharp cheddar cheese, freshly grated
1 teaspoon Worcestershire sauce
1/2 tablespoon grated horseradish
Dash or more Tobasco sauce
3/4 pound fresh crab meat, rinsed, picked–over and gently squeezed dry
Parmesan cheese, freshly grated
Sweet or smoked paprika

Pre–heat oven broiler. Cut the baguette loaf into 1/4 inch–thick slices. Place them on a cookie sheet and lightly spray surfaces with olive oil (or brush on melted butter). Broil until lightly browned. Remove from oven and set aside (leave the broiler on).
Blend together the next six ingredients until fully incorporated. Carefully fold in crab meat with a rubber spatula. (This can also be done ahead, covered and stored in the fridge for later use.)
Mound about a tablespoonful or more of crab mixture on top of the toasted sides of each of the toasted bread rounds. Dip the mounded sides into the grated parmesan cheese.
Place each canapé onto cookie sheet. Lightly sprinkle each canapé with paprika and return the sheet to the oven.
Broil until the canapés are bubbly and browned to your liking. We sometimes over–broil them for a more charred taste. Once browned, remove and allow to cool slightly (or you may suffer from pizza mouth burns) before serving.
Comments (1)
December 14, 2011 at 2:00 pm
Laurel said:
These look similar to something my mom would make for special occasions. It had to be very special for her to spend the money for crab as fresh crabmeat was hard to find where we lived. Thanks for sharing!