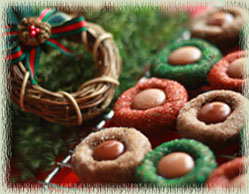 So, are you sick of making Christmas cookies yet? I am. I'm tired of making them, thinking about them and reading about them (particularly when all I seem to get in my inbox these days is The Twelve Days of Holiday Cookies). Uninspired much?! I got so bored with making the usual cookie spread years ago that I switched to making only candy. It also happened to coincide with the birth of our first spawn and made it more of a convenience thing than anything else (melt chocolate, stir in mix–ins, drop on baking sheets, chill, repeat). No brain cells excessively taxed here.
But, I always had to bake cookies for Santa (regardless of the delightful array of available candies my spread evolved into over the years). Quelle horreur if Santa didn't get any cookies from the Wine Imbiber's brood to stuff into his pie hole! Why, he might even take all of our presents back to the sleigh and speed off into the night; all the while never looking back and making a mental note of the travesty. What would become of our already–established reputation of supplying him with the one cookie that reminded him most of what was waiting for him back at the North Pole while he was out distributing gifts around the world?
I admit it was all my doing. I actually told the once wee–ones that the cookies reminded Santa of Mrs. Claus because they look like a certain part of her anatomy (albeit much perkier knowing her presumed age). Mind you, my brain was probably fried from all the breast feeding I'd survived throughout the years. And, it was totally unavoidable for me to have had said topic on my mind having had four kids in six years. So, one year while I was being hounded by one of the male spawn about why I make the same cookie every year for Santa, I just kinda blurted out that they remind him of Mrs. Claus' ____ (starts with a "t", ends with "ts" ). Oh, BTW, the cookie I'm talking about is the oh–so–ever–popular–this–time–of–year Peanut Butter Blossoms. You must check out the picture from this link (those are some pretty overly–perky Hershey's Kisses if I must say so myself!). Mind you, my kids wouldn't know what you were talking about if you called them Peanut Butter Blossoms. They will forever only know them as Mrs. Claus' T_t Cookies. And because we left out such special cookies for Santa every year, they reaped a butt–load of gifts! (Or so they thought anyway!)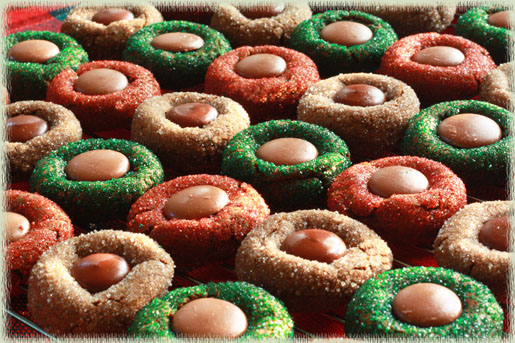 I still make T_t Cookies every year (mostly because we love 'em for the taste and the tradition). But when I saw this variation last year, I just had to make them. They use a favorite cookie flavor of mine (gingerbread) and use something other than a chocolate Hershey's Kiss for the middle. I added my own festive variation that makes them more Christmas–y looking, at least to me. They'll never replace Mrs. Claus' you–know–what cookies, but hey…they at least deserve credit for trying!
WI wine recommendation: A dessert wine, Gewürztraminer or Sweet Riesling would pair well with these cookies.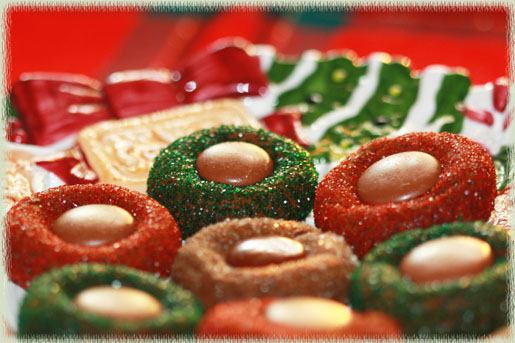 Chocolate–Kissed Gingerbread Cookies
(adapted from Becky Bakes)

3 cups flour
2 teaspoons ground ginger
1 teaspoon ground cinnamon
1/4 teaspoon ground nutmeg
1 teaspoon baking soda
1/4 teaspoon salt
3/4 cup (1–1/2 sticks) unsalted butter, room temperature
3/4 cup firmly packed brown sugar
1/2 cup blackstrap molasses
1 egg
1 teaspoon vanilla extract
1/4 cup granulated sugar (I also used red & green decorating sugar)
Semi–sweet or dark chocolate callets or disks (I used E. Guittard milk & bittersweet versions)

Mix flour, ginger, cinnamon, nutmeg, baking soda, and salt in large bowl. Set aside.
Beat butter and brown sugar in another bowl with a mixer on medium speed until light and fluffy. Add molasses, egg and vanilla; beat well.
Gradually beat in reserved flour mixture on low speed until well mixed. Press dough into a thick flat disk. Wrap in plastic wrap. Refrigerate 4 hours or overnight.
Preheat oven to 350° F. Shape dough into 1–inch balls. Roll in sugar. Place 2 inches apart on ungreased baking sheets.
Bake 8 to 10 minutes or until edges of cookies just begin to turn brown. Immediately press a callet into the center of each cookie and remove to wire racks to cool. Makes about 50 cookies.