As promised, here's the second part of our endless endeavor to find the absolute perfect gifts for all the winos and oenophiles on your holiday gift list this year. This selection leans more towards the winos than the aficionados (if you get my haughty drift), but even connoisseurs of the grape should enjoy these picks. And as with Tuesday's gift suggestions, they are all readily available for purchase online. So pour yourself another glass and get a shoppin'!



Category Three: Wino Fun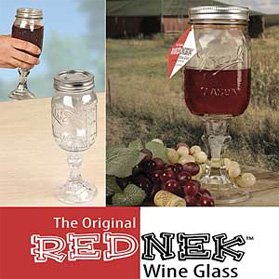 I have to admit, I thought this was pure genius when I first saw it. We have a couple of mason jars in our regular drinking glass cabinet that are used all the time. They're durable and just the perfect size for the male teenaged–spawns that prowl our kitchen. And if they drop them or bang them around, I don't give a hootenanny as they are hardly irreplaceable. Wouldn't you like to have the same laid–back attitude at your next wine–tasting party? Den you better git you some o' dese right now, ya hear?! And don't we all have at least one odd relative who might actually consider this to be fine stemware and be highly appreciative of receiving one? These are available all over the web, ranging in price from one for $16.98 at Taylor's Gifts, to two for $15 at Etsy. Or, if you have the time (and the gumption), check out the Etsy artist's crafting website for a tutorial on how to make your own for about $2.50 each. Yee haw!
If you know someone who likes both board games and wine, then look no further. This game will have players answering wine trivia questions and competing in blind taste tests. It includes 300 questions, 12 challenge cards, four game pieces (corks) and a taste test notepad. It was created by connoisseur Tamara Murphy and has been on the market since 2002. This 2011 version is the result of Chronicle Books licensing and redesigning it. Check out professional winos Hoda and Kathie Lee play the game on the Today Show. Find it at Amazon for the best price ($23). Happy chug–a–lugging!


Category Four: Wine Bottle Accoutrements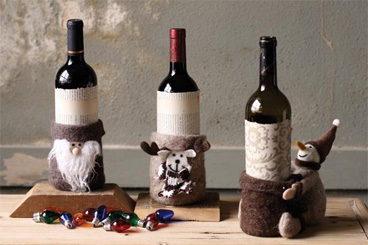 If you're like us, you want your hostess gift of wine to stand out from all the other boring bagged–bottles. Let the wine speak for itself as these folksy holiday wine huggers make a statement of their own while sitting on the buffet next to the naked ones. Now Santa, Moose and Snowman are specially priced at $10 each on at west end. They're still carrying Leggy Santa wine toppers and Moose bottle huggers for the same price as last year when we originally featured them. So there's no excuse for presenting a boring bottle of wine to your host or hostess this year!
Okay, I hear ya. If the aforementioned felt duds and toppers weren't quite opulent enough for your hostess gift–giving needs, how about these? I dare you not to find at least one that would impress your recipient. They're almost too nice to give away! Why not treat yourself this year and dress up your own holiday buffet with some of these sparkly and eclectic wine stoppers. Some of them are even monogrammable for that extra–personal touch. These stoppers range in price from $14.50 to $39/pair (for the monogram type) at Pottery Barn. You might have to resort to the store to get these, though, as they were a Gift of the Day (one day special; all priced at $10 while supplies lasted online) when I wrote this and selling out fast!

So ends this year's Gift Guide. Hope you discovered something new to wow your wine imbibing friends & family with this holiday season. In the meantime, ponder this:
To me there is no better gift
than a fine old bottle of wine.
Like a trusted friend, it speaks for me,
but in a voice uniquely mine.
I'll spread this cheer to all my friends,
and bring them the gift from the vine.
And they in turn will share the joy,
whenever they would dine.