The Food Event 2011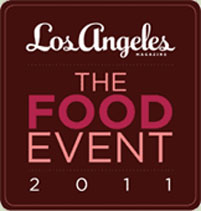 We had attended Los Angeles Magazine's annual The Food Event for the past two years, so we eagerly anticipated the sixth annual installment of this culinary extravaganza at the stunning Saddlerock Ranch (home to Semler and Saddlerock wines) in Malibu's Santa Monica Mountains on Sunday, October 23rd. As usual, we were running a bit late, so we eventually joined the long parade of vehicles meandering along the trail across the ranch to the event site. Two years ago, the weather had been picture perfect, while last year brought clouds and rain. This year, the weather went back to blue skies, but the mercury had risen so the temperature was in the 90s.
LA Magazine reported that the event this year "was extremely well–attended", which is a bit of an understatement. Building on the success of previous years, it seems the organizers probably oversold the event a bit. We say this because the lines at the food and wine booths were a bit longer than usual, making it more difficult to work our way through the event and all but impossible to talk to the people running each booth (because they were so busy). And more than a few food booths ran out of samples before the event was half over. That, coupled with the intense sun beating down, led us to reminisce about prior years. Don't get us wrong, this is a great event. It's not one of the mega–events, sprawling across a huge venue—this event normally has the feel of a large private party. This time, it seemed like a few too many people were invited (but we're sure it is painful to turn people away).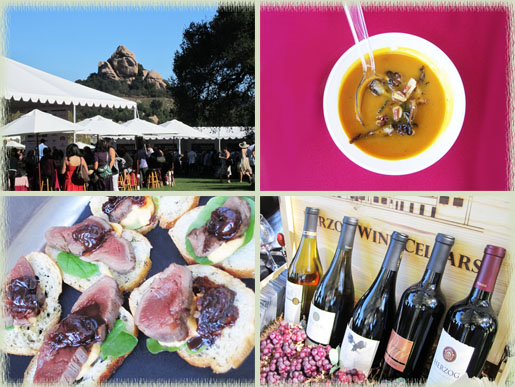 We couldn't sample everything this year, but two notable wines were Herzog Wine Cellars' Special Reserve Cabernet Sauvignon (nicely balanced) and the Samsara Pinot Noir (delicious). Last year, we wrote about Tercero Wines and they were on the program list this year, but somehow we never found them so we didn't get to taste their wine this time around. A new find for us was Clif Family Winery's 2009 Climber Limited Release (a blend of Merlot, Cabernet Sauvignon, Cabernet Franc and Petit Verdot).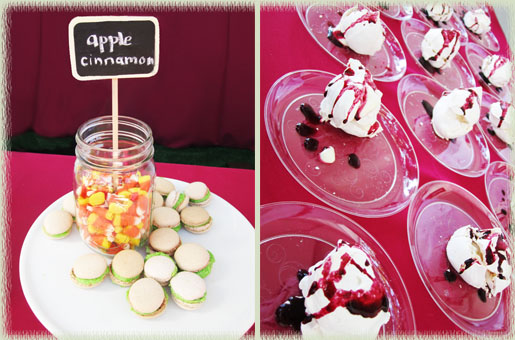 Sometimes, extreme weather (in this case heat) can influence the food you enjoy the most. We especially enjoyed the beef, cheese & pickle tacos from Chef Robert Luna's Malo & Más Malo restaurants. The tuna tartar in won ton taco shells that ONYX at Four Seasons Hotel Westlake Village served up was refreshing and they also served a delicious short rib and a tasty seared tuna on soba noodles. Up near the Conversation Lounge (a shaded area up the hill where the early birds can sit comfortably and listen to organized discussions as their significant others bring them food and wine samples), the butternut squash soup from Patina really hit the spot. Leah enjoyed the roasted beet salad from Stella Rossa.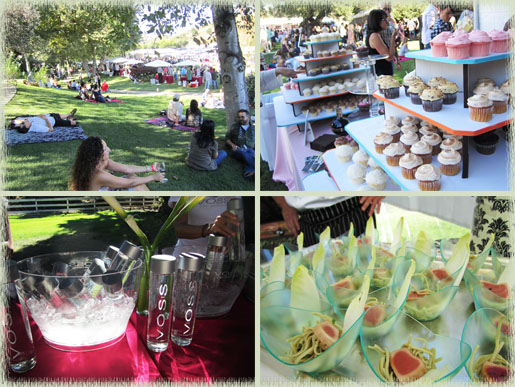 There were lots of desserts this year, but Rich was partial to the chocolate truffles from the Bread Basket Cake Company, while Leah enjoyed the vast selection of cupcakes to sample at Chambord's Cupcake Battle. It was impossible to declare a winner between Frosted Cupcakery and Scarlett's Cupcakes. Both had very inventive flavor combos and moist, delicious cuppies. Yum!
The "Beer Garden", again pouring Stella Artois Belgian brew, was as popular as ever. One trend we've noticed is the growing number and variety of interesting distilled spirits for sample at recent events, and this event was no exception. VeeV has been at most events lately and is enjoying popularity. Rich also liked a strawberry cocktail made of Pisco Portón, which their site describes as "more flavorful than vodka and more subtle than tequila". It tasted great in the heat of the afternoon.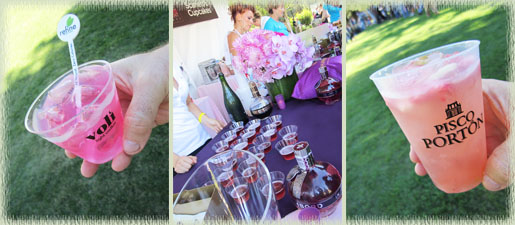 On our way out, we stopped to visit with some of the exotic animals at the ranch—camels, zebras, llamas and more. This event continues to be one of the better events, but they may have to find a way to limit attendance to preserve its original character. Hopefully, we'll still be able to get in.


Disclosure: We were granted complimentary media credentials for this event.
Comments (1)
November 5, 2011 at 9:46 pm
Christine said:
I agree. This year's event was a bit overcrowded, but still hard to beat for setting, food & drink quality and overall fun. Doesn't seem that hard economic times has hurt attendance much at all!