TJT: Salted Caramel Oatmeal Cookie Pumpkin Ice Cream Sandwiches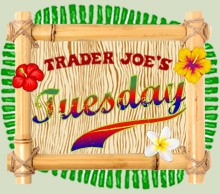 I know…what a mouthful of a title! But, these babies really live up to their name. Here we are, quickly approaching November, and I'm still making ice cream goodies. The weather in Los Angeles has been all over the place. When I made these last week, the temperature was in the nineties. Today, it's cold, drizzly and overcast. The weather geeks are forecasting a Santa Ana condition (hot, dry and windy) for the upcoming days, so these ice cream sandwiches will still fill the bill. And since you can only get Pilgrim Joe's Pumpkin Ice Cream for a few short months each year, now is the time to be making this recipe regardless of the weather roller coaster.
If you've never tried Trader Joe's ice cream, where the heck have you been?! They partner with an ice cream vendor known for making "super, super premium" ice cream (rumored to be Double Rainbow) and produce some of the nicest flavors I've had. The Pumpkin Ice Cream tastes like a frozen version of the best pumpkin pie you've ever eaten (only creamy and crust–less). That's because it contains 20% pure pumpkin puree and a blend of warm, seasonal spices that will have you humming Over the River and Through the Woods) with each and every bite! (I also tried TJ's Peanut Butter Tracks for this recipe—vanilla ice cream with mini peanut butter cups and a caramel swirl—but just loved the pumpkin ice cream a little more.)
Trader Joe's has a huge selection of cookies, any of which would have paired well with the ice cream for these sandwiches, but I chose to experiment and make up my own flavor combination. I've wanted to try Trader Jacques Fleur de Sel Caramel Sauce for a while now, so I added some to a basic oatmeal cookie recipe and…Yowsa! Why didn't I think of that one sooner?! The cookies were perfect for these ice cream sandwiches: not too thick, nice chewiness and very complementary to the pumpkin ice cream. And don't forget to try rolling the sandwich edges in mini chocolate chips or chopped nuts. My absolute favorite combo was pumpkin ice cream and toffee bits. Oh yeah! To heighten the flavors even more, I sprinkled some coarse sea salt on the finished sandwiches just before serving them. The taste of fall all frozen up into one dessert! Great for Halloween parties or even kids (and adults) who won't eat pumpkin pie after Thanksgiving dinner.
I think these taste best eaten right after making the sandwiches with freshly baked and cooled cookies, but they're still good after a few days in the freezer. The cookie doesn't get mushy, but the texture does become a bit compromised the longer they're kept frozen. (Though, they normally aren't around long enough to have that problem!)
WI wine recommendation: Since these are sweet and spicy, a sweet wine is in order. Sweetness in wine is best used to complement sweetness in food, so moderately sweet wines and fruity reds will be pleasant companions to these ice cream sandwiches. Avoid acidic wines with sweet foods! German Riesling (but not Dry Riesling), White Zinfandel, Beaujolais (goes with just about anything) or Syrah or Australian Shiraz should all work.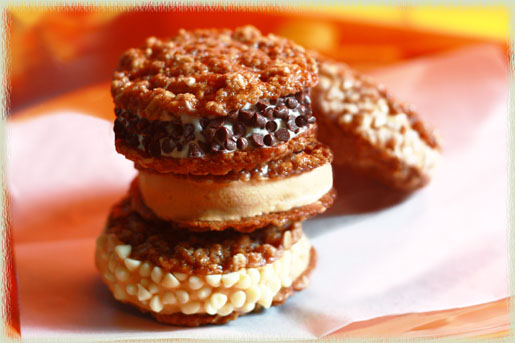 Salted Caramel Oatmeal Cookie Pumpkin Ice Cream Sandwiches

1–1/2 cups TJ's Old Fashioned Oats
1 cup all–purpose flour
1–1/2 teaspoons ground cinnamon
1/2 teaspoon baking soda
1/8 teaspoon salt
1/2 cup sweet butter, at room temperature
1/2 cup TJ's Fleur de Sel Caramel Sauce
1/2 cup granulated sugar
1/2 cup light brown sugar
1 large egg
1/2 teaspoon vanilla extract
TJ's Pumpkin Ice Cream
Coarse sea salt
Mini chocolate chips, chopped nuts or toffee bits

Preheat oven to 350° F. Line a baking sheet with parchment paper or a silicone mat.
Whisk together the first 5 ingredients in a medium bowl and set aside.
Blend together the butter, caramel sauce and sugars in another bowl with a mixer set on medium speed until smooth and creamy. Add the egg and vanilla and continue beating until smooth.
Reduce the mixer speed to low and slowly add the dry ingredients, beating only until blended. Chill the dough 30 minutes in the refrigerator.
Shape the chilled dough into balls with a small cookie scoop and place them 2 inches apart on the baking sheet (they spread!).
Bake for 8–10 minutes (or until cookies are golden and just firm around the edges). Allow the cookies to cool on the baking sheet for 5 minutes, and then remove to a wire rack to finish cooling.
To assemble ice cream sandwiches: Scoop one round ball of ice cream with and ice cream scoop and place in the center of the bottom of one, cooled cookie. Place another cookie on top of the ice cream and press down with even pressure until the ice cream squeezes out to the edges of the cookies. Roll the edges in chips or bits (or leave plain) and sprinkle salt on the tops of both cookie sides.