The Taste: Secrets from the Kitchen & Cellar and Taco Tequila Tryst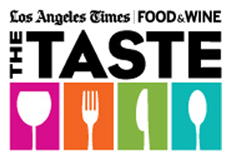 I know, I know. You're probably wondering how I can even remember the details of the events that took place over Labor Day weekend at this point (especially with the copious amounts of wine and other spirits that were available for tasting those days). Well, the obvious answer is: I take lots of photos and notes. The Wine Imbiber has a similar style to mine, but is much more disciplined about getting his recaps (such as the Paso Robles Pioneers seminar that kicked off Day 2 of The Taste, presented by Los Angeles Times and Food & Wine Magazine) published. Bear with me and you'll be rewarded with details about the rest of Day 2 that will have you anxiously awaiting next year's fete.
Secrets from the Kitchen & Cellar
Day 2 was on Labor Day Saturday and had quite the line–up of events to choose from. We attended Secrets from the Kitchen & Cellar in Beverly Hills during the day and Taco Tequila Tryst that night over at The Studios at Paramount in Hollywood. Yes, it was a long day and the weather was particularly sweltering, but the selection of things to satiate, quench and enlighten ourselves more than helped us forget about the heat.
Upon our late morning arrival, we headed straight over to the "Paso Robles Pioneers" seminar that Rich already posted about. Once that concluded, we ran to the tent room next door to catch Scott Conant (chef/owner of Scarpetta) cook up some pasta while divulging the secrets of his Italian cooking style. There were other panel discussions going on simultaneously that we would have liked to attend, but logistics unfortunately wouldn't allow. So on to the main event—unlimited samplings from almost 40 of Los Angeles' top restaurants and tastings from over 30 wineries, distilleries and breweries.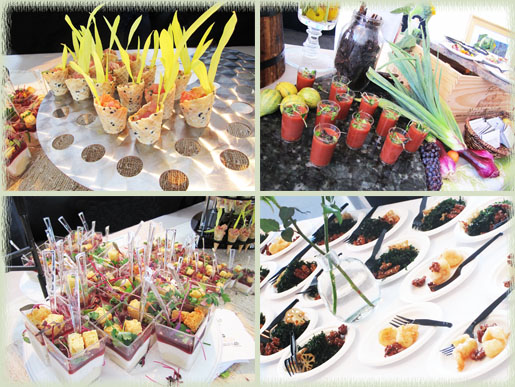 One benefit of attending an event like The Taste is the many opportunities one has to discover new restaurants and rediscover old favorites. Due to the difficult economic times that have befallen us all, many restaurants have practically reinvented themselves to accommodate their patrons and it was interesting to see the emerging trends.
Not only are chefs getting creative; libations are becoming more innovative as well. One of my favorite finds this year was VeeV, the world's first Acai spirit. The VeeV boys were whipping up the most refreshing drink one could ever hope for on the hell's armpit kind of day that we were experiencing. And done so cleverly too, serving it in a little glass jar adorned with a wooden bead bracelet. The freshly muddled herbs put it right over the top for me (and apparently many other attendees as well). They had the longest line of the event once people caught sight of these little gems circulating through the tents.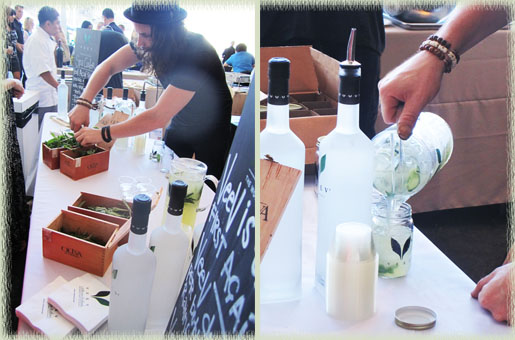 Another drink that brought immediate relief to the parched masses was the Pisco Punch being served by Black Market. Peroni Italy's beer lounge offered a nice respite (and yet another choice for thirst quenching) for those with full plates and tired feet. Even the likes of Ludo and other event celebrities could be found enjoying themselves there.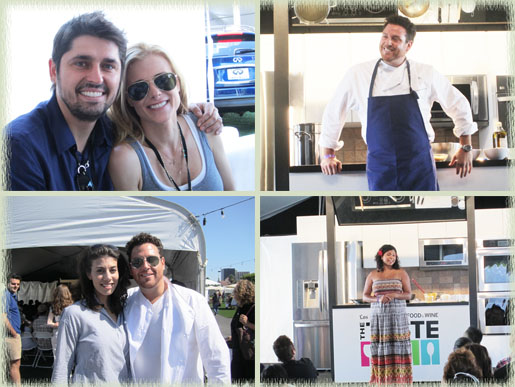 Two other tastes worthy of mentioning are the Wild Boar Lasagna provided by Sam's By The Beach and the Fig Cupcakes from Tender Greens. Rich was immediately taken back to the flavors he experienced during our Italian vacation when he sampled the lasagna, his palate being the most adventuresome of our group that trip. I usually pass on trying the meat types he was joyously eating then. I know wild boar is just another form of pork, but I can only remember an experience we once had with live wild boar on a remote beach in the Bahamas. Apparently, they liked to drink beer as much as we did and they ransacked our set up for it. Disgusting creatures they are.
The cupcakes were another surprise. They were nothing fancy or overly decorated as with most cupcakes these days; just a simple fig wedge sitting atop a pleasantly sweet cupcake. Sometimes simple is best. I loved them! Kudos to the dessert bakers at Tender Greens for not giving in to the tired fads of yesteryear.

Things we liked at Secrets from the Kitchen & Cellar:
Great assortment and quantity of Los Angeles area restaurants and libation providers
Educational seminars
Entertaining celebrity chef demos
Room for improvement:
More shaded seating or lounge areas
Less compact scheduling of seminars and chef demos
Taco Tequila Tryst
After spending most of Saturday gorging and imbibing, I didn't think we'd have it in us to attend this nighttime event. But, we went home and rested up for a few hours and later dragged our still–bulging bellies over to The Studios at Paramount (yes, that's what they formally call it) in Hollywood. Roy Choi (godfather of the food truck movement and official host of the event) high–fived us as we entered the gates of taco heaven, making me hopeful that this would be a worthy–of–our–attendance event. Unfortunately, it wasn't.
Maybe last year's mind–blowing experience at the American Wine & Food Festival at Universal Studios spoiled it for us. It certainly wouldn't be fair to compare the two events (one being the granddaddy of foodie festivals and the other a more specialized, less ambitious attempt at showcasing LA's best taco chefs). I will say that when certain things are advertised, they damn well better be there (there's no way there were "over 30 of your favorite wineries, breweries and spirits, including the perfect margarita and the smoothest tequilas' in attendance). And those that were there definitely didn't qualify as any of our favorites by any means. We discovered that we weren't the only ones disappointed with the lack of choices after chatting up fellow event attendees while standing in many long lines.
I'm of the mindset that if you don't have anything nice to say, don't say anything at all. I will make favorable mention of the Red O restaurant's unique taco rendition. I suppose you could classify it as a "raw" seafood version—a tortilla created out of a thinly sliced piece of jicama topped with shrimp ceviche. Not your traditional taco, but very tasty and refreshing. After sampling tacos from many of the stands, they all began tasting alike. Red O's version was very welcome at that point. This isn't to say that the other taco offerings were bad (quite the contrary—they were muy authentico). They just became a bit repetitious for us, which was to be expected since tacos were the only thing on the menu for the evening. Don't get me started again on the tequila (and other drink offerings) that were expected but sorely missing.
To sum up our experience at this event, we would have been better off staying home that night, relishing the memories of Secrets from the Kitchen & Cellar. The West Side was definitely the place to be on Day 2 of The Taste.
Coming up next, Day 3 of The Taste: Fashion Bites Brunch & Desserts After Dark

Disclosure: We were granted complimentary media credentials for this event.