Savor the Season 2011: Cooking for Love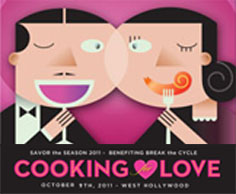 We were graciously invited to attend this year's Savor the Season event on October 9th benefitting Break the Cycle, the leading, national nonprofit organization addressing teen dating violence with a mission to engage, educate and empower youth to build lives and communities free from domestic violence. As parents of teens, this event is close to our hearts. Break the Cycle, a national nonprofit organization, advocates for policy and legislative changes and engages, educates and empowers youth through prevention and intervention programs, helping young people identify and build healthy relationships. What a great cause, and what a great event.
The event was held at The Lot Studios in West Hollywood. The set up was similar to last year's event, but with some new food and wine proprietors brought into the fold. The event hosts again this year were Katie Chin of Wok Star (who served Thai Shrimp Cakes with Coconut Mango Sauce) and Gary Arabia of Global Cuisine (with his Crab Cakes Topped with a Lemon Aioli and some other goodies). We really enjoy this event because it isn't a mega event, so you get a chance to talk to the people working behind the tables and, of course, because most everything on hand tastes delicious.
In the main event area, Todd Barrie of Upstairs 2 served up a nice 3G Grilled Cheese Sandwich accompanied by Celery Root Soup—a great combination. At the other end of the gallery, Roy Arendse of Tender Greens provided a refreshing Harvest Salad Bite. Capitalizing on the home garden trend, Farmscape offered a Caprese Salad and gave everyone a cute bag of gourmet lettuce seeds to use at home. (Farmscape installs and maintains garden beds for homes and schools—their farmers–for–hire will make weekly visits to get your home garden growing. We may have to call them soon if our gourmet lettuce doesn't appear—clever marketing.) On we went to try the Slow Roasted Brisket with Sweet Corn Puree & Candied Garlic Chimichuri from Paul Rosenbluh of Firefly Bistro. Suzanne Tracht of JAR was in attendance serving up her tasty versions of Chocolate and Butterscotch Puddings. In the wine category, both Bedford Winery of Los Alamos and Patel of Napa offered up a nice Cabernet Sauvignon that paired nicely with the Filet Mignon Steak Sandwich served up by Gabino Avila of Morton's The Steak House.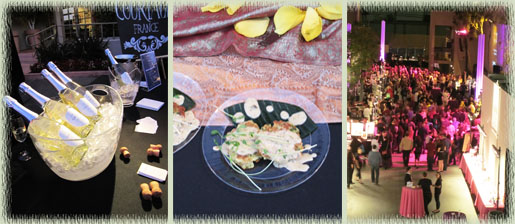 Inside the VIP patio lounge, we found Dustin LeBleu pouring his Le Grande Courtâge, a nice sparkling Blanc de Blancs from France that kept us coming back to his table. Brian Van Dorn of Van Dorn Gourmets provided a great Seasoned Pulled Pork dish. Hillary Danner and Maria Newman of jenkins jellies brought something new to the table with their Hell Fire Pepper Jelly that is, as they say, rather addictive. Hillary is an actress who began her business after finding herself in the same predicament as many of us gardening hobbyists—an overly bountiful garden. When presented with the challenge of creating a pepper jelly that was "uniquely her own and with a real kick!", jenkins jellies Hell Fire Pepper Jelly was born. After being encouraged by friends and family (one of whom was cousin Gwyneth Paltrow) to go public with her spicy condiment, she partnered up with two longtime friends and the rest is history. The jelly was presented as a filling for mini peanut butter cookie sandwiches and was like eating a little Thai treat with the combination of peanut flavor and heat from the jelly. Fantastic!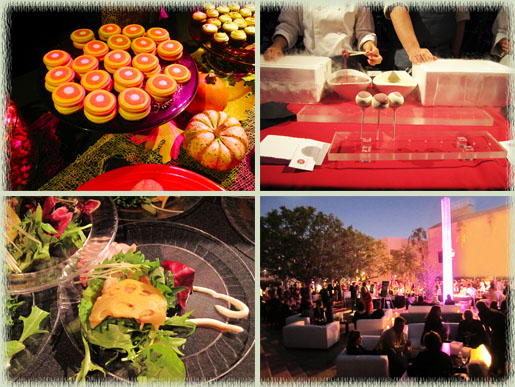 Back in the main event area, we found VeeV, a Açai superfruit spirit that we've been seeing at a lot of other events recently (and at Costco) and it is quite good. Returning this year was Stefan Richter of Stefan's@LA Farm with his frozen ice cream balls dipped in liquid nitrogen and Malbec wine and a Maple Syrup cover resulting in Ice Cream Lollipops (warning: don't lick them until they stop smoking).
During the event, there was a silent auction similar to last year, with some enticing items to snatch up. Our schedule didn't permit us to stay for the live auction, but we read later that the event was successful in meeting its fundraising goal, which brought in a bonus challenge grant as well. On the way out, we did grab some Crispy Chicken Breast Strips (actually more in the shape of an egg roll) from Ludo Lefebvre's Ludo Truck—spicy and very tasty. We were sorry we had to leave early, as there were more tables with great looking food. Hopefully, we'll catch them at next year's event.

Disclosure: We were granted complimentary media credentials for this event.