Los Angeles Food & Wine
On October 15th, we joined in the fun at the first annual Los Angeles Food & Wine event (Oct 13–16), which grew out of Wolfgang Puck's American Wine & Food Festival. As we caught a quick breakfast before attending the blind tasting program entitled "Secrets of a Sommelier", we observed one celebrity chef after another greet each other like long–lost fraternity brothers in the lobby of the JW Marriott. By all appearances, the inaugural event was going to live up to all the hype it generated.
At the blind tasting, Sommelier Bonnie Graves had selected eight Pinot Noirs, each bottle wrapped in foil so that neither the panel of four sommeliers nor any of the audience knew the identity of any of the wines. The four somms—Rajat Parr of RN74 in San Francisco, Darius Allyn of the Montage in Beverly Hills, Robert Smith of the Bellagio in Las Vegas and Joseph Spellman of Justin Winery in Paso Robles and Chairman of the Court of Master Sommeliers (Americas)— each explained how they approach a blind tasting in order to determine as much as they can about a wine.
First, they state what they know for sure—in this case, all wines are Pinot Noir. In general, they typically approach a wine in three stages. First is the appearance of the wine in the glass—the color, whether it is clear or cloudy, and opaqueness (by tilting the glass and putting their fingers between the back of the glass and a white surface such as a piece of bright white paper). Second is the aroma of the wine in the glass. What smells can you identify? Is it pleasing or does it burn the nostrils? With each data point, they attempt to eliminate various wines, regions, producers, etc. Third, the taste of the wine in the mouth. What fruit and other flavors can they identify? Is it more old world or new world? Is it restrained or robust? Is it higher or lower in alcohol? Again, eliminating various regions and producers. Finally, what additional information can one glean? Although the bottles are wrapped in foil, perhaps the particular shape of the bottle can be telling. In the end, they discuss their thought process and how they eliminated certain regions and producers and finally reach their conclusion about the wine.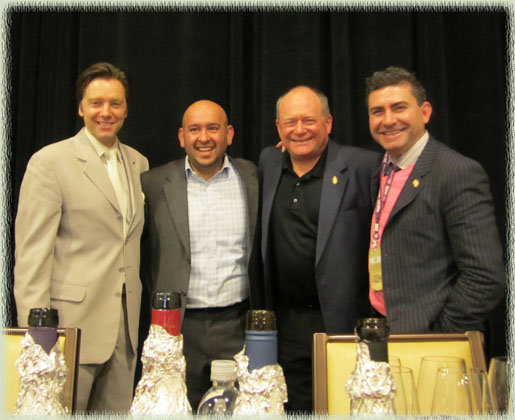 The most interesting part was the thought process brought out by the discussion. The panel made many attempts to involve the audience and get people to express their views, sometimes even before the master sommeliers did so. To us, one audience member really stood out. She identified smells and tastes with very particular detail (e.g., it smells like fresh rabbit blood). Leah correctly guessed that she is a chef (which she confirmed after the program). The panel pointed out that, in a sense, there really is no right or wrong in identifying smells and tastes, and these are very influenced by a person's life experience and what tastes and smells they encounter most often. Also, it seems men and women experience smells and tastes differently in many cases.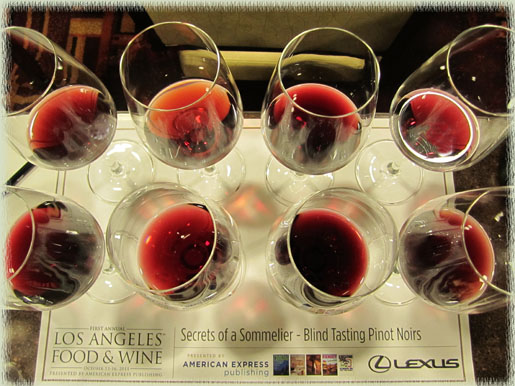 It turned out that the eight wines were from Burgundy, Australia, Chile, Oregon, New Zealand, Italy, New Zealand (again) and Santa Barbara. I would have been disappointed by my limited success in correctly identifying 2 of the 8 regions for these wines, but it seemed that the sommeliers had roughly the same batting average. Yet, they were able to get closer in identifying the vintage of some wines and some other particulars. All in all, it was interesting and informative to see how they formally approach a blind tasting. And much of the wine was very good, too.
From there, we headed over to the main event, the Lexus Grand Tasting, which was held in a huge tent on the Terrace of LA Live. We were still recovering from the past month and a half long marathon of culinary festivals we attended around LA, and quite honestly, had to muster up some enthusiasm for this one. Not because we expected it to be less than great, but because we didn't think it would be too much different from what we experienced at prior events around town. Boy, were we ever off–base on that assumption!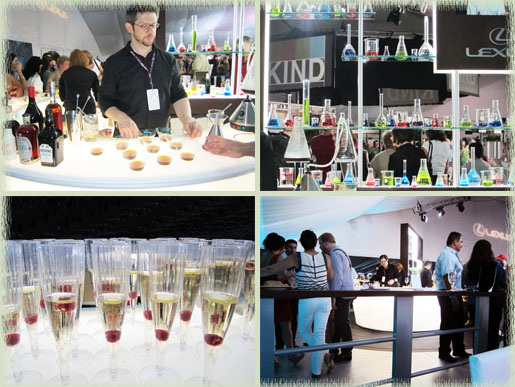 Our first clue that this event actually deserved the adjective "Grand" in its title was the huge number of wineries present. Normally, the Wine Imbiber complains that there are never enough wineries (much less new or good ones) at fetes such as these. No opportunity to discover new wines at events that contain the word "wine" in their titles is a peccadillo in Wine Imbiber's world! Sure, we can still usually enjoy beer and mixed spirit creations, but we have a wine and food site. We even felt a pang of guilt for not sampling more of the wineries, but there was food to be had and we only had a few hours to complete our mission.
The chefs and cuisine were good, but it seemed that some of the more famous chefs were reserved for either the nighttime events or the cooking demos that required a separate fee. Don't get me wrong. We were quite happy to see Tyler Florence and Bradley Ogden up close and personal at our event. But, after seeing just about every chef a foodie could ever imagine meeting at Wolfgang Puck's main event last year, we were a bit disappointed with the number of chefs present during our event on Saturday afternoon.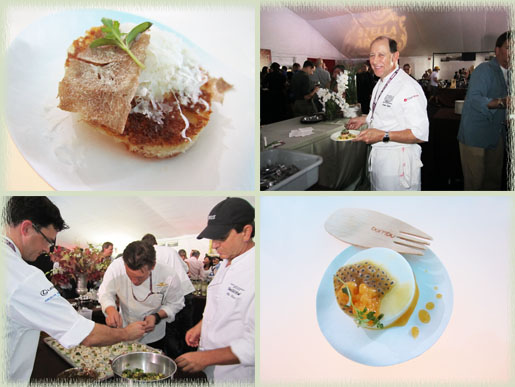 Some of the most creative dishes we sampled were being served in the Lexus–sponsored lounge, and I don't believe anybody famous had anything to do with it. Kudos to whoever was responsible for designing the menu and the bar/lounge. The bar resembled a futuristic laboratory, and just for fun (and the amusement of the bartenders, I'm sure!) the floor around it rotated (just slowly enough so that you think it's you and not the floor moving). They also had a communal table that was like a giant light box (and perfect for unique food photography opportunities!).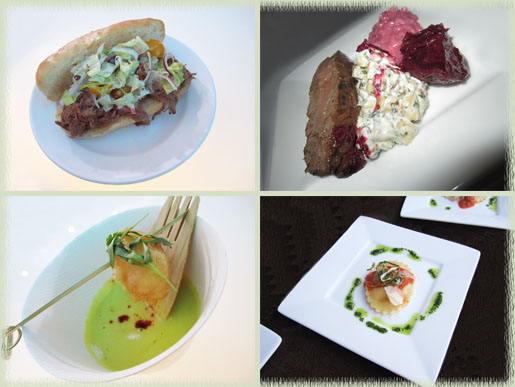 Particular food items that we still remember fondly two weeks later (besides those from the Lexus Lounge) were the Belgian chocolate bark from Madame Chocolat and Rick Tramonto's po'boy sandwich. Recently opened PICI Enoteca was serving up some nice lobster ravioli and another pasta that went down really well with all the wine. Todd English did the chef demo in another tent and also provided near complete meals as his samples over in the main tent.
All in all, we departed the event sated and looking forward to seeing what they might come up with for next year's event(s). Of course, there's always room for improvement. But, the inaugural Los Angeles Food & Wine seemed to be quite a success!

Things we liked at LAF&W:
Nice facility (the Ritz!) for wine seminars
Fantastic amount of wineries in attendance at Grand Tasting
Lexus Bar & Lounge
Celebrity Chefs
Delta Airlines Lounge (free celebrity chef recipe cards and wine book)
Recycled shopping bag (provided by Lexus), but read below
Room for improvement:
Hand out bags at beginning of event (nowhere to put accumulated freebies)
It was a bit dark and dreary inside the tent (avoid using all that black—it's hot in downtown Los Angeles!)
Ventilation was lacking (only noticeable on one side of the tent)
Include more than one chef demo at daytime event

Disclosure: We were granted complimentary media credentials for this event.