The Taste: Paso Robles Pioneers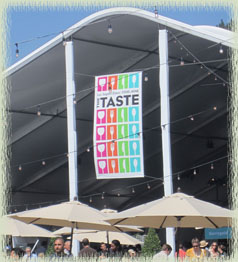 On Day 1 of The Taste, presented by Los Angeles Times and Food & Wine Magazine, we enjoyed burgers & beer. Day 2, a Saturday, began with a seminar entitled "Paso Robles Pioneers", led by wine educator Ian Blackburn of Learn About Wine. The Paso Robles AVA, established in 1983, is incredibly diverse (there are proposals to designate about a dozen sub–AVAs) with nearly 200 wineries and over 26,000 acres of vineyards producing some 40 varietals. The proprietors on hand—Justin Baldwin, founder of Justin Vineyards & Winery, Jason Haas, general manager of Tablas Creek Vineyards, and Janell Dusi, owner & winemaker of J Dusi Wines—were equally diverse.
Paso Robles, originally named El Paso de Robles (The Pass of the Oaks) was named for its oak trees. Wine production originated with the Franciscan Friars in the 1800s, but commercial wine production really began to take off in the 1920s, the time when Italian immigrants brought Zinfandel vines to the area. Notably, Janell Dusi's great–grandparents purchased a vineyard in the mid–1920s that they planted with Zinfandel vines, the varietal that dominated Paso Robles winemaking for decades. That vineyard is still operated by the Dusi family (Janell's J Dusi Wines is a separate operation).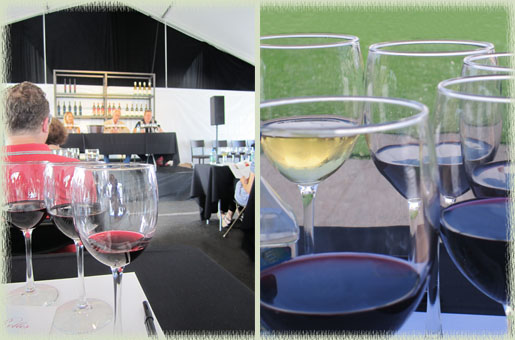 By the 1960s, a new generation of educated and experienced pioneers, including André Tchelistcheff, brought Cabernet Sauvignon to the area. Up to that point, vineyard activity was concentrated in the area to the West of Highway 101 (actually the Salinas River), which has higher elevation, calcareous (versus loamy) soils and relatively less water (requiring the vines to put up more of a fight and, in general, yielding more concentrated fruit). During this period, some new proprietors began to cultivate vineyards to the East of Highway 101.
In the 1970s, pioneer Gary Eberle planted Syrah vines, but Rhône varietals did become significant until the Perrin family (of the Rhône Valley's Chateau de Beaucastel, producer of Chateauneuf–du–Pape) and American importer Robert Haas (Jason's father) in 1989. Paso Robles is now home to the Rhône Rangers, America's leading non–profit organization dedicated to promoting American Rhône varietal wines.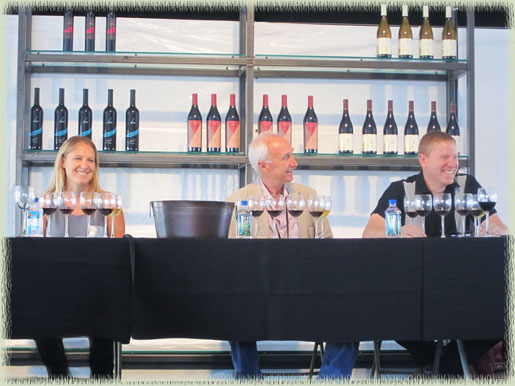 The 1980s brought a lot of investment capital and a focus on larger vineyards, larger wineries and greater production of premium wines. It also brought more pioneers, like Kenneth Volk and banker Justin Baldwin, who in 1981 planted Bordeaux varietals on the extreme West of Paso Robles. Since then, the wines of Paso Robles wines have been recognized in the top rankings of wine reviews around the world. For example, in 2000, Justin Baldwin's Bordeaux–style ISOSCELES was named one of the top 10 wines in the world by Wine Spectator. Paso Robles is now the largest AVA in California (about 700,000 acres versus 250,000 for Napa).

With that background, we enjoyed some of the best wines of the entire event. We started with Tablas Creek's 2009 Esprit de Beaucastel Blanc, a blend of Roussanne, Grenache Blanc and Picpoul Blanc with a lemon and mineral finish. Next up was Justin's 2009 Justification, a blend of Cabernet Franc and Merlot that has a complex cherry and berry flavor. The classic J Dusi 2009 Zinfandel followed, a more traditional, restrained Zin. Janell says she has had no formal training, but she learned from her grandfather and has been making wine since back in high school, "formal" training doesn't seem to be a prerequisite. The 2009 Esprit de Beaucastel, a blend of Mourvédre, Syrah, Grenache and Counoise grown in Paso's more extreme climate than their counterparts in the Southern Rhône (Paso is 10° warmer in summer and 15° colder in the other months). This wine is being released around October 1st. This led up to Justin's 2008 ISOSCELES, a blend of Cabernet Sauvignon (the most planted grape in Paso), Cabernet Franc (adding blueberry and violet notes), Merlot (tames the tannins of the Cab) and Petit Verdot (for a spicy, perfumy quality). For dessert, the J Dusi 2007 Zinfandel Port (only produced in years when there is a rally hot heat spike during the growing season). This was a great selection of wines to represent the diversity of Paso Robles. What does the future hold for Paso Robles? Greater quality, growth, notariety—in short, ever greater wines.
Coming soon, more of Day 2 of The Taste: Secrets from the Kitchen & Cellar and Taco Tequila Tryst

Disclosure: We were granted complimentary media credentials for this event.