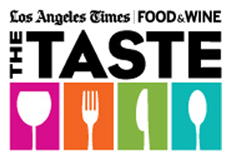 This past Labor Day weekend, the Wine Imbiber and I tackled a mighty assignment. The Taste (a four–day foodie/imbiber extravaganza presented by Los Angeles Times and Food & Wine Magazine) was back and offered nine events at four different venues. We attended last year's event and appreciated many of the changes made for this year (though there's always room for improvement at events this large). Still, we managed to enjoy ourselves most everywhere, despite the untimely heat wave that burned a hole in our stamina at times.
We were able to muster the energy to attend six of the events (a record for us!) at three of the locations. Last year's event was held at a single location, making it much easier for us since we live near the venue. We aren't convinced that the addition of some of the locations actually added to the enjoyment of the events, but the organizers included some popular LA locales to make it more of a city–wide event (hence, the name change from Taste of Beverly Hills to the broader The Taste). For the sake of space, we're going to break down the entire event over the course of four posts in the order we attended them. There were just too many things to write about and photograph to put it all in just one post!
The Taste kicked off on Friday night with Burgers & Beer, a showcase of some of LA's most famous chefs' interpretations of the "humble" burger. Beer, of course, was the beverage of the night and was represented nicely by both boutique and international brewing companies. In fact, one of the event's sponsors (Peroni Italy) had a really nice beer lounge set up and was offering lime sherbet along with its beer. They called it a "beer float" and it was just short of genius in my opinion (an elegant twist on the typical lime wedge accompaniment?). And to keep your taste buds from getting fatigued from all the beef and brew, a few sweets like cheesecake, cupcakes and a gourmet chocolate tasting bar were spread throughout the event.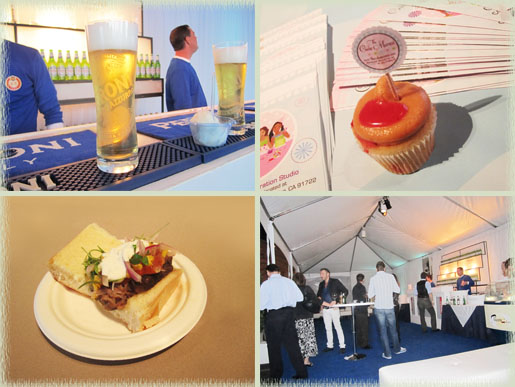 Rustic Canyon was voted "Best Burger in Show", followed by Blue Palms BrewHouse (who got my vote with their Truffle Burger—delish!) and Westside Tavern. It was amazing to see and taste the many and varied burger creations each chef concocted. I was a little surprised that only one of the restaurants we tried offered French fries (or some other obvious side). BRÜ Haus not only had crispy little fries, but served them with their tangy version of ketchup (made surprisingly with beets) aptly named Beetchup. We were suffering from burger overload, so it was a nice complement.
At the end of the evening, we attended a very informative and entertaining demo by Marc Boussarie, Executive Chef at The Counter, about awakening your burger creativity so you can be the envy of your neighbors at your next backyard barbecue. He built three distinct burgers that featured both unconventional and popular toppings and then gave his recommendations for beers that would complement each. We were actually salivating for a taste of his burger creations, even though we were still feeling the pains of overindulgence from all the other burgers we had gorged on. Chef Boussarie's demo was a great way to wind down our night and get us excited for the next day's events.

Things we liked at Burgers & Beer:
Fantastic assortment of gourmet burgers offered by all of the attending restaurants
Peroni beer lounge (we were getting tired of Stella Artois always being the main beer sponsor at this type of event—as much as we like their beer)
Good choice of chefs for burger demonstration
Room for improvement:
Even though beer was one of the advertised stars of this event, wine could have been given more attention (what else would the Wine Imbiber hope for?). A bigger selection of wineries (especially those that have good reds that would pair well with burgers) would have been nice
Restaurants should have offered something to go with the burgers (fries, chips or some kind of potato) to prevent burger overload
Coming up next, Day 2 of The Taste: Secrets from the Kitchen & Cellar and Taco Tequila Tryst, including Paso Robles Pioneers

Disclosure: We were granted complimentary media credentials for this event.