Wednesday last week, we were invited to a trade tasting of the wines of Domodimonti, a boutique producer of natural wines in the countryside of Montefiore dell'Aso in the southern part of the Marche region on the east coast of central Italy. (Some time ago, we adopted an olive tree in the Marche, but never had the opportunity to visit it.) In 2003, Dr. Francesco Bellini and his wife, Marisa, acquired the 50 year old vineyard of nearly 50 hectares, having returned to Le Marche from French Canada, where Francesco had gained success in businesses developing drugs for the treatment of Hepatitis B and C viruses. The vineyards are situated at about 200-300 meters altitude, about 10 miles from the Adriatic Sea and below the Sibillini Mountains, which contribute to the favorable microclimate. The vineyards, once covered by the Adriatic Sea, have a clay base. Beginning their so–called "retirement", they restructured and replanted much of the vineyards and produced their first vintage in 2004. In 2010, they opened their new state–of–the–art winery.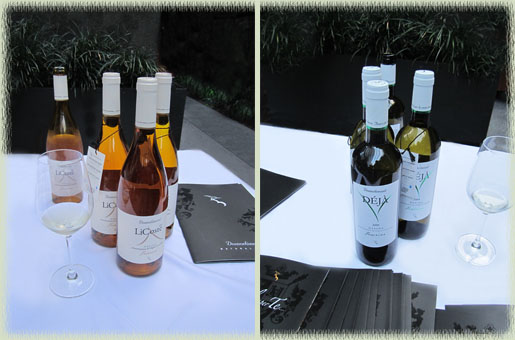 I had the opportunity to speak with Marisa that evening. She explained how they are committed to sustainability and natural farming, using techniques that often exceed the requirements of organic farming. "We wanted wines we wanted to drink with no side effects, to produce the most natural wines possible." They have certainly succeeded in producing wines that taste incredibly fresh. Marisa detailed how they carefully prune to reduce yield, manually harvest and sort their grapes, and process only about 30% of their potential annual production, using only gravity to pull the liquid to the fermentation vats. Processing under nitrogen generated by ionic exchange, Domodimonti avoids the detrimental effects of oxygen, and by strictly controlling vat temperature, they are able to avoid much of the need for adding sulfites during fermentation. Domodimonti currently grows Montepulciano, Sangiovese, Petit Verdot, Pecorino, Passerina, Merlot and Cabernet Sauvignon grapes, and annual production is now about 150,000 bottles (about a third allocated for the USA). This winery is certainly one to watch in the coming years.
The tasting was held at Drago Centro, celebrity chef Celestino Drago's downtown LA Italian restaurant, companion to his original Drago Santa Monica. We began on the patio with a cuttlefish appetizer paired with Domodimonti's Deja, a crisp white wine with nice minerality produced from the Passerina grape, which is what I would call a restrained Sauvignon Blanc. This was followed by their Li Coste, made from the Pecorino grape. This wine, having a beautiful golden straw color is well-balanced and nicely structured. The pecorino grape (like pecorino cheese) takes its name from pecora (meaning sheep) because the shepherds who tended their flocks in the Marche's higher mountainside elevations would be enlisted to harvest the grapes, which thrive at the higher elevation. While this wine pairs well with pecorino cheese, Drago did an excellent pairing with his mozzarella–stuffed puffs.

As the sun set, we moved inside to a room that Drago uses for cooking classes and other small events. He and his chefs were working furiously to prepare some beautiful dishes to pair with Domodimonti's red wines. The first was Garganelli pasta, pork sausage, parmesan and fennel seeds to match the 2006 Picens, a blend of Montepulciano (40%) and Sangiovese, Merlot and Cabernet Sauvignon (20% each). Next we enjoyed a roasted venison saddle atop soft polenta and topped with red currants gastric, which complemented the 2009 Monte Fiore, a pure Sangiovese wine. Finally, we devoured the scallop agnolotti with lemon zest, chile and herbs that was the perfect accompaniment for the 2006 Il Messia, a blend of Montepulciano (60%) and Merlot (40%). Il Messia was my favorite red of the evening, which isn't too surprising because the Montepulciano grape produces a wine of deep color and substantial tannins.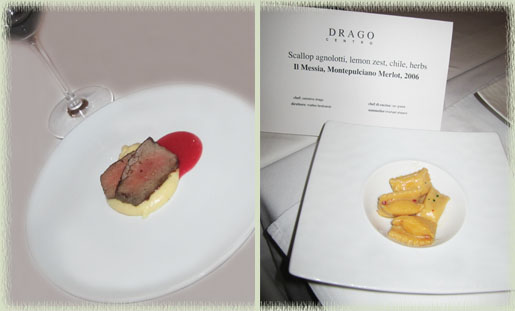 Domodimonti also produces Piccolo Principe, a Marche Rosato (Sangiovese and Cabernet Sauvignon–based rosé), and Solo per Te, a Marche Rosso (90% Montepulciano and 10% Petit Verdot—I have to try this one for sure), though these wines were not on hand that evening as the current vintage was sold out. The new vintages of all Domodimonti wines should be available by the Christmas holiday season. I mention that just in case Leah is listening.