TJT: Pulled Chicken Sandwiches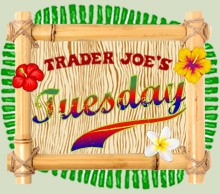 Yes, we've been MIA lately. But don't fear…we're back now with plenty of posts waiting in the queue! We had a very busy summer and expect an even busier fall, so hopefully we'll be able get our act together and publish it all (don't hold your breath for now, though!). Part of my time management problem has to do with the fact that I spend a lot of time signing up for (and consequently reading) too many other food blogs. God forbid I should get something more important to read in my inbox. But, I do find a plethora of great recipes as a result of my lead "join our email list" finger, so I can't complain.
One of my most recent recipe finds is from What's Cookin' Italian Style Cuisine. I've been a subscriber to this site for a while now, and one thing that confounds me about Claudia (the tireless soul behind the site) is how on earth she's able to churn out all those meals and posts! I don't think she ever leaves her kitchen (except maybe to go grocery shopping). My family would love to have her living at our house. I doubt she'd ever be confronted with the question I'm hit with on a regular basis: "Are you cooking dinner tonight or is it a make it yourself or take–out dinner kinda night?"
Maybe the recipe I've adapted here offers the key to her Energizer® Bunny traits. It's cooked in a crockpot and uses bottled sauces. We're talking minimal effort here, but fantastic results! And need I say it was the perfect excuse to use Trader Joe's products exclusively; sublime for a long–overdue TJT post. I even served something on the side that none of us had ever tried before that provided a nice textural and flavor contrast to the sandwiches. They're called The World's Puffiest Sour Cream & Onion Corn Puffs, and they pretty much live up to their name. They're definitely puffy (like packing peanuts), but the sour cream and onion flavorings are mild at best, which is why they went together well with the spicy, smoky flavor of the sandwiches. I can't see myself eating them in massive quantities by their lonesome, but the teenagers inhaled them as teenagers do with most crunchy, nutrition–less food.
I actually liked this chicken version better than the traditional pulled pork sandwiches that we're so fond of around here. Instead of using all hot sauce, I combined a smaller bottle of it with some TJ's BBQ sauce that I already had on hand. I also didn't use blue cheese dressing (that's a big no–no in our household…none of us are fans of the stuff). The alternative— ranch dressing—is a fave around here and stepped in tastily. Shredded cheese is a staple in our refrigerator, so I didn't bother buying the listed sliced cheddar. In the end, my Trader Joe's version of Claudia's original effortless recipe was a big winner (especially with me!).
WI wine recommendation: Serve these sandwiches with a Zindandel, Tempranillo or earthy Pinot Noir.


Pulled Chicken Sandwiches
(Adapted from What's Cookin' Italian Style Cuisine)

6 packets TJ's Organic Skinless/Boneless Chicken Breasts (these come 4 packets to a package)
1 5–ounce bottle TJ's Chili Pepper Sauce
1 18–ounce bottle TJ's Bold & Smoky Kansas City Style BBQ Sauce
1/2 teaspoon garlic powder
1/2 teaspoon dried parsley
2 tablespoons TJ's Minced Fresh Onion
TJ's Ranch Dressing (from the refrigerated section)
TJ's Shredded Sharp Cheddar Cheese
TJ's French Sandwich Rolls
TJ's Olive Oil Spray
Optional for serving: TJ's Sour Cream & Onion Corn Puffs

Grease crockpot liner with olive oil or spray. Remove the 6 chicken breasts from their packets and rinse with water. Pat dry with paper towel and place them in the crockpot.
Mix together the next 5 ingredients in a bowl, then pour it all over the chicken in the crockpot. Turn the chicken in the sauce so both sides are nicely coated.
Cook on either low for 6–8 hours, or high for 4–5 hours. During the last hour of cooking, pull the chicken apart with two forks into even shreds. Stir the sauce around into the shreds so it is thoroughly mixed into the meat. Continue cooking for the last hour.
Meanwhile, split the rolls and spray the insides lightly with olive oil spray. Lay them sprayed side–up on a baking sheet and toast them under the broiler until lightly browned.
When the meat is done, mound it on top of each of the toasted roll bottoms. Drizzle on some of the ranch dressing, then sprinkle on a layer of shredded cheese and top with remaining bun halves.
This served 6 with some leftover meat (but no buns). Serve with the optional puffs or potato chips. Dill pickles also go nicely with all of this.
Comments (1)
September 11, 2011 at 5:34 pm
Jay B. said:
This looks amazing! Great job!