Polpettine alla Napoletana
This recipe (adapted from Food & Wine) appeared in Mario Batali's Meatball Subs on 07 Jul 2011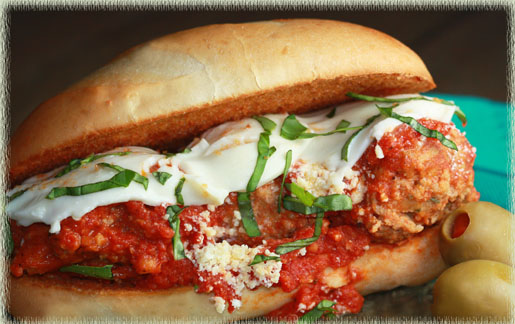 3 cups Basic Tomato Sauce
3 cups fresh (not dry!) breadcrumbs
2 cups whole milk
1–1/2 pounds ground beef
3 eggs
3 garlic cloves
1/2 cup grated pecorino cheese, plus more for serving
1/4 cup pine nuts, toasted (baked for 8 minutes in a 400° F. oven)
1/4 cup Italian parsley, finely chopped
1–2 teaspoons kosher salt (listed recipe calls for tablespoons—way too much!)
Freshly ground black pepper, to taste
Extra–virgin olive oil, for drizzling
Fresh basil leaves, chiffonaded
Fresh mozzarella, sliced
Sandwich rolls (not baguettes!), sliced and toasted

Put the breadcrumbs in a medium bowl and pour the milk over. Set aside.
In the bowl of a countertop mixer fitted with a paddle or dough hook, combine the beef and the eggs. Grate the garlic over the bowl with a microplane. Add in grated pecorino, toasted pine nuts, parsley, salt and pepper. Mix briefly just to combine.
Add the milk–soaked bread crumbs (and any milk that the crumbs didn't absorb) to the meat mixture and mix for about ten minutes (yes, ten!). It will appear a little wet, but don't worry. After you let it sit for 5–10 minutes it will be perfect for forming into balls.
Form the mixture into 12–15 meatballs (I got many more than this), each smaller than a tennis ball but larger than a golf ball. Gently add the meatballs to the sauce and bring to a boil. Lower heat to a simmer and cook for 25–30 minutes or until meatballs are cooked through.
For sub assembly, place 2–3 meatballs on top of each toasted sandwich roll bottom. Pour some of the simmered tomato sauce on top of the meatballs; then top with grated pecorino, mozzarella slices and a sprinkle of the basil chiffonade. Finish with a quick drizzle of olive oil. Squish down the top half of the sandwich roll enough to make the sauce penetrate the bread. Serve immediately with plenty of napkins. This should make 8–10 servings if using 2–3 meatballs per sandwich.
WI wine recommendation: Chianti, Brunello di Montalcino, Vino Nobile di Montepulciano or other Sangiovese–based wine is the classic pairing.