Mario Batali's Meatball Subs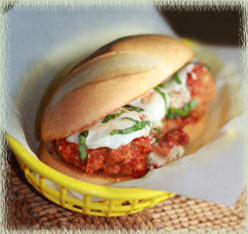 Summer is officially in full swing at our house. All four kids are home, wreaking havoc in our kitchen with feeding frenzies that empty our refrigerator and cupboards as efficiently as a locust attack. We can barely get through the week without three or four visits to the grocery store to replenish our food supplies. No one ever warned us when we were a young family that the terrible two's were nothing compared to the future insatiable teens.
To ease the kitchen tension we experience when all our spawn are present and seeking nourishment, I generally choose recipes that any smart chef would consider making for parties or group gatherings (translation: easily made into massive quantities). That way, if there are any leftovers to be had, they can easily be reassembled and warmed up with little to no effort.
That's why I like the following recipe. It can be made in large quantities that allow for other leftover applications. I first saw this made during a Good Morning America segment about foods good for serving at Super Bowl parties. Polpettine alla Napoletana is Mario Batali's recipe for the meatballs he likes to use on his sub sandwiches (a favorite around our house anytime of the year!). They're also perfect for serving with pasta, which is another way we all enjoy eating them. As Mario pointed out, anything made with tomato sauce tastes even better the next day, so these make great leftovers.
Meatballs are actually called polpette in Italy and are usually the size of golf balls. Polpettine hail from the Abruzzo region of Italy and are smaller, more like the size of marbles. So, Mario incorrectly named this recipe as he made them much bigger than marbles when I saw him demonstrate how to make them on GMA. (FYI: There are a couple of other discrepancies in the accompanying recipe listed on GMA's site, but I corrected them when I adapted it below.)
Mario gives a little meatball history lesson on the video, claiming when Italians immigrated to America, they began putting too much protein in their balls. Mario says that the ratio should be something more like 50% meat/50% bread crumbs. He also says not to brown the meatballs ahead of simmering them in tomato sauce as it will produce rubbery crusts. Putting them straight into the sauce to braise is what will make the meatballs succulent and tender. The other tip worthy of mentioning is to not use baguettes for your sandwiches (they're too skinny and crusty). Wider, soft sandwich rolls work much better, especially since he instructs you to squish the tops of the bread rolls down enough to make the sauce penetrate the bread.
We're a big, meatball-loving family (as noted before), so these meatballs did not disappoint. And, you'll get enough for more than one delicioso meal, which will keep your ravenous family happy and out of your hair for a day or two. Throw a simple salad on the side to complete the meal and you'll have an authentic taste of Italy for the family to feast on this summer!
WI wine recommendation: Chianti, Brunello di Montalcino, Vino Nobile di Montepulciano or other Sangiovese–based wine is the classic pairing.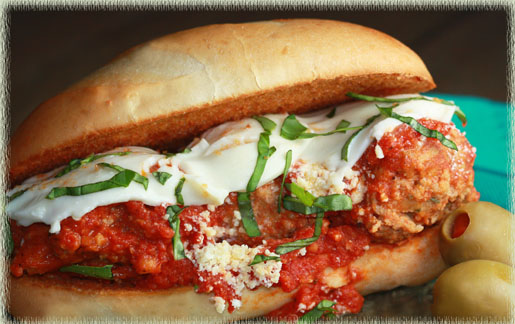 Polpettine alla Napoletana
(adapted from Mario Batali)

3 cups Basic Tomato Sauce
3 cups fresh (not dry!) breadcrumbs
2 cups whole milk
1–1/2 pounds ground beef
3 eggs
3 garlic cloves
1/2 cup grated pecorino cheese, plus more for serving
1/4 cup pine nuts, toasted (baked for 8 minutes in a 400° F. oven)
1/4 cup Italian parsley, finely chopped
1–2 teaspoons kosher salt (listed recipe calls for tablespoons—way too much!)
Freshly ground black pepper, to taste
Extra–virgin olive oil, for drizzling
Fresh basil leaves, chiffonaded
Fresh mozzarella, sliced
Sandwich rolls (not baguettes!), sliced and toasted

Put the breadcrumbs in a medium bowl and pour the milk over. Set aside.
In the bowl of a countertop mixer fitted with a paddle or dough hook, combine the beef and the eggs. Grate the garlic over the bowl with a microplane. Add in grated pecorino, toasted pine nuts, parsley, salt and pepper. Mix briefly just to combine.
Add the milk–soaked bread crumbs (and any milk that the crumbs didn't absorb) to the meat mixture and mix for about ten minutes (yes, ten!). It will appear a little wet, but don't worry. After you let it sit for 5–10 minutes it will be perfect for forming into balls.
Form the mixture into 12–15 meatballs (I got many more than this), each smaller than a tennis ball but larger than a golf ball. Gently add the meatballs to the sauce and bring to a boil. Lower heat to a simmer and cook for 25–30 minutes or until meatballs are cooked through.
For sub assembly, place 2–3 meatballs on top of each toasted sandwich roll bottom. Pour some of the simmered tomato sauce on top of the meatballs; then top with grated pecorino, mozzarella slices and a sprinkle of the basil chiffonade. Finish with a quick drizzle of olive oil. Squish down the top half of the sandwich roll enough to make the sauce penetrate the bread. Serve immediately with plenty of napkins. This should make 8–10 servings if using 2–3 meatballs per sandwich.
Comments (1)
July 10, 2011 at 12:14 pm
Joe Stagner said:
Delicious and Amazing! Thanks for the great post!