East LA Meets Napa
Last Friday night we had the privilege to attend AltaMed's sixth annual East LA Meets Napa festival, an event that showcases the Latino community's contributions to California's multi–billion dollar food and wine industry. An understandable crowd–pleaser, this year's event was once again sold out. This was the second year in a row that we attended and we enjoyed it just as much as our first experience.
Presented at Union Station (the perfect location to reflect Los Angeles' multicultural blend), more than 1,400 wine and food enthusiasts sipped, munched and danced away on a pleasantly balmy Southern California evening under a starlit downtown LA skyline. More than 60 pairing stations of some of LA's finest Latin restaurants and Latino–owned or operated wineries from Napa Valley were in attendance. Though obvious signs of the economy's slow recovery were noticeable (some food vendors occupied less space than they did last year), quality was not compromised in the least. The flavors of Michoacán were featured this year, which some consider to be Mexico's soul food. Many of the Latino winemakers in Napa have roots in Michoacán. They came to Napa beginning in 1942 under a program that brought Mexican laborers to the United States. The program was established between Mexico and the US to help manage America's labor shortage during World War II.
A lot of our favorites (both wineries and restaurants) were back again this year, but we managed to make a few new discoveries this time around. We didn't get any visual shots of the wine this year, but we agreed that Mi Sueño Winery was pouring some of the night's best offerings. They served a really nice 2007 Chardonnay Los Carneros, which we liked because it wasn't oaky and let the fruit shine through. The 2008 Pinot Noir Russian River was nicely balanced with great fruit as well. Rolando Herrera (the owner/winemaker), had quite the Napa Valley experience before embarking on his own winemaking journey. Beginning as a dishwasher at one of Napa's acclaimed Michelin–star restaurant/hotel/spa resorts (Auberge du Soleil), he moved onto Stag's Leap at age 17 (where he was hired as a laborer to build a wall around the home of Warren Winiarski. Warren later offered Rolando a job to work harvest under the condition that he would attend school in the morning. And so began a 20 year journey working through various ranks of winemaking with some of California's top vintners and wineries, including Paul Hobbs and Vine Cliff. All of his experiences taught him the same concept that inspired us to create Wine Imbiber—when you pair delicious food with exceptional wine, magic happens!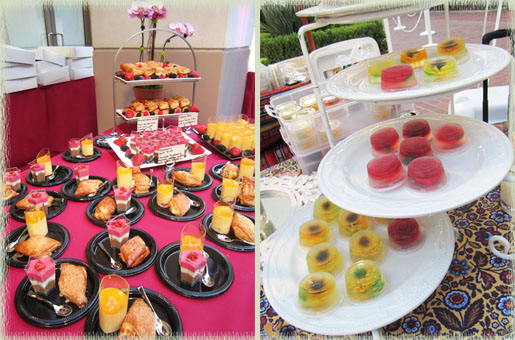 Speaking of delicious food, there were plenty of tamales to be had. But, the absolute best ones of the night had to be Mama Luna's. Believe us when we declare them to be above and beyond all the others. Not that the others were bad or anything like that, but these tamales (in combination with their salsa) just tasted authentically fresh and dare I say, healthy? Maybe it's because Mama doesn't use animal or vegetable lard, artificial flavors, preservatives or MSG. What ever the reason, it's working for us, Mama! After perusing Mama's website, we understand why they are named Mama's International Tamales. They offer tamales made with the flavors of Chile, China, Columbia, Guatemala, Honduras, Indonesia, Japan, Mexico, New Mexico, Nicaragua, Peru and Salvador. Made with chicken, beef, pork, turkey or vegetarian…how is one to choose?! They even have dessert (she calls them sweet) tamales, which we've never heard of before. We're certainly looking forward to trying as many varieties of these as we can in the future!

One other notable thing about Mama's…their store is a well–known Los Angeles success story and has become a model for street vendors and other micro–businesses. They are a licensed food education and preparation area for small business operators to start and support food–based enterprises. What a great idea to give back to the community by sharing your knowledge so that others can benefit!
One such business that was also in attendance that is a beneficiary of Mama's expertise is [rawbites] happy food = happy body. We had a taste of the raw chocolate truffles (hazelnut espresso to be exact). It was a tiny taste served on a wooden stick, but that was all we really needed to fully appreciate what was going on with the idea behind this raw foods business. So much flavor was packed into that little sample! Julie Titus (the owner and chef) told us which wine would pair best with the chocolate truffle flavors we chose. On her site (under "pairing") you'll find a wine and beer pairing guide to her various truffle flavors. We really liked the concept behind her business and wish her great success!
Not to dwell on the desserts at this event, but indulge us this one time…we found some very good ones this year. Some were even amazing (from an artistic point of view that is). We're referring to Attila the Flan's Jellos. If you dwell on the fact that they began a Facebook page for just this one dessert, you'll realize they aren't hyping a typical dessert. Flavor–wise, they're just meh. It's Jello after all. We've never been a big fan of Jello (What…fruit flavored gelatin? Who really cares?!) These little gems, though, upon first glance, are quite deceptive. They look like acrylic flower paper weights. You think they're just edible flowers immersed in clear gelatin. Wrongo! Each flower is created by hand out of layers of Jello! The Wine Imbiber wouldn't believe it until I cut through mine with a fork to see that it actually cut all the way through the flower without stopping. More food magic to behold at this event! Oh, and BTW, Attila's flans are quite delicious. Nothing exceptional to look at (like the Jello's), but quite tasty all the same.
Other places worth mentioning are La Sandia Mexican Kitchen & Tequila Bar, one of Richard Sandoval's restaurants that opened at the recently revamped dining area at Santa Monica Place, and my absolute fave from ELAMN 2010:
Porto's Bakery & Café (yet another dessert offering; I know, I have a problem!). How can you ignore a "Readers' Choice Best Bakery" proclamation several years running? I know I can't, and never will. Their pastries and mousses are to die for!
We didn't stay past sundown this year as we did last year to witness the fury on the dance floor, but we were still able to enjoy the wandering mariachis. Gotta love the mariachi band! This Latin–themed event wouldn't be complete without their tunes. Arriba!

Disclosure: We were granted complimentary media credentials for this event.