Spain & Austria in One Afternoon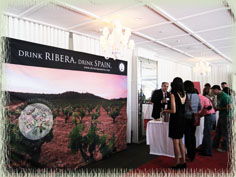 We're still catching up from the end of the school year for our four children. With their summer schedules and the state of the world economy, we just can't get to Europe this summer (like we ever had a chance), so we jumped at the opportunity in early May to visit Spain and Austria in a single afternoon—sort of. The weather was sunny and pleasant and we only had to travel to La Cienega (Boulevard, that is) for back–to–back wine tasting events at the same hotel. We had only planned to sample the wines of Ribera del Duero, located in Spain's northern plateau about two hours north of Madrid, but as we entered that event, we noticed that Austria Uncorked was starting about the same time at the other end of the hotel. So, we couldn't pass up the virtual travel opportunity.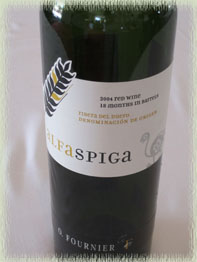 In February, we wrote about a Tempranillo from La Rioja Alta. We followed in March with more about Tempranillo from Spain's Toro region, known as Tinta de Toro. The Tempranillo grape from Ribera del Duero is called Tinto Fino or Tinta del País. Recall that "temprano" means "early" and Tempranillo ripens early, which is good because of Ribera's short growing season and relatively extreme climate conditions—the highest average elevation in Europe for growing grape vines (about 2,700 feet average and some up to 3,100 feet above sea level), hot summers, cold winters, minimal rainfall and soil diversity. These wines are somewhat intense, though not quite as much so as the wines of Toro, so they are more approachable. Our favorites of the event were Spiga 2005 and Alfa Spiga 2004 from Bodegas y Viñedos Ortega Fournier, S.L., which were among the more balanced wines and very drinkable.
From Spain, it was a short walk over to Austria, where we sampled a wide range of Zweigelts, Blaufränkischs, Rieslings, Grüner Veltliners, Pinot Noirs and more. There were so many wines to sample; I'm not going to numb you with a laundry list of names. We've written about Grüner Veltliner previously, and we continue to find the average Grüner to be consistently good. Yet, the standout wine of this event, for us, was the 2008 Pinot Noir "Claus" from Claus Preisinger.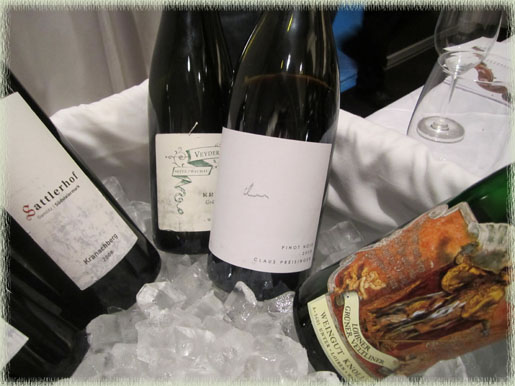 These events made for a nice afternoon. The images below show some of the food offerings at the Ribera del Duero event. We hope you are already enjoying your summer!

Disclosure: We were granted complimentary media credentials for these events.