This Sunday is Father's Day. This past Monday was Graduation Day (at our house anyway). So, we officially qualify for participation in the Dads & Grads celebration that happens around the US this time every year. This is actually the second year in a row that Rich and some of our spawn got to celebrate both events (our two middle boys graduated from middle school last year). This year it was the youngest one's turn to whoop it up. Actually, we were all quite giddy with delight about the whole thing. This marked the fifteenth (and final) year we attended the same school (along with some of Rich's sister's older boys). So we actually feel as if we've been going there much longer, considering the many years of stories we listened to about their experiences there before we arrived. I can now relate to the feeling of elation a freed prisoner experiences as he walks out the front gate. The next four years of high school will be a cake walk (time–wise) in comparison, though people keep reminding me about the minimum four years of college that will follow. Since our oldest is claiming that she'll qualify for early graduation from college next year, I try not to anticipate the boys' post–high school days. Just let me relish the fact that all three of them will be on the same vacation schedule for the upcoming years and we'll cross the inevitable college bridge when we get to it.
So to celebrate this momentous occasion, I took the opportunity to make something special for the youngest one's day. I also decided to enter this specially–made treat in Cupcake Project's and Scoopalicious' Ice Cream Cupcake Contest. I happened to have an ice cream recipe on hand from Saveur that I've been aching to try, along with one of Martha's recipes from her Cupcakes book. I've also been saving a special jar of topping from the always splendiferous Recchiuti chocolate company, and it was well worth the wait to enjoy it in combination with the other two.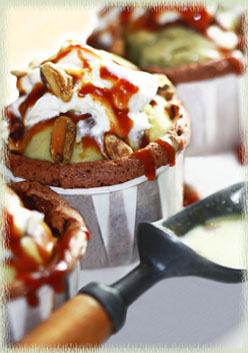 The title of my creation is Sunken, Crackle–Top Mocha Cupcakes with Toasted Pistachio Gelato and Burnt Caramel Drizzle. Yes, I know…a real mouthful. You can taste it already, can't ya!! The combination of textures and flavors is to die for! I was really quite pleased with how this turned out, but seriously, I really couldn't go wrong placing my faith in Saveur, Martha and Recchiuti.
The recipes were quite simple to make and I didn't change a thing with either of them (except add a scoch of food coloring to the ice cream and some Kahlua to the cupcakes). Saveur didn't specify whether to use raw or toasted pistachios for the gelato, and since I only had toasted ones on hand, that's what I used. Toasting and roasting usually brings out the flavor of an ingredient, and I'm not exaggerating when I say this tasted exactly like the pistachio gelato I gorged on while traveling through Italy. Unfortunately, toasting destroys most of the bright green color of the pistachios, so I decided to brighten it up a bit with a few drops of yellow and green coloring. And I'm sure Martha wouldn't mind me trying to bring out the chocolate flavor of her cupcakes with the addition of the mild coffee flavor from the Kahlua. Dare I say that peanuts aren't the only nuts that can tango with chocolate!
A rich combo like this needs a hint of something else to bind it all together when it hits your taste buds, and Recchiutti didn't disappoint. They describe their Burnt Caramel Sauce as having "an intense, smoky flavor with a lingering, buttery finish." Just a little heated drizzle of this baby along with some whipped cream and a sprinkling of some salted pistachios and you'll be rendered mute with each mouthful! Give it a try for one of your life's most special events.
WI wine recommendation: This dessert calls for a dessert wine. If you prefer a relatively light dessert wine, try a Brachetto d'Acqui. Alternatively, a great choice is a sparkler such as Cremant D'Alsace Rose, Dom. Allimant-Laugner N.V., which has a light rose color and a crisp, zesty flavor.


Sunken, Crackle–Top Mocha Cupcakes with Toasted Pistachio Gelato and Burnt Caramel Drizzle

Saveur's Pistachio Gelato (recipe below)
Martha Stewart's Flourless Chocolate Cupcakes (recipe below)
Recchiuti Burnt Caramel Sauce
Whipped cream
Salted, toasted pistachio nuts

Pistachio Gelato
(adapted from Saveur)
Baker's Note: Start this recipe the day before serving.

4 cups milk
1 cup sugar
3 tablespoons cornstarch
2 cups shelled unsalted pistachios, finely ground in a food processor or spice mill (I used Trader Joe's Dry Roasted Unsalted Pistachios)
Optional: few drops of yellow and green food coloring

Bring 3 cups of the milk to a simmer in a medium saucepan over medium heat, then remove from heat. Combine remaining 1 cup milk, sugar, and cornstarch in a bowl, then stir into hot milk. Return pan to heat and cook, stirring constantly, until mixture thickens slightly, 8–10 minutes.
Put pistachios into a large bowl and stir in hot milk mixture. Set aside to let cool, stirring often, then cover and refrigerate overnight. Note: Do not shorten the marinating time. You'll get a more intense pistachio flavor the longer it sits.
Strain mixture through a fine sieve into a bowl, pressing ground pistachios with the back of a wooden spoon. Discard pistachios. Process mixture in an ice cream maker according to manufacturer's directions.

Flourless Chocolate Cupcakes
(adapted from Martha Stewart's Cupcakes)

6 tablespoons (3/4 stick) unsalted butter
8 ounces bittersweet chocolate coarsely chopped (or 1–1/2 cups semisweet chocolate chips)
6 large eggs separated, room temperature
1/2 cup sugar
Optional: 1/4 cup Kahlua

Preheat oven to 275° F. Line standard muffin tins with paper liners (see note below). Melt butter, chocolate and Kahlua (if using) together in a large heatproof bowl set over (not in) a pan of simmering water. Stir to combine, then remove bowl from heat and let cool slightly. Whisk in egg yolks.
With an electric mixer on medium speed, whisk egg whites until soft peaks form. Gradually add sugar, beating until peaks are stiff and glossy but not dry (do not overbeat). Whisk one quarter of the beaten egg whites into chocolate mixture to lighten; gently fold mixture into remaining whites.
Divide batter evenly among lined cups, filling each three–quarters full. Baker's Note: These cupcakes are flourless and bake up like little soufflés. I decided to use the 3.25 ounce soufflé cups I sometimes use for baking regular cupcakes, which worked beautifully for this recipe. They puff straight up, then collapse immediately after taking them from the oven (creating the sunken, crackly tops that are perfect for filling with ice cream). Just line the soufflé cups up on a cookie sheet and you can bake them all at once. I got 20 cupcakes from this amount of batter.
Bake, rotating tins halfway through, until cupcakes are just set in centers, about 25 minutes. Transfer tins to wire racks to cool completely before removing cupcakes (their centers will sink). Cupcakes are best eaten the same day they are baked; keep at room temperature until ready to serve.

Assembly for Sunken, Crackle–Top Mocha Cupcakes with Toasted Pistachio Gelato and Burnt Caramel Drizzle:
Place a scoop of gelato in the sunken area of each cupcake. Top with a shot of whipped cream and drizzle with warm caramel sauce. Finish with a sprinkling of pistachio nuts.