Grissini with Prosciutto–Wrapped Boursin Bundles
This recipe appeared in Finger Food for Oscar on 26 Feb 2011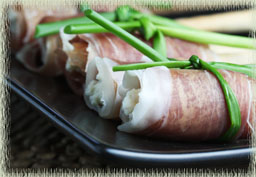 1 box of Grissini (Italian breadsticks)
1 package Boursin (French seasoned soft, creamy cheese)
Thinly–cut prosciutto slices (each measuring about 1×2 inches)
Chives (about 15–20)

Note: I didn't bother giving specific measurements for this. It's one of those recipes that you just start assembling, and when you run out of an ingredient, you stop. You'll end up with leftovers of one or more ingredients anyway, so why sweat the measurements in advance?
Also, ingredient substitutions abound in this recipe. Can't find Boursin? Try cream cheese or goat cheese (then you can mix in your favorite herbs). Don't like prosciutto? Give smoked salmon a go (just make sure it is cut thinly so it will roll nicely).
Make a ball of cheese (about the size of a small grape) and place it onto one end of a prosciutto strip.
Take one of the breadsticks and slightly flatten the cheese ball with one end of the stick.
Lay the stick on top of the flattened cheese and begin rolling the prosciutto (from the cheese end) as tightly as you can around the breadstick. Poke in any cheese that tries escaping.
Use a chive to tie up the bundle. Don't pull the chive too hard when tying or you run the risk of breaking it.
Trim the ends of the chive to desired length and lay completed Grissini Bundle on serving platter. Continue repeating the process until you begin running out of ingredients. Serve at room temperature.
WI wine recommendation: The classic pairing for this appetizer is Pinot Grigio. Alterntively, Orvieto or Sauvignon Blanc would also pair nicely.