Kaese Spaetzle
This recipe (adapted from allrecipes.com) appeared in German Comfort Food on 09 Dec 2010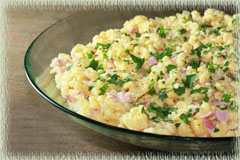 1–1/2 cups all–purpose flour
3/4 teaspoon freshly ground nutmeg
3/4 teaspoon salt
1/8 teaspoon pepper
3 eggs
3/8 cup 2% milk
3 tablespoons butter
1 onion, sliced or diced
1 teaspoon garlic powder
1–1/2 cups shredded Swiss–style cheese (I used a combination of half Emmentaler, half Fontina)
Optional: 1–2 tablespoons fresh parsley, chopped and finely diced ham

Sift together flour, nutmeg, salt and pepper. Beat eggs in a medium bowl. Alternately mix in milk and the flour mixture until smooth. Let stand for 30 minutes.
Bring a large pot of lightly salted water to a boil. Press batter through a spaetzle press into the water. (You may also use a potato ricer or colander to accomplish this.) When the spaetzle has floated to the top of the water, remove it to a bowl with a slotted spoon or cooking spider. Mix in 1 cup of the cheese once all the spaetzle are done.
Melt butter in a large skillet over medium–high heat. Add onion and garlic powder and cook until onions are golden. Stir in parsley, diced ham, spaetzle and remaining cheese and mix until well blended. Remove from heat to serving bowl and serve immediately.
Note: I highly recommend doubling (or even tripling) this recipe. We have just enough for our family of six by doubling it, but that doesn't leave anything for leftovers the next day. It reheats well for a teenager breakfast the next morn (I know what you're thinking, but at least it isn't a total carb–overload like donuts or sugary cereal!).
WI wine recommendation: One rule of thumb to remember when pairing wines with food is to choose from the region where the food originates. That's usually a good place to start when looking for a safe combination. In this recipe's case, we are talking about Western Europe. The most obvious choice would be Gewürztraminer, since the recipe calls for a Swiss-style cheese. Other types of wine to consider would be Riesling, Zinfandel, Sauvignon Blanc, Pinot Noir, Merlot and even Cabernet Franc. We enjoyed this with a wonderful Dr. Loosen Riesling from Germany's Mosel Valley.