German Comfort Food
Looking to keep your family from bothering you about meals while you're trying to finish (or as in my case, start) your holiday gift–baking? Searching for food that is guaranteed to stick to the ribs of even the hungriest, quickly–growing teenager? Then look no further, as I'm here to save your day with a couple of recipes that will satisfy anybody who is breathing down your neck for their next pie–hole feeding. It's German comfort food at its best, and perfect for calming all of the anxious elves who might be snow–bound in your house these days with nothing better to do than look for their next meals.
This meal is actually the most requested of all in my kitchen. Somehow, I manage to get away with reserving its creation for once a year (for the family's youngest teen's birthday dinner). He always insists on me making it, along with a bundt birthday cake. The bundt cake thing didn't start till last year, but his customary choice of dinner has consistently been the same as from the days when we'd go out to a particular German restaurant for special occasions. Unfortunately, the once landmark restaurant has since sold its property years ago during the real estate boom for a hefty profit and called it a day. The owners did feel guilty deserting their loyal customer base and considered producing a line of German specialty foods to sell in local grocery stores, but it never happened as far as I know. I guess they were enjoying their early retirement a little too much.
That left us with no place to go to on birthdays and holidays to satisfy our German food cravings. I soon found myself learning how to make some of it just to keep the traditional aspect of it intact. But since I'm part German (on my father's side), I guess it didn't hurt for me to know how to make dishes other than liverwurst and mayo on pumpernickel sandwiches. Besides, I actually enjoy this meal as much as my spawn do. (The Wine Imbiber is hella Irish, so he goes more for the meaty–style dishes than this one.)
So what is this dish I've been so careful to wait till the end to reveal? Ever heard of spaetzle? Or how about spätzle? (Check this out for "the internet's most authoritative spaetzle site" to answer all of your questions.) Basically, it's Germany's answer to dumplings or pasta, and is every bit as addictive as mac n' cheese. Yes, it's heavy and caloric, but why do you think we love it so much? We like to eat it with a tangy cucumber salad (another dish that is popular with everyone in this family). The two go together like PB & J or wine and the Wine Imbiber around here. Besides, it's practically against German law to eat spaetzle without a salad served with a sour dressing, so we're happy to comply.
I pretty much stick to the same spaetzle and cuke salad recipes every year; switching up the mix–ins according to what I feel like throwing in or have on hand. And don't worry about not having a spaetzle maker; it isn't necessary. A coarse sieve, colander, or potato ricer will work just as well. So pull on your lederhosen and rev up the oom-pah band and let's get started!
WI wine recommendation: One rule of thumb to remember when pairing wines with food is to choose from the region where the food originates. That's usually a good place to start when looking for a safe combination. In this recipe's case, we are talking about Western Europe. The most obvious choice would be Gewürztraminer, since the recipe calls for a Swiss-style cheese. Other types of wine to consider would be Riesling, Zinfandel, Sauvignon Blanc, Pinot Noir, Merlot and even Cabernet Franc. We enjoyed this with a wonderful Dr. Loosen Riesling from Germany's Mosel Valley.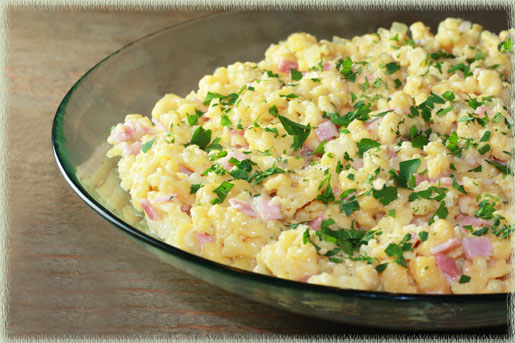 Kaese Spaetzle
(adapted from allrecipes.com)

1–1/2 cups all–purpose flour
3/4 teaspoon freshly ground nutmeg
3/4 teaspoon salt
1/8 teaspoon pepper
3 eggs
3/8 cup 2% milk
3 tablespoons butter
1 onion, sliced or diced
1 teaspoon garlic powder
1–1/2 cups shredded Swiss–style cheese (I used a combination of half Emmentaler, half Fontina)
Optional: 1–2 tablespoons fresh parsley, chopped and finely diced ham

Sift together flour, nutmeg, salt and pepper. Beat eggs in a medium bowl. Alternately mix in milk and the flour mixture until smooth. Let stand for 30 minutes.
Bring a large pot of lightly salted water to a boil. Press batter through a spaetzle press into the water. (You may also use a potato ricer or colander to accomplish this.) When the spaetzle has floated to the top of the water, remove it to a bowl with a slotted spoon or cooking spider. Mix in 1 cup of the cheese once all the spaetzle are done.
Melt butter in a large skillet over medium–high heat. Add onion and garlic powder and cook until onions are golden. Stir in parsley, diced ham, spaetzle and remaining cheese and mix until well blended. Remove from heat to serving bowl and serve immediately.
Note: I highly recommend doubling (or even tripling) this recipe. We have just enough for our family of six by doubling it, but that doesn't leave anything for leftovers the next day. It reheats well for a teenager breakfast the next morn (I know what you're thinking, but at least it isn't a total carb–overload like donuts or sugary cereal!).


Viennese Cucumber Salad
(adapted from Epicurious.com)

2 large seedless cucumbers (about 2 pounds)
1 tablespoon kosher salt
1/3 cup white–wine vinegar
1/4 cup water
2 teaspoons sugar
1 garlic clove, forced through a garlic press
1–2 tablespoons red or green onion, finely chopped
1 tablespoon fresh dill, chopped
1 teaspoon black or toasted regular sesame seeds
Optional: 1/4–1/2 teaspoon red pepper flakes

Score cucumbers lengthwise with a fork and slice thinly, preferably with slicing disk of a food processor or a mandolin. In a colander placed over a bowl, toss sliced cucumbers with salt and let stand 1 hour.
In a small saucepan, bring vinegar and water to a boil with sugar and garlic, stirring until sugar is dissolved. Allow dressing cool.
Rinse cucumbers under cold water. Drain cucumbers well, squeezing out excess liquid with paper towels.
In a bowl combine cucumbers with cooled dressing, chopped onions, dill and marinate, covered and chilled, at least 1 hour and up to 6 hours. (After about 2 hours cucumber skin will discolor, but there will be no effect on flavor.) Just before serving, sprinkle the sesame seeds and optional red pepper flakes on top of the cucumber salad and toss to combine. Serve.