TJT: Pumpkin Butter Pecan Dessert Bars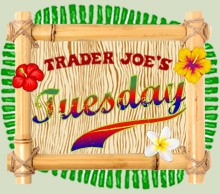 I don't know about your Trader Joe's, but the ones in our area do a monthly drawing for a (reusable) TJ's grocery bag filled to the brim with all kinds of seasonal and standard products from their store shelves. You earn the opportunity to win by bringing and using your own grocery bags, which entitles you to fill out an entry ticket and deposit it in the drawing box. Well, believe it or not, we've actually won not once, but twice (and only a couple of months between the two!). Most people who have heard about our fortuitous wins didn't think anyone ever won—or at least anyone they knew, that is. But yes, I'm here to say that TJ's does remain true to their convictions about shoppers reusing bags by rewarding winners with a bag full of the most delightful goodies.
As you know by now, we're big Trader Joe's fans. I thought it would be impossible to surprise us with a product we hadn't yet tried or heard about, but they did. It was in the first prize bag, which was won during my favorite time of year to shop at TJ's (between Thanksgiving and Christmas). You know, holiday pig–out season. The seasonal items they put out every year never cease to amaze me! Anyway, the item I'm referring to that I wasn't familiar with was a jar of pumpkin butter. Say what?! I've heard of peanut, almond and even apple butters before, but pumpkin? Never.
If I had to describe pumpkin butter, I'd say it's a lot like pumpkin pie filling (minus the eggs and milk). This will give you a more detailed description of how it's made, but basically it's cooked pumpkin that has been pureed and combined with sugar and pumpkin pie spices. There is no butter in it. That part of its name comes from its thick texture. I can't say I was all that excited about finding it in our loot bag as I'm not really a fan of apple butter, and that's exactly what the pumpkin butter looked like. So I just abandoned it to the top shelf of my cupboard, where it has been sitting unloved for the past year or two.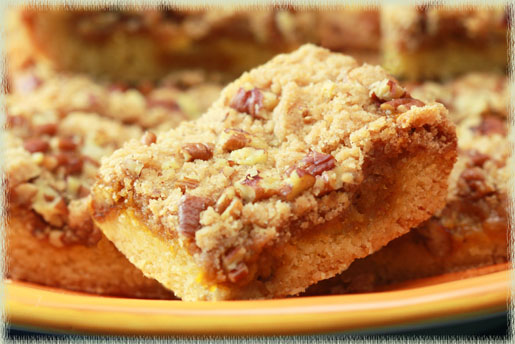 If Bakerella hadn't posted a recipe for Williams–Sonoma's Pecan Pumpkin Butter Dessert Squares, I never would have discovered the versatility of what I used to consider something more of a condiment than a major ingredient player. Since the recipe calls for basic, easy to find ingredients at TJ's, I of course had to give it a try. The only difference was that the Williams–Sonoma recipe called for a product that they sell (Muirhead Pecan Pumpkin Butter), which obviously has pecans in it and also comes in a 13.5 ounce jar. Trader Joe's product has no nuts and is in a smaller jar (10 ounces). I figured the extra 3.5 ounces in Muirhead's was the pecans, so I wasn't worried about not having enough pumpkin butter. I just chopped up a cup of pecans and added it to the topping mixture. TJ's just started carrying a yellow cake mix, but it comes in a larger package than I needed for this recipe, so I just weighed out what was required and saved the rest.
One other note…I baked mine for the minimum time suggested and noticed that they didn't turn out quite as dark and chewy looking as Bakerella's did. Mine were more cake–like in texture, so maybe a longer baking time is in order for the next batch. Still, they were proclaimed the second best dessert I've ever made according to hungry bear teen #
4, so maybe I'll just leave it alone.
WI wine recommendation: The Wine Imbiber is on strike this week and doesn't want to make a wine suggestion for yet another dessert recipe, so go with your own gut on this one (or refer to any other dessert recipe's wine suggestion on this site and I'm almost certain it will work!)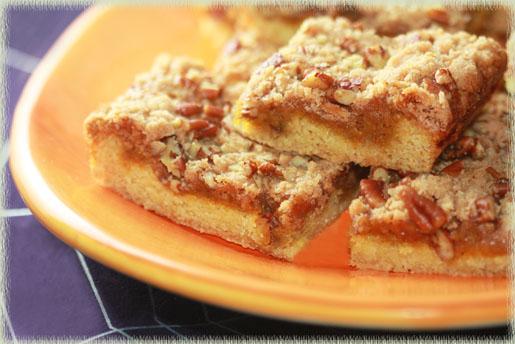 Pumpkin Butter Pecan Dessert Bars
(adapted from Williams–Sonoma)

1 package Trader Joe's Yellow Cake mix (measure out 18 ounces and set aside one cup for topping)
1/2 cup butter, melted
3 large eggs
1 jar Trader Joe's Pumpkin Butter
2 tablespoon milk
1 tablespoon flour
1/4 cup sugar
1/4 cup butter, softened
1 teaspoon cinnamon
1 cup chopped pecans

Preheat oven to 350° F. Grease and flour a 9 x 13 pan.
Divide cake mix, placing all but one cup in a mixing bowl. Stir the melted butter and one egg into the cake mix until combined. Press the mixture into the bottom of the pan.
In another bowl, mix pumpkin butter with two eggs and milk until combined. Spread pumpkin mixture over pressed cake mix.
Stir the reserved one cup of cake mix with the flour, sugar, cinnamon and chopped nuts. Add the softened butter and mix together until crumbly. Sprinkle over the top of the pumpkin layer.
Bake for about 35 minutes or until golden brown. Cool and cut into desired amount of bars.
Comments (2)
November 3, 2010 at 8:09 pm
Jay B. said:
One of the Trader Joes that I go to gives you a twenty-five dollar gift card if you win the bag competition.

November 9, 2010 at 6:39 am
Rich
said:
Oh heck yeah. Since there's really only one season for pumpkins, I tend to overdose on them, and this looks like a good route to go!