The Food Event 2010 (From the Vine)
We were running a bit late as we had to pick up one of our sons at his basketball workout and deposit him at home before heading out to Malibu's Santa Monica Mountains for The Food Event 2010 "From the Vine", Los Angeles Magazine's fifth annual culinary extravaganza at Saddlerock Ranch (home to Semler and Saddlerock wines). At the same event last year, we were right on time and the weather was picture perfect. This time around, gray and dark clouds were threatening to impinge and, being about an hour late for this three–hour event, we had to park past the grassy fields, out where the ground is a mixture of dirt and straw and a much greater population of road apples from as assortment of horses, camels, llamas, goats and other exotic creatures. We hadn't attired our feet for that possibility, but we didn't mind too much. After all, the locale is a stunning ranch and this was a small price to pay for such beautiful surroundings. For those who need to find a silver lining against the storm clouds, the food samples were really great once again this year and the wine selection was even better than last year.
The wine selection seemed even more diverse and interesting than last year—kudos to Ian Blackburn of Learn About Wine who served as the winery curator for this event. We enjoyed our stop at Dierberg Estate Vineyard (Burgundian style wines) and Star Lane Vineyard (Bordeaux style wines), commonly owned by Jim and Mary Dierberg who have their winery in Lompoc, with vineyards in the Santa Rita Hills and Santa Maria areas of the Santa Barbara wine country. I lingered awhile to enjoy the Melis Cellars 2006 Elix Priorat, a well–balanced inky purple blend of 34% Garnacha, 24% Cabernet Sauvignon, 15% Cariñena, 9% Merlot and 18% Syrah from the Priorat area southwest of Catalonia, Spain, produced on steep terraces of dense volcanic schist and llicorella slate. Repeating one from last year, we again liked the wines of Cantara Cellars of Camarillo who source their grapes from Lodi. We also stopped to enjoy some old favorites, including the wines of Niner Wine Estates and Zaca Mesa Winery & Vineyards.
Special mention goes out to Tercero Wines, where owner Larry Schaffer was pouring a nice Grenache Rosé and a flight of his Grenache wines—2006 Camp 4 Grenache, 2007 Camp 4 Grenache and 2007 Watch Hill Grenache. We had first tried Tercero's 2007 Camp 4 Grenache at the Taste of Beverly Hills event in September and mentioned it as one on our short list of great wines from the event. I'll admit I'm partial to Grenache, but the wines Larry and his wife, Christie MacDonald, create are really balanced, true expressions of the grape and are reasonably priced at this point. We know this maker of "artistic Rhône red and white wines" is one to watch.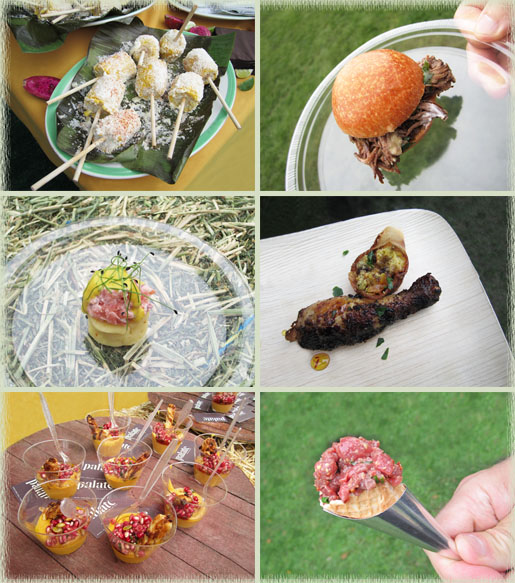 The first food booths we encountered served up desserts. One favorite was the squash custard with pomegranate relish from Palate Food & Wine—a taste and texture delight. Leah is a tiramisu fan and she raved about the green tea tiramisu from Takami Sushi & Robata Restaurant. The pizza and pasta from Malibu's Tra di Noi Ristorante were among the best dishes of the day—authentic Italian handmade artwork. We never got to the front of the longest food line—The Lobster—which isn't surprising because…well…lobster is lobster. Cafe Habana served up a tasty pork mini–taco and their famous Mexican style grilled corn. We really enjoyed the banana pudding from Magnolia Bakery. The perfectly sweet ending was a selection of gelati from Bulgarini Gelato Artigianale of Altadena.
We didn't get to spend time at the various panel discussions and demos this year as time was short, and the beers and microbrews weren't as popular due to the cool weather—in fact, the longest line at the event was for LAMILL Coffee. Ian Blackburn once again hosted a blind tasting for anyone who wanted to participate. I was one of the winners last year, but I have to admit I failed miserably this time around. We did find time to pause and enjoy the first–class mariachi band from Casa Sanchez entertain the crowd (Los Angeles Magazine celebrates its 50th anniversary this year with its November "Mexican Food Lovers Guide" issue). The weather held out until about the final 20 minutes of the event, when it started to rain lightly, which made our journey to our car a bit of a challenge as the parking area road apples turned into…er…changed from their solid state. Shortly after the event ended, the rain turned into a downpour. Despite the weather, this event continues to be one of the top ones.

Things we liked at The Food Event (2010):
Great selection of wineries and restaurants
Interesting location—picturesque scenery and cool animals
Good event organization & nice layout for the event
Room for improvement:
Some vendors ran out of food too early
No recycling trash cans
Road apple jumping in the outer parking area

Disclosure: We were granted complimentary media credentials for this event.
Comments (1)
November 7, 2010 at 2:54 pm
Jacob said:
I love this event! This is the third year we've gone, and it just keeps getting better (despite this year's gloomy weather). Nothing beats good food & great wine out in one of Malibu's most beautiful settings.